Former Nevada Attorney General Catherine Cortez Masto has been elected the first Latina in the U.S. Senate.
"I want you to know this isn't my win, it is our win. We did this together," Cortes Masto said in her victory speech Tuesday night. "As I look at the room right now, I can see there is just an incredible, incredible group of people out here. The multicolored fabric of Nevada, the diversity here, is our strength and I can see from your faces that we are going to continue to be strong and continue to fight for our families, for our future — here in Nevada and across this country."
The Democratic candidate received 49 percent of the vote, and her opponent, Republican congressman Joe Heck got 44 percent.
RELATED: Nevada Race Heats Up with Potential First Latina U.S. Senator
Cortez Masto waged a tough campaign for the seat and her candidacy in the swing state of Nevada drew national attention. Pres. Barack Obama campaigned with both Cortez Masto and Hillary Clinton in Nevada ahead of Tuesday's election.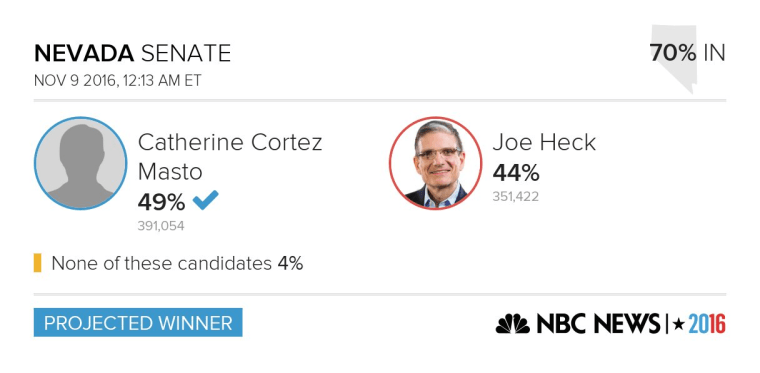 Cortez Masto served from 2007 to 2015 as Nevada's Attorney General. She became known for her investigation into Bank of America raising interest rates on financially unstable buyers. BoA settled the lawsuit for $750 million in 2012.
RELATED: Latinos Could Achieve Many 'Firsts,' Gains in 2016
"Catherine Cortez Masto has demonstrated her commitment and passion to serving our community, and there is no doubt that she will be a fearless advocate for us in the halls of the Senate," said the Latino Victory Fund in a statement.
"It was about time that the Latino community, and in specific Latinas, have a strong voice in the Senate who can fight for our priorities. Congratulations, Catherine! We look forward to working with you in Washington to advance legislation that will increase opportunity for Nevadans and Latinos across the country."