Democrats are hoping to make history by electing the first Latina U.S. senator in a hotly-contested race to replace Senate Minority Leader Harry Reid in Nevada. Their prospects may be looking up: Polls have tightened over the past week following some local developments that have complicated the GOP's pitch to minority voters.
Former Nevada Attorney General Catherine Cortez Masto is the Democrats' candidate, and on paper, she seems ideal: The granddaughter of Mexican and Italian immigrants, she makes personal pitches to first- and second-generation immigrants on the stump. Like many other multi-generation U.S. Hispanics, she does not speak Spanish fluently but can understand it. She has made outreach to Nevada's sizable Latino community a centerpiece of her campaign and touts her support for progressive policies such as a higher minimum wage and immigration reform.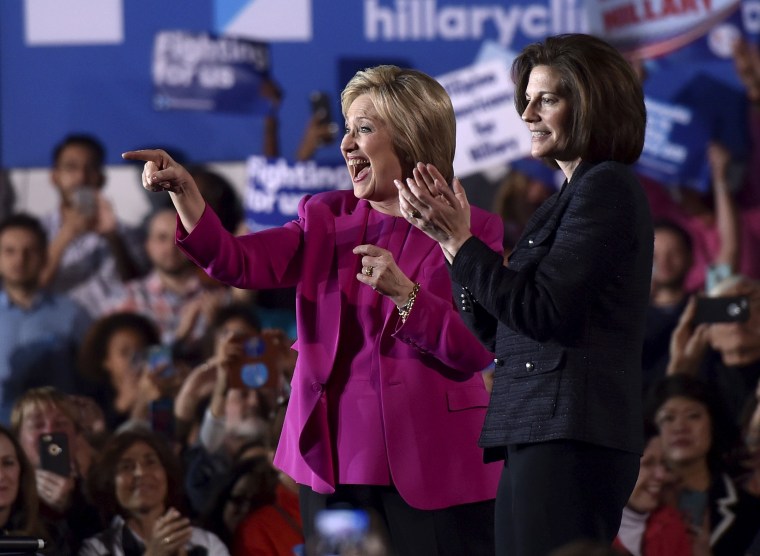 Republicans have nominated Congressman Joe Heck, who was elected as part of the Tea Party wave in 2010 and has won his two subsequent re-election fights by increasing his margins. That electoral strength — Heck's district includes much of Clark County, one of the state's two most populous counties, with a demographic makeup that mirrors Nevada's population — is part of what's given Republicans high hopes for his chances at a statewide bid.
Heck has been winning in the polls, and both Republicans and Democrats involved in the race say that's because, despite Cortez Masto's attractive profile, $15.3 million in attack ads from GOP outside groups have helped her opponents.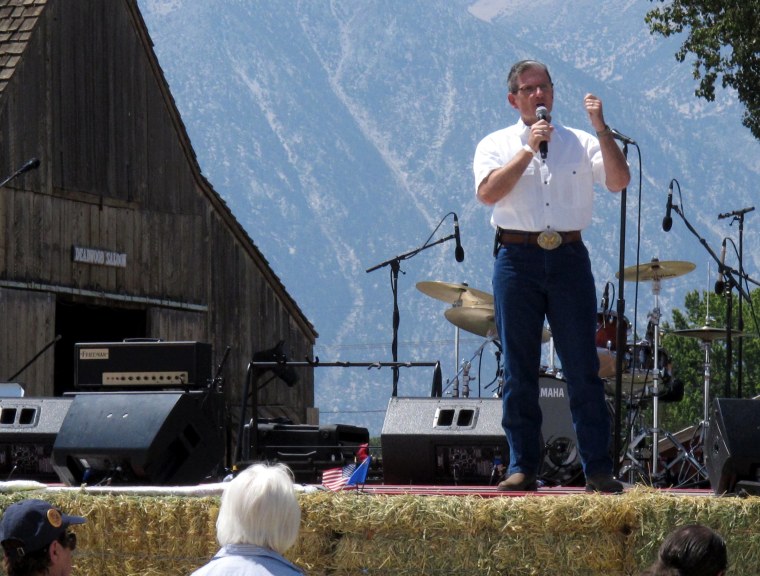 "It's clear that Republicans, and their outside groups, have spent a lot of money trying to define her," said Chris Wicker, first vice chair of the Nevada Democratic Party.
"We need to make her unelectable," said Ian Prior, spokesman for the Senate Leadership Fund, a super PAC backed by Senate Majority Leader Mitch McConnell, which has already spent over $2.1 million in the race. The billionaire Koch brothers have also invested heavily in the race, through their Freedom Partners Action Fund super PAC and the LIBRE Initiative, a group that works in the Latino community for conservative ideals and those who back them.
But Democrats point to a trio of bad news developments last week — adding up to what veteran Nevada political reporter Jon Ralston called Heck's "Terrible Thursday" — as a potential turning point in the race.
That day, a GOP operative mistook one African American elected official for another in attempting to attack Cortez Masto and BuzzFeed published a collection of racist and sexist postings Heck's son made on social media; Rep. Heck subsequently apologized. Moreover, two of Heck's former advisers questioned Cortez Masto's Mexican heritage, including one who said the Las Vegas-born Cortez Masto, whose father is from Mexico but who also has Italian roots, "is about as Mexican as I am."
He also asked whether she speaks Spanish, drawing allegations he was questioning whether she was truly Latina based on her language skills.
Another former Heck adviser, Mark Ciavola, said of her references to her heritage as "Hispandering at its finest," in a Facebook comment, according to The Las Vegas Sun. Ralston speculated this could drive Latino turnout against Heck, likening it to Trump's attacks on a Mexican-American judge overseeing a lawsuit against him, which even some Republicans decried as racist. Cortez Masto's campaign said the developments were "huge news," and while they won't be airing any ads pushing the issue, they expect them to be a long-term problem for Heck.
At a recent press conference, Cortez Masto didn't mince words in hammering Heck for his former aides' comments.
"For long-time aides of Congressman Heck to attack my Mexican heritage, claiming that it is only useful for a college application is disgusting," Cortez Masto said. "Joe Heck does not stand for Nevadan values and we cannot afford to have him in office."
And a new survey conducted by Bendixen Amandi International for the Las Vegas Review-Journal shows just a narrow, two-point lead for Heck, 47 percent to 45 percent for Cortez Masto — making the two statistically tied in the race.
RELATED: Koch-Backed Group Spends Millions in Ohio, Nevada Races
Prior to the "Terrible Thursday" developments, however, some Democrats in the state said they were concerned about Heck's lead in the polls.
Yvanna Cancela, political director of the state's powerful Culinary Union, which has endorsed Cortez Masto, , described those polls as "unnerving, especially in what is definitely going to be a very close race."
Cancela said she was particularly concerned that Cortez Masto's lack of name recognition may leave some Latino votes on the table.
"There's still a lot of getting to know the candidates that needs to happen," she said, pointing to a mid-September Univision News poll that showed 38 percent of Nevada Hispanics aren't familiar enough with Cortez Masto to have an opinion on her; 41 percent said the same of Heck.
Among Latinos who did know the candidates, however, Cortez Masto led 58 percent to Heck's 24 percent.
But Cancela said that GOP messaging in particular is dampening Latino enthusiasm for the election, a trend that, if it continues, could spell trouble for Democrats up and down the ballot on Election Day.
"To say the level of [Latino] excitement is going to reach what it did in 2008 or even 2012 is not fair, because the political climate that Trump & the Republican Party have created doesn't allow for it," she said.
Nevada remains one of the GOP's top pickup opportunities, and they're not ceding anything to Democrats — including the Latino vote. Heck's campaign is targeting them with Spanish-language ads, and a number of Koch-backed groups are also actively working to win over Latinos and turn them out to the polls in November.
Republicans also say they're not done yet with their attacks. They plan to use one of Cortez Masto's advantages in the race — the support of Senate Minority Leader Harry Reid of Nevada, and his vaunted turnout operation along with it — against her.
"The issue we've seen in both polls & focus groups is that Reid is viewed extremely negatively. When people learn of Cortez Masto's connection with him, that solidifies negative perceptions of her as well. The Reid money and the Reid machine is all going to be an asset for her, but from a messaging standpoint he's a liability," Prior said.
Polling backs that up — a mid-September Monmouth University poll found 51 percent of the state's likely voters disapprove of the job he's been doing; an August Suffolk University poll found 49 percent of Nevada likely voters view him unfavorably. The National Rifle Association seized on the opening there this week, launching an ad that declares Reid's "trying to force you to make Catherine Cortez Masto his replacement," and Prior hinted there are more attacks to come.
RELATED: For 2016, Almost Half the Latino Electorate Will be Millennials
However, Latinos were key in Reid's re-election to the Senate in 2010, when he faced a difficult race against conservative Sharron Angle. Hispanics voted for Reid by more than a two-to-one margin, according to Pew Research Center.
Republicans aren't alone in their negative ad campaign — Democratic outside groups have spent $13.2 million in ads opposing Heck, according to the Center for Responsive Politics.
Democrats insist that the race is competitive, and that the the conditions in the state are ideal for Democrats. Latinos make up 17 percent of the state's eligible voting population, according to a Pew Research Center analysis, and activists are hoping for a record Hispanic turnout this year because of GOP nominee Donald Trump's incendiary rhetoric towards minorities, and in particular Latinos.
They note that Nevada is historically a late-breaking state, and notoriously hard to poll. In 2012, President Barack Obama defeated GOP nominee Mitt Romney by about 6 points after trailing in the polls by an average of around 3 points.
CORRECTION: This article incorrectly stated that Senate Leadership Fund was funded by the Koch brothers.