LOS ANGELES — About 9.3 million people in the United States are eligible to apply for citizenship, and a new initiative is offering a financial incentive to cities that can help make this happen.
The nonprofit National Partnership for New Americans recently announced a $5 million pot of cash for cities that can match grants while launching imaginative programs to get immigrants into the naturalization pipeline.
A key goal for newcomers who take advantage of the America is Home program, the organization notes in a statement, is "refuge from persecution."
Organizers of the four-year initiative are trying not to politicize it, and they say outreach will include non-Latino communities, specifically Asian ones. But they also admit that the Trump administration's increased deportation, family separation policy and crackdown on alleged naturalization cheaters have created an urgent backdrop.
"We're doing our best to try to overcome those traumas that the immigrant community is suffering right now," says the partnership's George Escobar. "We've been seeing a lot of fear under the Trump administration."
The program will grant $25,000 to $40,000 a year for two years to city-sponsored naturalization efforts that can match those dollar figures with money or in-kind services.
Applying for citizenship is not easy, as Mohamed Ouhane, 67, originally from Morocco, can attest. He said his green card process turned into a multi-year ordeal after an unscrupulous lawyer took his money but offered no results. He now volunteers with the Legal Aid Foundation of Los Angeles, which helped him obtain permanent residency.
He said via email he wants U.S. citizenship and that he would take advantage of any help.
"Programs like this one — the 'America is Home' Initiative — inspire me because, as an immigrant, I want to give back to this country," he said. "I will have to enroll in classes to become a naturalized citizen and this program may help fund these classes."
City mayors are being recruited to spark the initiative's local citizenship drives.
Los Angeles Mayor Eric Garcetti joined in the launch of America is Home, saying in a statement, "We know that they will need to receive the knowledge, tools, and support necessary to guide them as they learn and apply for U.S. citizenship."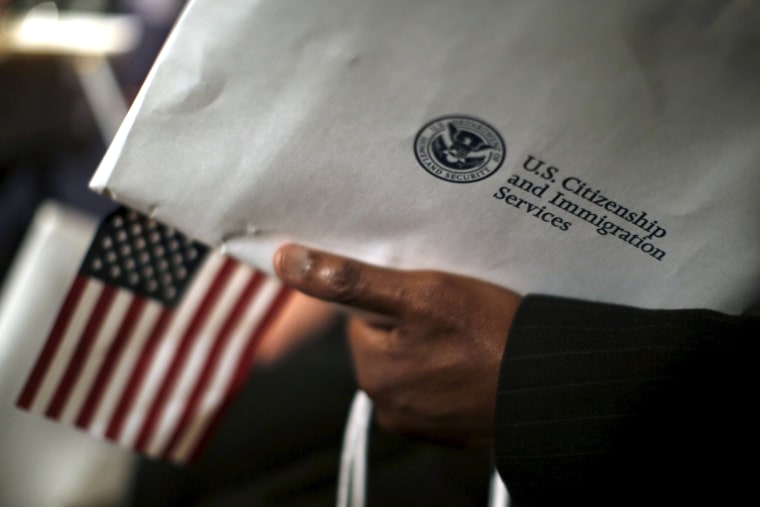 "Citizenship unlocks better opportunities and a greater sense of security for our communities and our cities," New York Mayor Bill de Blasio added in the same statement.
But organizers say their aim is not limited to urban areas.
"There is a whole ton of people ready to naturalize in the big metro areas like L.A., Boston and Miami," Escobar said. "But one of the objectives we have is to really go beyond that — go to rural areas, to red states...To partner with local counties and municipalities outside the top 10 cities."
Despite immigrants' fears, organizers of the initiative say there's motivation and demand to join the ranks of America's voting class.
"We're seeing high numbers for naturalization after the election," said Sarah Mesick, programs and training manager for the National Partnership for New Americans. "This is an opportunity to support the interest that's already there."