WASHINGTON --Having played bit parts for too long in campaigns and seeing the nation's electorate become increasingly diversified, a group of political consultants said Tuesday it's time for a greater diversity in their ranks.
The political consulting industry, largely white and male, is seeing more and more people of color, women and people from the LGBTQ community in the field. But too often they are relegated to smaller roles in campaigns or are paid less or hired only for outreach to their constituent communities, the consultants said.
In response, a group of largely Democratic consultants launched the National Association of Diverse Consultants Tuesday. The group will start by creating a database of consultants of color, women and from the LGBTQ community that will be publicly available. The hope is to build it into a group that develops consultants, mentors and grows the stable of diverse political consultants.
"The longest standing question that we all hear every time we do a pitch with an organization ... is ... if I knew a person of color or firm, I would hire them, we just don't know any. So our organization at the most basic level is going to be set up to answer that question," said Chuck Rocha, founder of Solidarity Strategies, a political consulting firm.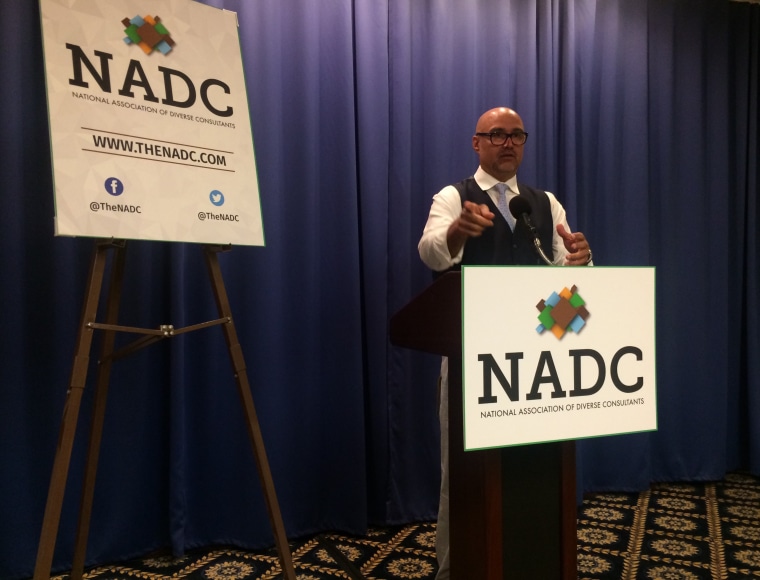 Rocha said while people of color make up a large and growing percentage of the electorate, consultants of color are less than 1 percent of Democratic consultants.
"As the electorate has changed and evolved to be more brown, more progressive, multicultural, the consultants are the same old white guys who have run party politics forever," Rocha said.
The 2016 electorate was seen as the most diverse ever with nearly one-in-three people, 31 percent, eligible to vote in last November's elections being Hispanic, black, Asian or another racial or ethnic minority, up from 29 percent in 2012, according to Pew Research Center. The growth in Latino eligible voters, mostly young, U.S.-born Latinos, was much of the reason behind the increase, Pew reported.
However, there was higher turnout by white voters in the fall election last year and a significant drop in black turnout; Latino and Asian votes increased.
Carol McDonald, senior strategist at 76 Words, said hiring diverse consultants and consultants of color is important because of their unique lens, but she also said, "We know more than just the work in our community." Often, she said, consultants of color do get hired are asked to do operations work, rather than the strategy work, media work or "the real substance."
"There are a lot of times when I get hired to be the professional black person in the room," McDonald said. "And that's fine to a degree," she said, "but there are a lot of us who do this work, who know the party, who know politics, who know organizing, who know communities."
Albert Morales, senior political director at the polling firm Latino Decisions, said there are plenty of governor and Senate races next year in which minority consultants could play a role.
In addition, Democrats have identified many House races in districts Hillary Clinton won that are represented by Republican members of Congress but have significant Latino, black, Asian American, LGBTQ and progressive eligible voters.
The Democratic Congressional Camapign Committee has started a diversity office to increase its use of minority and LGBTQ and women vendors and pushed for diverse vendors in recent special elections for Georgia and South Carolina.
Madalene Mielke, founder and principal of Arum Group, LLC, has owned her own consulting firm for 15 years and has 20 years of experience in the field. She said she hoped the NADC would help grow younger people starting out in consulting.
"We're not looking for a handout. What we are looking for is equal opportunity and that means being seen and being recognized for our value and also being compensated for our value," Mielke said.