BUENOS AIRES, Argentina — A new police report has dramatically revived one of the greatest criminal mysteries in Argentine history — the possible murder of a crusading prosecutor that has roused grave suspicions about a president and added to doubts about the probe into the country's most deadly terrorist attack.
An investigation by the country's border police agency has concluded that the man who led that terror probe was murdered just four days after he formally accused then-President Cristina Fernandez of covering up the role of former Iranian officials who had been charged in the 1994 bombing of a Jewish community center that killed 85 people.
The new report, which was obtained by The Associated Press, bases its conclusions on controversial new evidence and sharply contradicts earlier official findings that Alberto Nisman likely killed himself.
Nisman, 51, was found dead on Jan. 18, 2015, with a bullet in his right temple. A .22 caliber pistol was found next to him.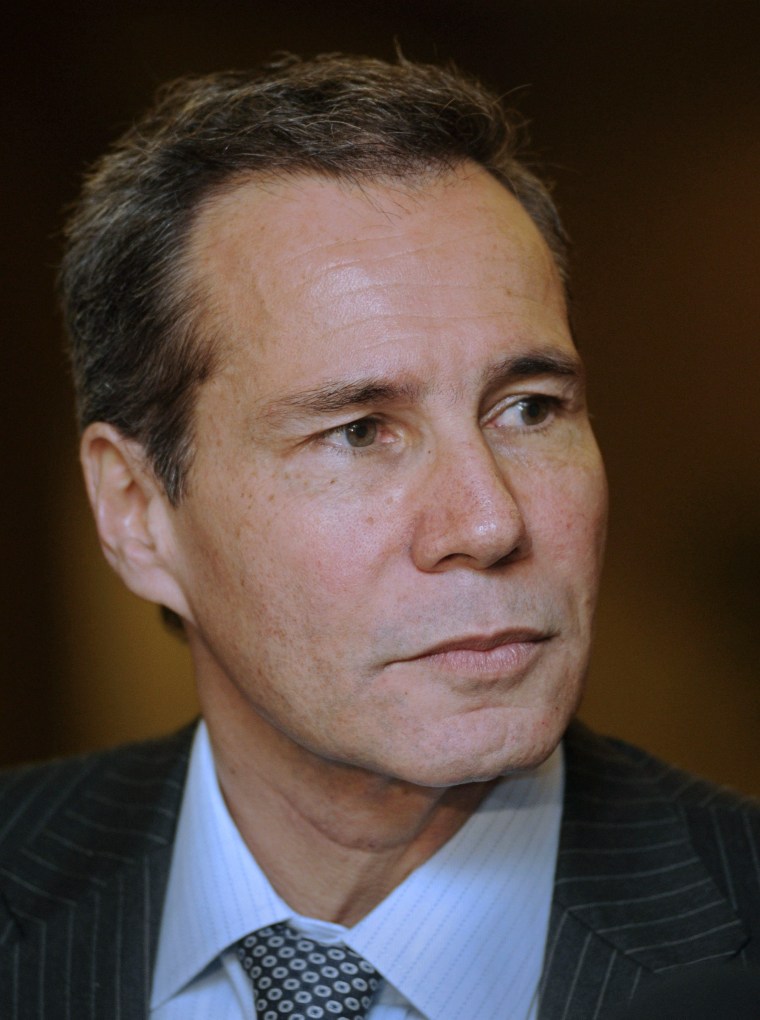 Coming just days after Nisman challenged Fernandez, the death became a politically charged controversy. Allies of Fernandez suggested Nisman took his own life because he couldn't back up his allegations. Many other Argentines insisted he had been murdered because of them. It triggered anti-government protests ahead of the 2015 presidential election.
Fernandez has insistently denied any wrongdoing and says her government had no role in the prosecutor's death. The initial police reports and autopsies concluded there was no sign anyone else had been present when Nisman died. While the national forensics team said there was no concrete evidence it was a homicide, the federal police said the prosecutor shot himself in his bathroom.
Federal prosecutor Eduardo Taiano told the AP that Nisman's death is "the most complicated" criminal case he has ever investigated. Taiano, who took over the stalled case from another judge in 2016 following a Supreme Court order, ordered a multidisciplinary border police team to provide a fresh look for an investigation that had been highly questioned for mishandling of evidence and other irregularities. Taiano said that the agency, whose main role is to guard borders and fight drug trafficking, was chosen because it hadn't been involved in the earlier, much-questioned probe.
The border police report says Nisman was beaten by two people who drugged him and placed him in front of his bathtub. While one of the attackers held him under the armpits "as in a hug," the other one placed the gun on his head and shot him. It was about 2:46 a.m. on a Sunday.
The investigation listed key evidence that wasn't mentioned in previous reports: Nisman's nasal septum was broken. He had suffered blows to his hip and other areas. Ketamine, a substance with strong anesthetic power, was in his body.
The new report concludes the attackers tried to stage a suicide, but it notes that other experts throughout the series of probes never found any traces of gunpowder on Nisman's hands.
The 1994 bombing of the AMIA Jewish community center in Buenos Aires killed 85 people and injured hundreds. Fernandez's government struck a 2013 accord with Iran portrayed as a way to reach the truth behind the attack, but the deal, which was approved by Congress, was later ruled unconstitutional by an Argentine court. Nisman believed Fernandez was using the deal with Iran to secretly negotiate and help shield the Iranian officials allegedly behind the attack.
Taiano told the AP that he will compare the new report with previous ones and decide whether to treat Nisman's death as a murder, suicide or induced suicide. His decision, which will be sent to a judge, will guide the next steps of the investigation.
A report by forensic experts on behalf of Nisman's family in 2015 also argued that the prosecutor did not shoot himself. However, forensic experts for the family said only one attacker carried out the killing by holding Nisman's right hand and pulling the trigger to make it look like a suicide.
The fatal shot was fired from a gun that had been loaned to Nisman by aide Diego Lagomarsino, a computer technician who said the prosecutor asked for the weapon because he feared for his and his daughters' lives.
A forensic report sent by Lagomarsino's defense to Taiano contends Nisman shot himself standing in front of a mirror and then fell back, hitting his head. It says there is no proof Nisman was under the effects of ketamine and argues he suffered injuries on his left hip and ankle several hours before his death. A lesion on his bottom lip could have happened while the body was being transported, it says. The death was said to have taken place between 8 a.m. and noon, several hours later than estimated by the border police report.
Taiano said a major challenge for the investigation was contamination of the crime scene. More than 60 people walked carelessly in Nisman's luxury apartment for several hours after the body was found by his mother and security guards.
In addition, Nisman's cellphone and computer were tampered with to delete any traces of the information and calls that he received in the hours before his death. And the apartment building's security cameras had not been working for days before he died.
"The challenge is very complex," Taiano said. "If this had been investigated differently from the start, this would be a whole different thing."
Federal police officers who were in charge of Nisman's security also are being investigated, and experts say the differing conclusions on what happened could point to negligence or the mishandling of information.
"There's a serious contradiction in the broken nasal septum," criminalistics expert Olga Fernandez told the AP. "You'd have to find out who's telling the truth, and who's not."
But, she added, it is not rare to have contradictory opinions in Argentine investigations.
"Unfortunately, in these types of cases, you get pressured to deliver quick results, which can make getting exhaustive results more difficult. And there's also pressure so that the results turn out one way or another," she said.