WASHINGTON, DC -- A decade after a tough immigrant enforcement bill triggered massive protests in multiple cities and inspired hundreds to become citizens, two groups have launched a new campaign to get millions more legal residents to become citizens and register to vote.
The Latino Victory Foundation and National Partnership for New Americans unveiled their plan, dubbed New American Democracy Campaign, to help 1 million people through the naturalization process next year and register many of them to vote in time for November's elections.
There are 8.8 million people in the U.S. who are already eligible to become U.S. citizens but have not done so. Of those, 3.9 million are Latinos. Unless that changes, they won't be able to vote in next year's elections.
The campaign also plans to target some of the 1.9 million U.S.-born citizen children of immigrants who turn 18 every two-year election cycle for voter registration. Because they were born in the U.S. the children are citizens at brith, regardless of their parents' status.
If just 20 percent of the 8.8 million legal residents eligible to be citizens - as well as the 1.9 million children of immigrants turning 18 and 11.5 million Latino citizens who didn't vote previously were persuaded to turn out - another 4.4 million people could be added to the electorate.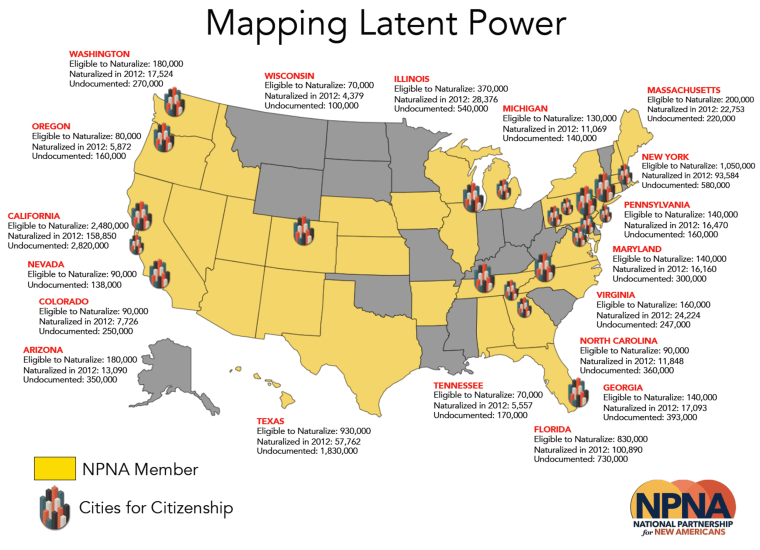 "Our vote is our strongest weapon in the fight against the anti-immigrant rhetoric that's dominating the political discourse," Rep. Norma Torres, D-Calif., a naturalized citizen born in Guatemala, said in a statement.
The pool of potential voters among legal residents has long been known and courted. But the anti-immigrant fervor fanned by several Republican candidates, most notably frontrunner Donald Trump, is a key inspiration for the latest effort.
"Our community is under attack and our future is at stake. Now more than ever it's important that those who are able to naturalize do so and make their voices heard at the polls," said Cristobal Alex, president of Latino Victory Foundation, an arm of Latino Victory Project.
RELATED: Trump Adviser: Hispanics Who Don't Like Trump Are Here Illegally
The campaign is reminiscent of 2006 and what followed when the House passed a Republican- sponsored bill – known as the Sensenbrenner bill - after Rep. James Sensenbrenner, R-Wis. The legislation proposed making it a crime to be present in the country without legal permission and would have listed immigration violators in a criminal database, among other things.
Hundreds of thousands of people, many of them Latinos, marched in the streets of New York, Los Angeles, Chicago and many other cities in protest. A rallying cry became "Today We March, Tomorrow We Vote."
The National Organization of Latino Elected and Appointed Officials, which has been helping legal residents become U.S. citizens and register to vote for three decades, seized on the protests to launch its campaign, "Ya Es Hora, ¡Ciudadanía!"
The campaign was cited later by Citizenship and Immigration Services, part of the Department of Homeland Security, as a contributor to the record 1.4 million applicants for citizenship that swamped the agency that year, along with higher fees and an anti-immigrant atmosphere. NALEO hasn't let up on the effort.
"We do citizenship promotion 365 days a year and what we try to do is try to take advantage of moments in time where we can leverage circumstances to launch our different campaigns. It's not something we've only done once. We've been doing this 30 years," said Arturo Vargas, NALEO's executive director.
Vargas said NALEO, in partnership with other organizations and Spanish-language media, has helped about 250,000 people become citizens.The NALEO naturalization campaign was followed by others to register the new citizens, get them to vote and get them to respond to Census forms.
NALEO is steering a campaign now, "¡Protégete! !Ciudadania Ya! (Protect yourself! Citizenship Now!) focused on helping the estimated 755,000 Los Angeles residents eligible to naturalize through the process. The campaign was started in response to a drop in naturalization rates across the U.S.
"What we are doing through this campaign is putting a spotlight on the urgency of the moment to get folks to naturalize now, so we can be more fully represented in the 2016 elections." – Cristobal Alex, president Latino Victory Foundation
According to Alex of the Latino Voting Foundation, newly naturalized Latinos have a high propensity to vote, with 67 percent voting at least once and 84 percent registered to vote.
The New American Democracy Campaign's goal is to reach 750,000 citizenship-eligible immigrants and help 45,000 with their registrations.
"What we are doing through this campaign is putting a spotlight on the urgency of the moment to get folks to naturalize now, so we can be more fully represented in the 2016 elections," Alex said.
About 2.7 million of the 8.8 million legal residents are Mexican immigrants. Mexicans are less likely than other groups to become citizens. While about 76 percent of the 55 million Latinos in the U.S. are American citizens, only about a third of Mexican immigrants in the U.S. have citizenship, according to Pew Research Center's Mark Hugo Lopez.
About 44 percent of the Mexican immigrants could seek citizenship without having to pay the fees because they earn so little money, said Tom Jawetz, Vice President for Immigration Policy at the Center for American Progress.
There were also about 1.2 million Filipino, Vietnamese, Korean, Japanese and Pakastani legal permanent residents eligible to naturalize in 2009, according to DHS statistics. Sadhya Bathia, a spokeswoman for Asian Americans Advance Justice, said it's likely the number has increased because Asians are now immigrating at higher rates than other groups.
The AAJC also has been conducting naturalization clinics in the DC, Maryland, Virginia region where about 65,000 Asian immigrants live. But she said reaching Asian American immigrants in the area is challenging because the area lacks a major ethnic media outlet, such as Telemundo and Univision that can help promote the clinics, and because of the variety of languages spoken by the subgroups that make up the community.
"It's challenging but we are doing what we can," Bathija said.
Becoming a citizen requires passing a citizenship test, proficiency in English, clearing interviews and background checks and paying a $595 application fee plus $85 for digital images of fingerprints.
Thus far, the groups have about $2.9 million for their effort and hope to raise $6 million, said Joshua Hoyt, executive director of the National Partnership for New Americans.
Vargas said that often it is anger, fear or hope that emerges in the community and has to be leveraged to motivate people to take the steps to become citizens and turn out to vote.
"We'd like hope to be the ultimate motivator, but many times it is fear and anger that drives people to action and unfortunately there are too many out there creating fear among immigrants, including presidential candidates," Vargas said.
For Torres, the slaying of an 11-year-old girl pushed her into the political world and made her realize "my voice wasn't being heard." Torres had worked as a 911 dispatcher.
"It took that to motivate me to apply and take classes," at her hometown church, Torres said. Then California lawmakers introduced Proposition 187, an anti-immigrant bill, and Torres said she realized many of the people who worked in her building were legal resident, but not citizens because many were afraid.
"They had been legal residents many, many years. We all went to school here, grew up in the U.S.," she said. "I said, 'Hey, look at me. I did it and you can too,' and they all began that process and did it too."