There are more than 800,000 Latina-owned businesses in the United States, and they represent the fastest-growing segment of small business owners. Yet many Latina business owners and would-be entrepreneurs are unaware of the many programs and services available to help them launch and successfully continue their business endeavors.
That is why the U.S. Small Business Administration and Latina media mogul and entrepreneur Nely Galán are joining forces and signing a first-ever agreement to help start, maintain, and expand Latina-owned businesses. The partnership will include providing information, training, and resources for aspiring Latina entrepreneurs.
RELATED: Books: Entrepreneur Nely Galán Wants More Latinas to Be 'Self-Made'
Galán, the former President of Entertainment for the Telemundo network, is a founder of the non-profit group Adelante Movement, which trains and empowers Latinas to become entrepreneurs. She also has her own real estate development and investment company.
"The future is in women and small business and entrepreneurship. There is a lot of hidden money in America and we're going to help you find it through the SBA," said Galán during a ceremonial agreement signing in Washington, D.C.
"We all have an information gap. We don't know all the money that's out there for us. I myself didn't know about SBA loans," said Galán. "I didn't realize that so many non-profits provide training and the SBA partners with them. There is money out there but we don't know how to get it and it can be intimidating. Entrepreneurship is not grandiose; it's step by step and getting connected."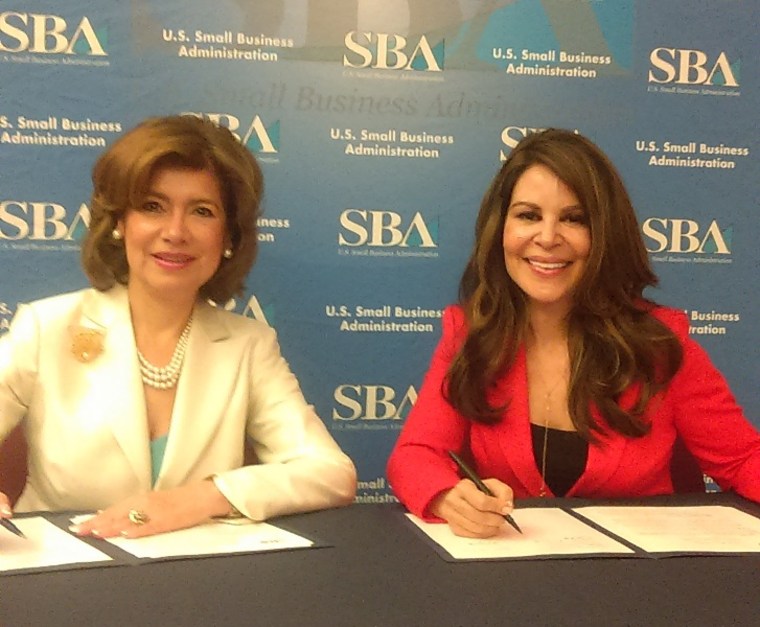 SBA Administrator María Contreras-Sweet says the agency can be a fountain of resources and information for Latina entrepreneurs.
RELATED: Maria Contreras-Sweet Sworn in as SBA Administrator
"The SBA has a great panoply of services that have proven successful to the community. We zeroed-out fees on loans under $150,000, we have recruited more credit unions, and we have changed the rules on underwriting to relax some of the underwriting. We have increased lending to the Hispanic community. We are at record-lending levels.
RELATED: 7 Networks for Latina Professionals or Entrepreneurs
The U.S. government had never been able to reach a simple goal of 5 percent contracting (to Latina-owned businesses), but we came in, hunkered down, put in more streamlining, and we've reached that goal and exceeded it. So now the five percent is the floor, not the ceiling. The numbers speak for themselves," said Contreras-Sweet, herself a Latina entrepreneur and business executive before joining the Obama administration two years ago.
RELATED: AccessLatina: Giving Women Entrepreneurs Tools to Reach Next Level
"All of this work is building on each other and we think this initiative is going to be one more of those endeavors. This will be a significant partnership. We're going to create more jobs and have more impact and transform communities and brighten up lives."