Flor Barrio lives in Elmhurst, Queens, but has told her sons to take her to Manhattan if she ever needs to go to a hospital.
"Have you seen the lines there?" Barrio said about her local hospital, which is part of the nation's largest public health care system. "They're always so, so long!"
When Barrio started asking herself what she could do to improve the situation, she decided to help next year's census get an accurate count of the people living around her, so her high-density neighborhood could get more of the resources it needs.
Barrio is part of the 45 percent of people, according to the Census Bureau, who know that census data helps determine public funding for hospitals, public transportation and infrastructure, among other things.
Barrio recently joined about 30 other volunteers at second training session for NYC Census 2020 to find out how she can encourage people, including members of her church, to participate in the constitutionally mandated decennial count.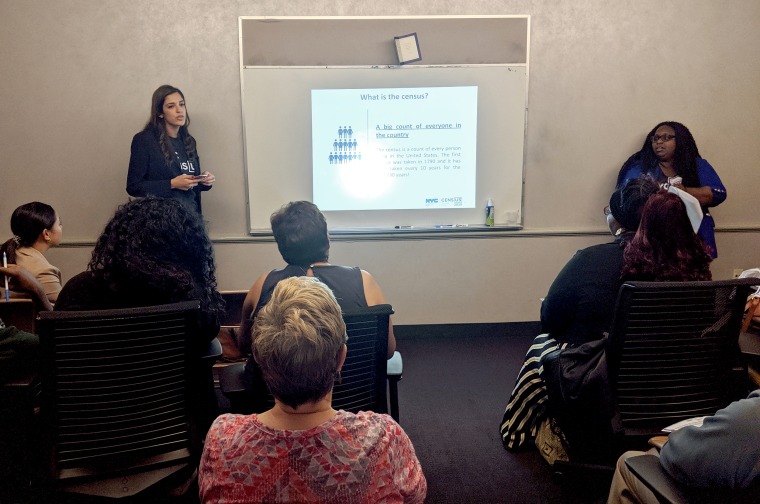 Volunteers from New York City's five boroughs and New Jersey gathered in a small, dimly lit room in Manhattan's financial district to learn the best way to conduct census-related activities in their communities — some of which are considered traditionally hard to count.
"The census is like your RSVP to this party we call 'living in the U.S.,'" Kathleen Daniel, field director with NYC Census 2020, enthusiastically told volunteers, as she stood next to a white board projecting a Powerpoint presentation about the census and why it matters.
Julie Menin, director of NYC Census 2020, told NBC News: "We are fighting for our fair share of over $650 billion a year that the federal government allocates to cities and states across the country. It's funding for our public education, public housing, Medicaid, senior centers, Head Start programs."
Beyond funding, census results determine the amount of seats each state gets in the House of Representatives and the number of Electoral College votes each get.
Concerns after 2010 undercount
In the 2010 census, the city's response rate was less than 62 percent, compared to the national average of 76 percent. Another undercount would risk not only federal funds but also the loss of as many as two seats in Congress, Menin said.
The odds of that happening are high. According to a January Census report, the city's response rate may be even lower — 58 percent — in 2020 because of a variety of factors, including a distrust of government as well as concerns about data privacy and confidentiality.
Such concerns heightened after the Trump administration announced plans to include a citizenship question in the 2020 census, which the Census Bureau's own researchers found would reduce participation. The Supreme Court struck down the administration's efforts over the summer.
"The question never made it on the census, but the fear did," Sasha Beder-Schenker, deputy field director with NYC Census 2020, told volunteers during the training session.
In Queens County, where Barrio lives, 48 percent — almost half — of the population is foreign born. As a recent Rockefeller Institute of Government report states, foreign born residents, as well as Latinos, blacks, children under five, people over 65, those with limited English and lower-income residents are among the groups that have most been undercounted.
The newly launched NYC Census 2020 office is hoping to recruit at least 2,500 volunteers who, like Barrio, want to avoid another undercount.
"We want to make sure that New Yorkers realize that by not filling the census out, they're affecting their community and all of the programs that they depend on," Menin said.
While a survey from the Census Bureau found that fewer than half of its respondents knew that census data is used to help determine public funding, 62 percent said "benefits to their communities are the most important reason for filling out the census questionnaire."
This is why $19 million of the $40 million that Mayor Bill de Blasio's office and the City Council has committed to the effort is slated for community engagement efforts, including "disseminating grants to community organizations" with 501(c)(3) standing, Menin said.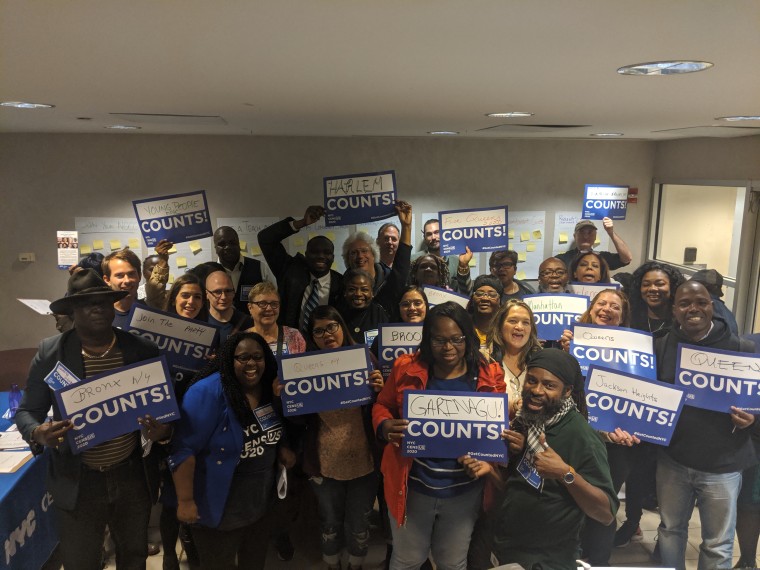 The Census survey suggested that trusted voices in the community may increase participation among people with the greatest distrust in government.
Antonio Nery, a volunteer from the Bronx, has already convinced dozens of people in his community to either commit to filling out the census or join NYC Census 2020 as volunteers.
Nery identifies as Garifuna, also known as Garinagu — descendants of Afro-indigenous populations from the Caribbean island of St. Vincent who were later exiled to Honduras and Belize.
The Garifuna Coalition USA estimates that hundreds of thousands of Garifuna people live in the South Bronx as well as in Harlem and in Brooklyn's East New York, but Nery said that many Garifuna people are pushing for an accurate count of their own community to get their fair share of funding and representation over the next decade.
Nery said he's been telling others who share his ancestry to write "Garifuna" as their ethnic group in the census.
"In other census many of us have not participated or have marked themselves as 'other,' but that doesn't tell anybody that we have specific community needs that need to be accounted for," Nery said.
During the training session, Daniel told the volunteers that millions of children were not accounted for in the 2010 census — and communities paid the price by losing needed resources.
"When children are left out of the census, it takes an entire generation to correct their education because the census determines the kind of access they'll have for 10 years," she said.
Next steps
Census postcards are supposed to be mailed to households, not individuals, starting on March 2020 with the appropriate information to fill out the form online, via phone or mail.
This is the first time people will be able to complete the census form online in 13 different languages, said Daniel, adding that the new form will be "shorter and easier to fill out."
"Think about it as the three 10s: Ten Questions that will take you 10 minutes to answer, and it determines your life for the next 10 years," she said.
Next April, federal census workers will knock on the doors of those who have not completed the form.
"The best way to prevent the government from knocking on your door is by filling the census right away," Daniel said.
The president receives the census results on Dec. 31, 2020, in order to allow state redistricting processes to take place in March 2021.
"If we're not counted, it's like we don't exist," Beder-Schenker told volunteers, as they planned for the next training session on Oct. 19.