Nicaraguan President Daniel Ortega won re-election Sunday, electoral authorities said, setting the stage for his third consecutive term — this time accompanied by his wife as vice president.
The president of the Supreme Electoral Council, Roberto Rivas, said late Sunday that Ortega had more than 71 percent of the votes with about a fifth of the ballots counted.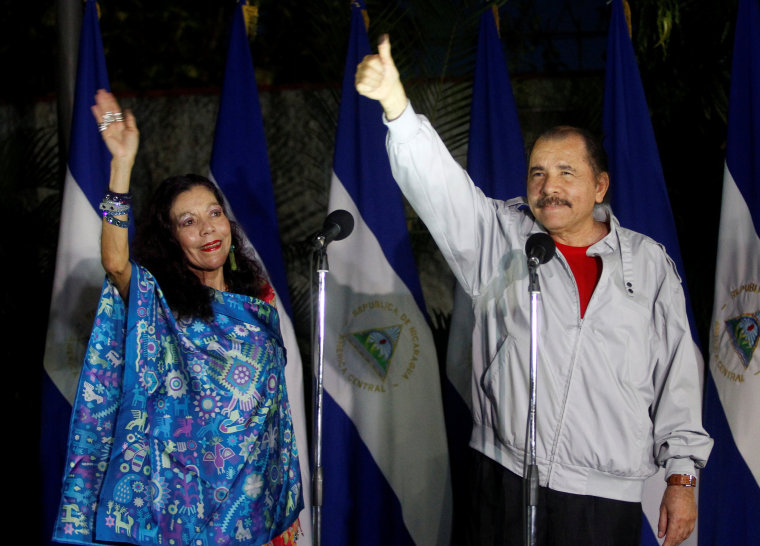 Ortega, who ran with his wife, Rosario Murillo, as his vice presidential candidate, faced five other lesser-known candidates in an election that critics of the government had called unfairly tilted against the opposition.
Emerging with her husband after casting their ballots shortly before the polls closed, Murillo called the vote "an exemplary, historic election."
Rivas said 65 percent of Nicaragua's 3.8 million registered voters participated in the election. The opposition, which had urged people to boycott the election, disputed that, contending turnout was low.
The main opposition movement, the Broad Front for Democracy, said its checks indicated that "more than 70 percent" of voters did not cast ballots.
Ortega and his leftist Sandinista National Liberation Front have benefited from the Central American country's steady economic growth and low levels of violence compared to neighboring Honduras and El Salvador. Many Nicaraguans also cite the first lady's social programs as a major reason for the governing party's popularity.
But critics accused Ortega and his allies of manipulating the political system to guarantee he stayed in power for a new five-year term by dominating all branches of government, allowing indefinite presidential re-election and delegitimizing the only opposition force seen as capable of challenging him. They said he wants to form a political dynasty together with his wife.
In July, Nicaragua's Supreme Electoral Council ousting almost all of the opposition members from congress — 28 active and alternate legislators from the Liberal Independent Party and the allied Sandinista Renovation Movement — for refusing to recognize Pedro Reyes as their leader. Reyes was named head of the opposition by the Supreme Court but is seen by many as a tool of Ortega. The ousted legislators supported former opposition leader Eduardo Montealegre.
The most powerful opposition forces moved to the sidelines of the nation's politics, urging Nicaraguans to boycott the election, which they called a "farce."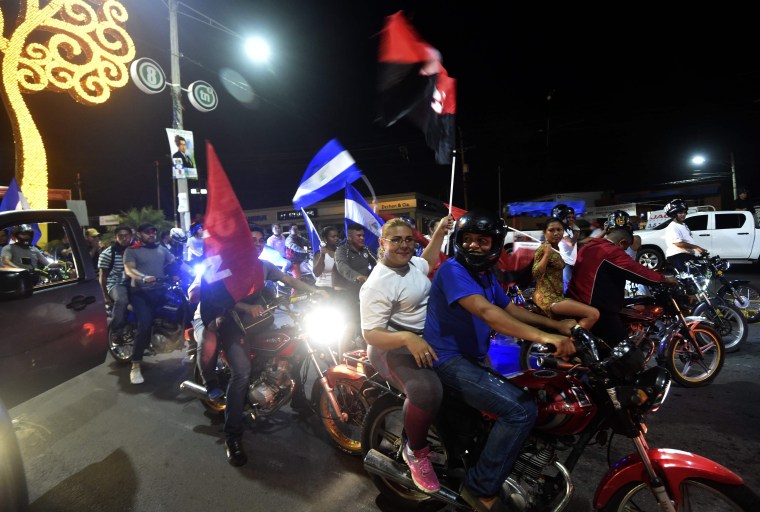 Many Nicaraguans, including political analyst Carlos Tunnerman, believed the five other presidential candidates were not true opponents, but were placed on the ballot to make it seem that Ortega had legitimate competition.
"The only thing they are looking to do is play along with Ortega, permitting him to get additional small bits of power in the National Assembly, Tunnerman said.
Ortega, who helped topple the dictatorship of Anastasio Somoza as a Sandinista guerrilla leader, ruled Nicaragua from 1979-1990. After losing power in a shock electoral defeat, he later returned to the presidency through the ballot box in 2007.