Disappointed over the lack of action by the White House and Congress over the long-term fate of DACA and immigration reform, Dreamers are focusing their energies on this year's elections and mobilizing through political action.
In September, President Donald Trump marked March 5 as the last day of the Deferred Action for Childhood Arrivals program, better known as DACA. The Obama-era executive action allowed young undocumented immigrants illegally brought to the U.S. as young children to apply to work and study in the country without fear of deportation.
But two federal judges blocked the Trump administration from rescinding the program and the U.S. Supreme Court refused to hear the government's appeal, which expanded Dreamers' time frame to garner congressional support for a permanent solution.
"They kind of gave people a relief," said Astrid Silva, a DACA beneficiary and co-founder of Dream Big Vegas in Nevada who has been involved in immigrant and political activism for nearly 10 years. She worked with former Sen. Harry Reid, a Nevada Democrat, and put pressure on the Obama administration before the former president announced the DACA program.
On Monday, hundreds of Dreamers and allies marched in Washington from the American History Museum to the U.S. Capitol — blocking intersections and facing arrests — to demand that Congress pass legislation. Early Monday morning, some of the protesters staged a sit-in blocking the entrance to the Democratic National Committee headquarters. In it, some were publicly revoking their Democratic Party affiliation.
Over 80 protesters were arrested during the demonstrations, according to United States Capitol Police.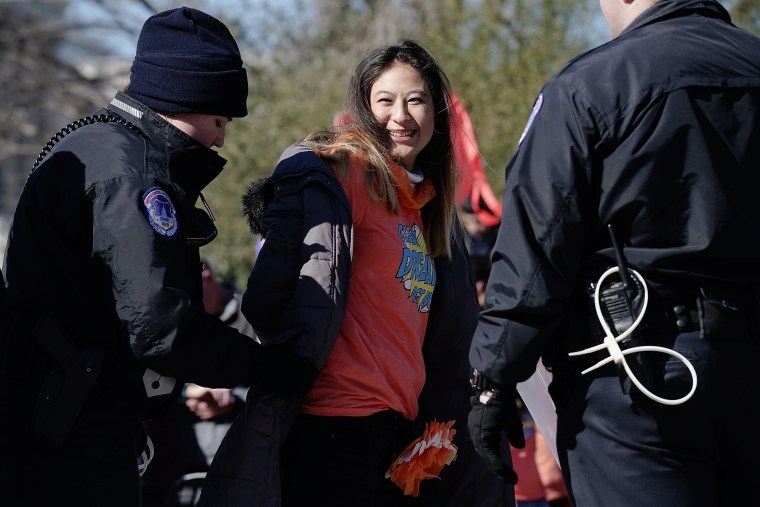 Nonetheless, the fate of Dreamers remains uncertain until Congress or the White House provide legal, permanent alternatives. Young immigrants are focusing on the elections, working to mobilize voters and push legislators.
"As a person that has come out [as a DACA recipient], there's no retracting," said Silva. "That's why so many of us have wanted to have seats at the table."
Silva thinks the court's action has prompted bigger Dreamer rallies and more organized political mobilization in this election year because "people think it's (DACA) a solution and we have to explain to people that this is temporary."
Dreamers could start losing their status this week as a result of backlogs in processing DACA renewals and applications, according to data from Citizenship and Immigration Services provided by the Congressional Hispanic Caucus.
Monica Sibri, founder of CUNY Dreamers, has been an immigration advocate for over five years in New York City. She said the Dreamer movement is at its most organized, going beyond "hitting the streets" and marches to more meetings with elected officials.
Sibri has found a way to use "the national picture of what it is to be an immigrant in America" as an opportunity to hold state senators and governors accountable for their promise to protect immigrants, including Senate Minority Leader Chuck Schumer, a New York Democrat, and others.
Sibri told NBC News she has seen a response among local elected officials as young immigrants like her aim to harness the opposition to Trump's policies to their advantage.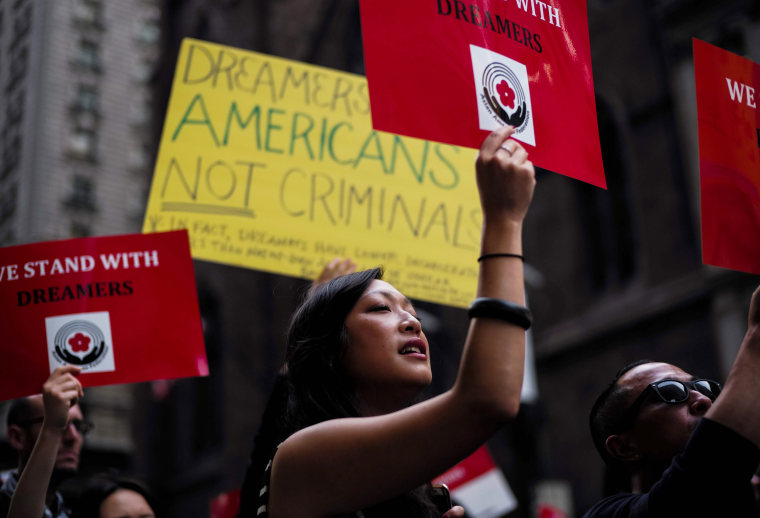 "Anybody that opposes a piece of the Dream Act or any piece of immigrant legislation at the state level is now being labeled as a 'Trumper,'" Sibri said. "And they're afraid to be compared to Trump. ... Even the responses we've received from their offices are way higher than before."
Across the country, other young immigrant activists are lobbying local and state officials.
"I now actually know what it's like to talk to these people (government leaders), how to speak with their staff," said DACA recipient and community leader Benito Costilla, who is from Temple, Texas, and attended a lobbying day and organizing training conference in Washington with the League of United Latin American Citizens. "When you talk to these people, you need to keep your head straight and stay concentrated. You can't get too emotional."
Other Dreamers who have joined national civil rights organizations are using their platform to mobilize politically against Trump's immigration policies.
Lorella Praeli, director of immigration policy and campaigns for the ACLU, announced a six-figure ad buying campaign that includes video spots on Fox News and digital spots, to reach Republican influencers, including Republican National Committee staff and White House members.
"He created this crisis when he ended DACA in September, and he has sabotaged every reasonable legislative solution," Praeli said of Trump in a statement. "We will maintain pressure on him and demand that he fix what he broke when he ended DACA six months ago."
Javier Gamboa, a DACA recipient and the director of Hispanic media for the Democratic Congressional Campaign Committee, sees this year's midterm elections as crucial to electing officials as a way to find a solution for Dreamers and immigrants with no legal status.
Gamboa's job at the committee is to get Democrats elected to the House. Although the party's focus is centered on becoming the majority in Congress, for him the ambition is also personal.
"We are going to hit the deadline and nothing has been done and nothing has been passed to provide a solution for DACA," Gamboa said. "We belong in this country and it is a fight to remain in this country. It is a fight for my future."
Activists like Silva remain confident and hopeful that comprehensive immigration reform that protects Dreamers and their families will ultimately come, sooner rather than later.
"To the opponents of the Dream Act, those who were able to adjust their status, they're going to be running for office — people who understand what it's like to be afraid of La Migra," Silva said, using slang for federal immigration officers.
Suzanne Gamboa, senior writer at NBC News Latino, contributed to this report.