It was a heartbreaking scene - a family holding candles in memory of a young woman whose life ended at 23 as she was fulfilling one of her lifelong dreams. Nohemi Gonzalez, 23, had worked hard to get to go to Paris as an exchange student studying industrial design. But on Sunday, her family, boyfriend and college community gathered to say goodbye to the college Senior whose death has also touched the larger community.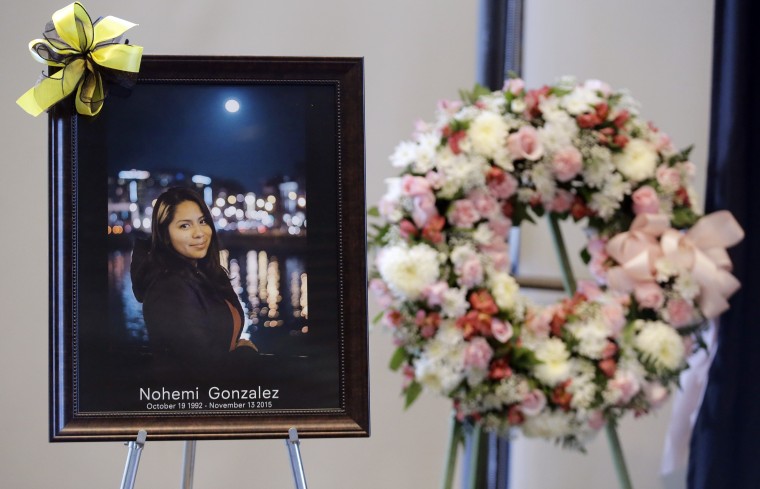 Hundreds attended the vigil held at CSULB Sunday afternoon to remember Gonzalez and all the other victims of the attacks. The venue was filled to capacity.
Her boyfriend of four years, Tim Mraz, could barely speak at the memorial service. In a halting voice, the young man said he called Gonzalez "Pocahontas" because of a tattoo on her left arm and that she called him her "John Smith."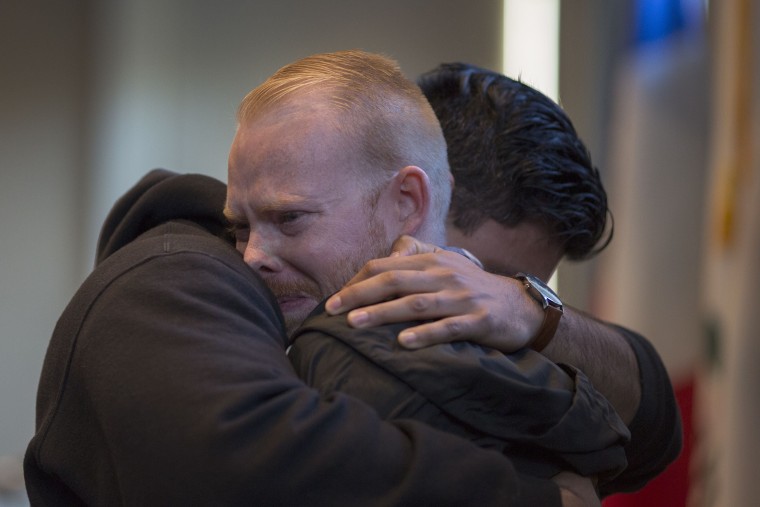 "She's my little firecracker. She'll always be here. She'll always be in my heart, and I think she's going to be in everyone else's heart, too," he said as he was comforted by Gonzalez's stepfather Jose Hernandez, "You're always in my heart. I love you, baby."
Beatriz Gonzalez, Gonzalez's mother, did not speak in the vigil and another family member broke down in tears speaking about her. Her stepfather Jose Hernandez said that Gonzalez and her mother were always so close and she is not dead, but would live in her mother's heart "now and forever."
Gonzalez was one of several students from Cal State Long Beach at the exchange program in Paris. One of them, Tanya Flores, said at the memorial service,: "I don't know why this happened. All I know at this moment is that Nohemi was a very, very strong person." She then turned to the young woman's mother. "Beatriz, I'm sure you are really proud to be her mom. You raised such a beautiful person who surely brightened our lives."
Related Article: Mourners Remember CSULB Student Killed in Paris Attacks
A message left by the memorial on campus read: "Our hearts are broken by this incredible loss and tragedy. She will live within us always and her light will forever shine on."
A classmate posted a picture of a memorial in the Design Building at CSULB for Gonzalez, writing: "I am blessed to be part of such a strongly bonded design family that has come together to honor Nohemi and support one another during this incredibly difficult time. A walk down the design building hallway will never be the same."
The death of Gonzalez, who was described as a dedicated and strong student who had won design awards and was a tutor and mentor, touched many who did not know her, and many in the Latino community described themselves identiying with her. Gonzalez wrote in a college essay that she identified as a Mexican American, the first generation in her family to be born in the U.S.
Another Instagram user, who did not personal know Gonzalez, posted a picture of how Gonzalez described herself in a recent university assignment. "I've never met her but I feel like I knew her. Maybe because she's from my alma mater, maybe because she's Mexican American, maybe because she dreamed big like so many of us," she wrote, "I feel so sad that this person got her life taken away so soon. May she rest in peace and I pray that her family find peace one day."
On Facebook many expressed their sadness over the loss of young Gonzalez and gave their condolences and prayers to her friends and family. Jose Jaime wrote: "She was like my sisters and me. First Gen Mexican Americans. We are all college grads. This one really cut deep for me... She could have been a great one." Tita Medrano wrote "My heart and prayers go out to her family and specially her mom. As a single mother myself of an only child and a believer in learning abroad #wecantliveinfear. Stay strong and keep her legacy alive."
The university website changed its homepage to a burning candle in memory of Gonzalez.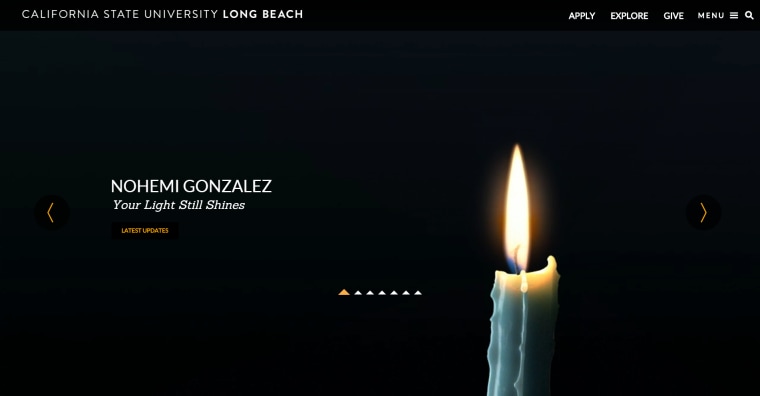 A donation page was started to raise money for her funeral costs. A second vigil is planned for Tuesday at Whittier High School, from which Gonzalez graduated in 2010.