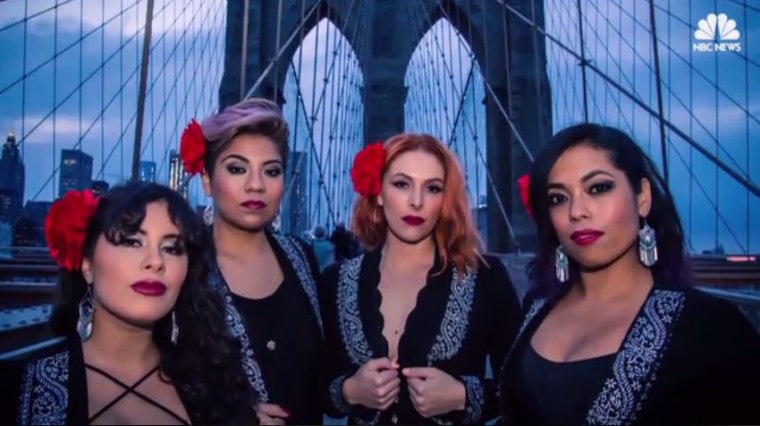 When you think mariachis, you probably think a group of men in their iconic black suits and hats. But you haven't met the group Mariachi Flor de Toloache.
At The Red Rooster, a cultural landmark in Harlem, New York, it was as busy as you would imagine any restaurant to be a few months ago on Valentine's Day, when a group of four musicians donning Mariachi outfits set up to perform in the corner by the bar.
The all-female Mariachi band gifted the restaurant's patrons both a cultural and revolutionary experience through their music.
"My dream was to have an all-female group and kind of do fusion music because, you know, I come from a mixed background," said Mireya Ramos, founder of Mariachi Flor De Toloache. Her father is Mexican, her mother is Dominican and she and her brother were raised in Puerto Rico.
When Ramos first started playing Mariachi in New York she played with an all-male band and all the members were from Mexico. But she felt a cultural and generational divide, and Ramos set out to create a space in the iconic genre for herself and for women like her.
This is where fellow band member Shae Fiol came in.
"I don't really know anything about Mariachi, let alone an all women Mariachi," Shae Fiol remembers saying to Ramos in the summer of 2008 when she was approached with the idea. Nine years later, she says that the group has become family, and each member a sister, forging a relationship that allows her to feel safe enough to express herself.
"I would feel undervalued because I'm a woman and on top of that I'm a Latina," Ramos said. But she said the group has created a cool platform and a safe place for women to come together and create music, which is empowering.
RELATED: How An All-Women Mariachi Band is Owning the Genre
The group has endured - and still does - kissing noises, whistling and less than desirable online comments.
But they know how to handle it.
"I'm very blessed that everyone in the band is a very strong independent woman and collectively when we get on stage we just ignore that and we just open our mouths and start playing and people just shut up," said Fiol.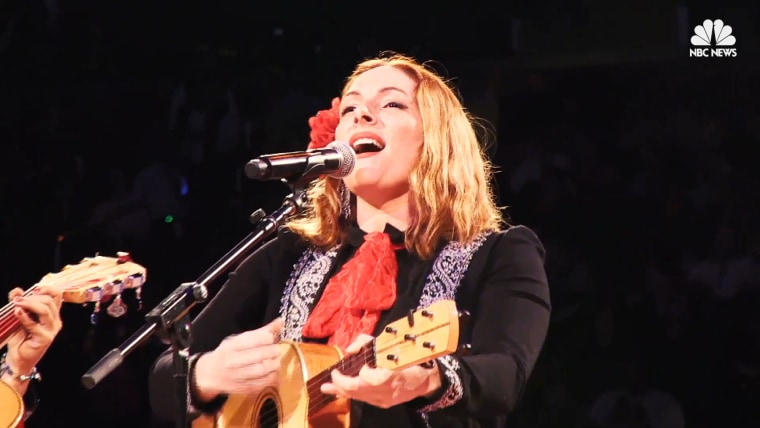 In between sets at the Red Rooster, women excitedly approached the group with a drink in one hand and napkins for autographs on the other, as well as big smiles on their faces. The setting was small and intimate, allowing for this type of interaction.
But the group has evolved from playing in the subway to smaller venues to getting ready to play in one of the most iconic of musical spaces - Madison Square Garden.
After rehearsing their halftime performance for Latino Night at MSG, a woman walks into the group's dressing room. She was giving a tour while the Mariachis were rehearsing.
"For the first time, I had to stop and listen," said the woman. The group thanked the woman exited the room. They returned their focus to show preparation.
Right before halftime came around, the Mariachis met to regroup in the tunnel that leads into the basketball court of MSG. As the time for their performance neared they slowly walked towards the opening of the tunnel and stared in awe at the amount of people in attendance that night.
"The most people I've ever played for in my life," said Shae Fiol of the night's performance.
"Oh my god, I was so nervous!" recalled Ramos.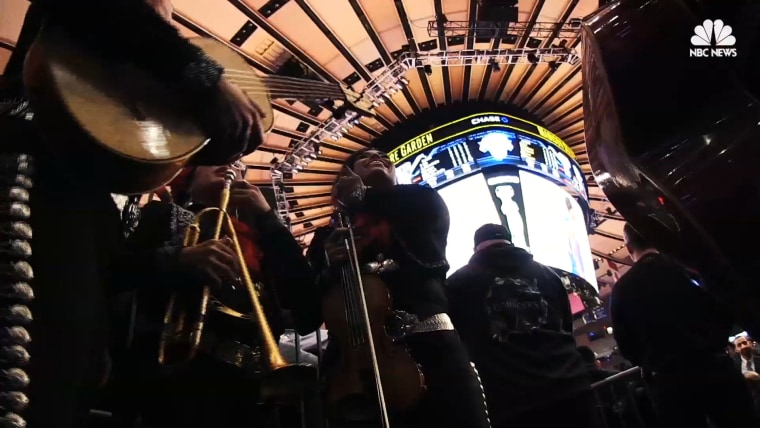 Mariachi Flor De Toloache takes the spotlight. The stadium fills with the booming voices of Ramos & Fiol, the group's lead vocalists, accompanied by the symphonic musings laid out by their bandmates.
Following the performance, the mariachis reverted to the tunnel as they walked towards their dressing room to decompress from the night's activities.
The image of a mariachi band will never be the same.