NEW YORK, NY -- Colombia may be thousands of miles away, but for Andrés Guzmán, "in one way or another, every Colombian is connected to the war."
Guzmán was one of about one hundred people who marched through New York's Times Square calling to save a peace deal between the government and leftist guerrillas in Colombia that failed in a narrow vote on Sunday. Amidst the glittering skyscrapers of Midtown Manhattan and scores of onlookers, the group silently walked up and down Broadway on Wednesday night holding white flags and placards reading "never return to war."
For many in the group, the mood was somber. Some like Guzmán told NBC News they had a lost a friend or relative in Colombia's 52-year-long war that has claimed the lives of 220,000 people and displaced seven million others.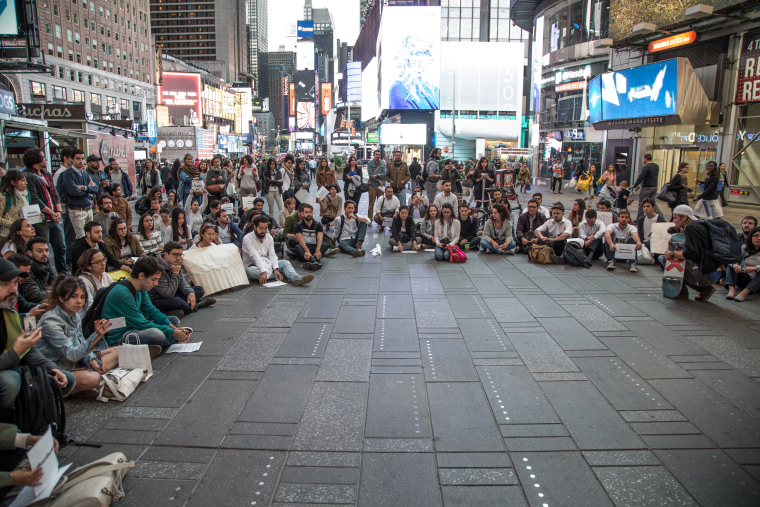 He said his family fled their village in the Colombian state of Tolima in the late 1950s when the FARC first took up arms in the region. In Tolima, and other states along the country's northwest coast, that violence has continued, unabated for decades. In those regions, Guzmán noted, the "yes" vote won by overwhelming margins.
RELATED: Voices: I Forgive Colombia's Rebels
"On Sunday, we saw the states that suffered most from this war vote for peace," said Guzmán. "For some in the cities who've never seen violence firsthand, the war may seem far away but it affects the way they go about their daily lives. War is paralyzing."
The march in New York coincided with a much larger demonstration in Colombia's capital, Bogotá, where thousands carried candles and waved white flags through the city long into the night.
Both marches were organized on social media by student groups and social activists who have publicly called to save a peace deal that was painstakingly negotiated between the government of President Juan Manuel Santos and FARC leaders over the course of four years in Havana, Cuba.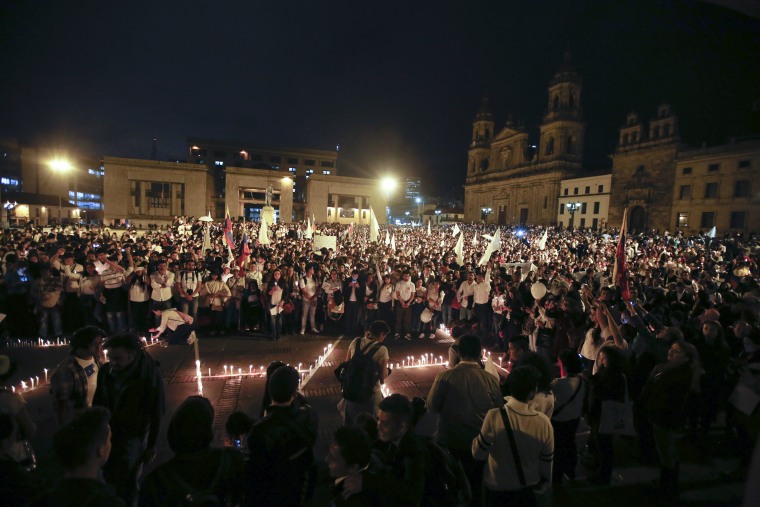 The opposition, led by former President Alvaro Uribe, was fierce. Chief among critics' concerns were provisions in the accords that would allow FARC members accused of war crimes to escape prison if they confessed to those crimes before a special tribunal.
"The deal wasn't perfect but it certainly would have allowed our nation to escape the trauma of a war that has no end," Camila Higuera told NBC News.
For Felipe Torres Medina, a Colombian writer in New York who also took part in the march, the last week has been a "political awakening" for a disillusioned public.
"This is the closest we've ever been [to peace] in 52 years," Torres Medina told NBC News. "People, especially young people who enthusiastically supported the deal, will not stand by for another generation and let this elusive chance at peace be wasted."