WASHINGTON, DC -- Standing in front of the U.S. Constitution, President Barack Obama hit back at those creating a current anti-immigrant and anti-refugee atmosphere, saying: "We betrayed these documents."
Obama spoke after 31 people swore their allegiance to the U.S. as new American citizens in a ceremony Tuesday at the National Archives, the building that houses the Constitution, the Declaration of Independence and other documents that are the bedrocks of the nation.
Although he didn't mention the rhetoric of the GOP presidential primaries and anti-Muslim views that have emerged since a mass shooting in San Bernardino, Calif., Obama clearly was taking on the current anti-immigrant climate.
Obama reminded attendees that immigrants encountered discrimination and hatred within the U.S. throughout history, from Africans brought to the country as slaves to Chinese excluded from entering America, to the detaining of Germans and Italians and the internment of Japanese and Japanese-Americans.
"We succumbed to fear. We betrayed not only our fellow Americans, but our deepest values. We betrayed these documents. It's happened before," Obama said.
The ceremony was held just hours before Republican presidential candidates were to take the stage for the fifth GOP presidential debate.
Tough talk against immigrants has been a centerpiece of GOP frontrunner Donald Trump's campaign. In his bid for president he said Mexico is "sending" its rapists, criminals and people carrying drugs to the U.S.
He has proposed deporting all immigrants living in the U.S. illegally, getting Mexico to build a wall to seal the border and suspending immigration of all Muslims to the U.S. In the last debate, Trump talked of bringing back what was known as "Operation Wetback," the mass deportation of Mexicans in the U.S., and in some cases Mexican Americans, during the Eisenhower administration.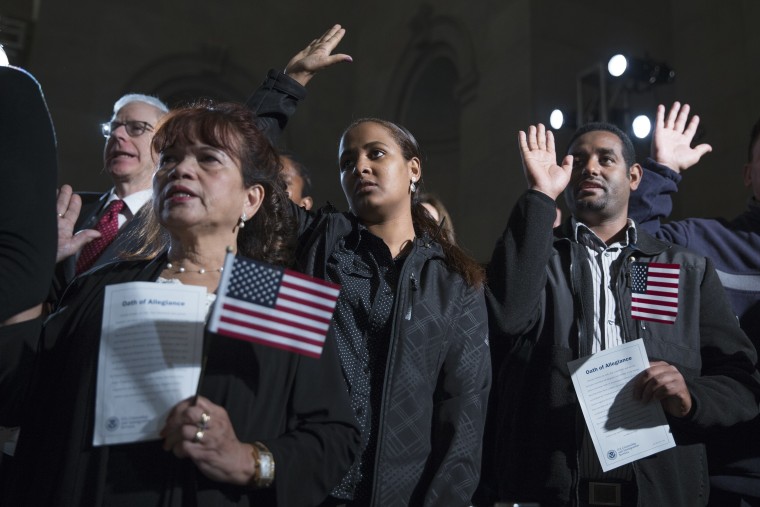 On Monday, a campaign aide to Sen. Ted Cruz, who polls show is now running second to Trump, told a group of GOP Hispanics that Cruz supports immigrant "attrition through enforcement," which those who heard it interpret as an idea that circumstances are made so difficult for immigrants that they "self deport" or leave the country. Cruz's staff also told the group he would be a champion of legal immigration.
"How quickly we forget. One generation passes. Two generations pass and suddenly we don't remember where we came from," Obama said.
RELATED: Cities Have Moved Ahead to Welcome, Integrate Immigrants
"On days like today, we need to resolve to never repeat mistakes like that again," Obama said, drawing applause.
Obama said being an American is hard, "there's no respite from our ideals." He referred to immigration as America's oldest tradition.
"The tension throughout our history between welcoming or rejecting the stranger it's about more than just immigration," he said. "It's about the meaning of America. What kind of country do we want to be?"
The immigrants who became Americans represented 25 countries. Among them was Lorella Praeli, who once lived in the U.S. without legal status and became a legal resident through marriage. She now works as the Latino Outreach Director for the campaign of Hillary Clinton.