Following Argentina's elections and change in leadership, U.S. President Barack Obama traveled to the Latin American nation to extend diplomatic ties to the new president, Mauricio Macri.
Thursday morning the two leaders paid tribute to victims of Argentina's "Dirty War" at the Parque de la Memoria (Remembrance Park), as Obama continues efforts to bring light to the U.S.'s role in one of the region's most repressive dictatorships.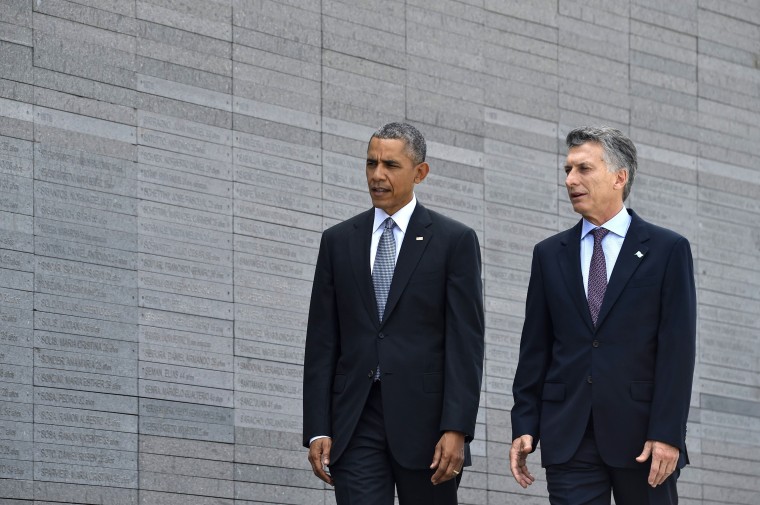 Human rights groups have condemned U.S. involvement in backing authoritarian regimes in Latin America, which extended to Argentina during the 1976 to 1983 period.
Obama's visit coincides with the 40th anniversary of the 1976 coup that opened a period of military rule that continues to haunt Argentina.
The "Dirty War" is considered one of the darkest chapters in Argentinian history. Some 13,000 people were killed or disappeared, Argentina's government estimates, though rights groups put it closer to 30,000.
Obama and Macri spoke to Marcelo Brodsky, an internationally renowned Argentinian artist and human rights activist, whose brother disappeared during the "Dirty War." The two presidents also threw flowers in the Río Plata, or Plata River, during the visit where Obama made remarks.
During his visit, Obama announced the U.S. would declassify military and intelligence records shedding light on what happened, granting a request from Macri's government.
"We are absolutely determined to do our part as Argentina continues to heal and move forward as one nation," Obama said. Of his pledge to release documents, Obama said: "I hope this gesture also helps to rebuild trust that may have been lost between our two countries."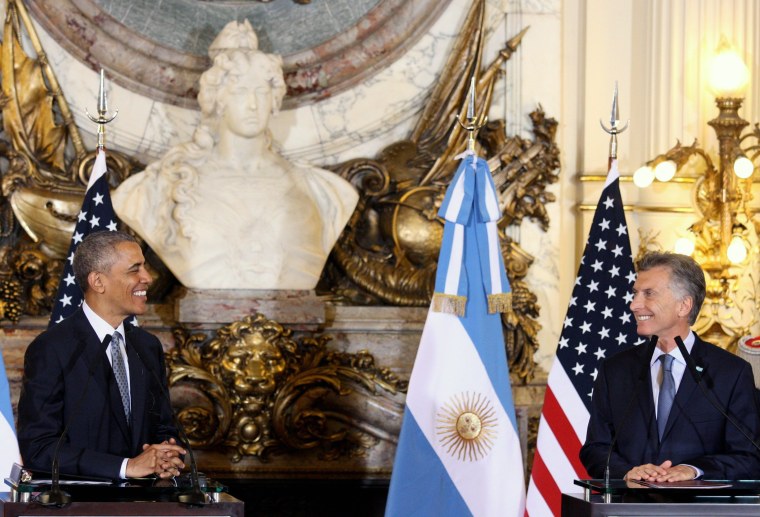 This visit was a result of Macri's promise to improve relations with the United States. Macri beat the ruling party candidate Daniel Scioli, Cristina Fernández de Kirchner's hand-chosen successor, putting an end to the 'Kirchner Era.'
Macri ran on promises of an era of more civil discourse and promised to roll back much of the Fernández administration spending that many economists say has brought Argentina to the brink of another financial crisis.
Fernández, and before her late husband and predecessor, Néstor Kirchner, dominated Argentina's politics for the last 12 years. The couple sharply increased spending on social welfare programs while raising tariffs in attempts to protect local industries and aligning the country with leftist leaders like late Venezuelan President Hugo Chavez and Bolivian President Evo Morales.
The United States and Argentina sealed a major trade deal on the first day of President Barack Obama's visit Wednesday, strengthening the efforts to end a decade-and-a-half of international financial isolation.
Perhaps the most widely circulated moment of the American president's trip to Argentina involved his dance moves when he accepted an invitation to do the tango during a state dinner in his honor in Buenos Aires. While their parents attended the state dinner, Malia and Sasha Obama enjoyed dinner in a Peruvian-Japanese fusion cuisine restaurant.
When asked about the president's tango, Benjamin J. Rhodes, deputy national security adviser for strategic communication, said: "We always wanna show these relationships with close friends like Argentina. They're about economics and politics, but they are also about culture and being able to dance a tango, drink mate, to tell people about his feelings about writers here, to acknowledge history. We were trying discuss the whole breadth of this relationship because it is a very important one to us."
Obama and his family plan to fly to Bariloche, a city in southern Argentina, for a few hours of rest before departing late Thursday evening for Washington.
The Associated Press contributed to this report.