While critics protested outside the White House, President Barack Obama pledged to help Mexico President Enrique Peña Nieto "eliminate the scourge and violence of drug cartels" like that suspected in the disappearance of 43 Mexican students.
Peña Nieto made his first visit to Washington Tuesday, accompanied by several Cabinet members, to tout his economic reforms such as the opening of the its oil and gas industry to private investment.
But his legislative feats have been overshadowed by the violence against 43 students, some whose bodies were said to have been later incinerated, and criticism of how his administration has handled the investigation of the students' disappearance.
Mexican federal agents have arrested dozens of people, including the mayor of Iguala, Mexico, his wife and police. Detainees confessed they murdered the 43 kidnapped students and burned their bodies. But, the victims' families have demanded more evidence, and that the students be found.
"Without security and the rule of law, prospects for economic growth and competitiveness will always be constrained," New Jersey Democratic Sen. Bob Menendez, former chairman of the Senate Foreign Relations Committee, said in a statement. "The tragedy of the missing students in Iguala, the discovery of clandestine mass graves, and extra-judicial killing by security forces discourage the investment that a dynamic, modern Mexico deserves."
While the presidents met, protestors ignored bone-biting cold and snow, to demonstrate outside the White House.
"We are very upset," said Ivan Almonte, a 36-year-old Mexican who has been living in the United States for 16 years and was among the demonstrators outside the White House. "We want Peña Nieto to quit and to tell us where are the 43 students. Why so much silence?"
Obama said Peña Nieto filled him in on reforms initiated around the 43 students.
"Our commitment is to be a friend and supporter of Mexico in its efforts to eliminate the scourge of violence and the drug cartels that are responsible for so much tragedy inside Mexico," Obama said.
But he added that key decisions to be made are ultimately up to Mexico.
Peña Nieto acknowledged a "clear challenge Mexico has to fighting organized crime' and thanked Obama for U.S. help on that.
The U.S. provides Mexico counterdrug and anticrime resources, including military weaponry and aircraft, through a project known as the Merida Initiative. Some human rights activists have complained that the supplies and equipment have been used to commit human rights abuses against Mexicans and to curtail political opposition.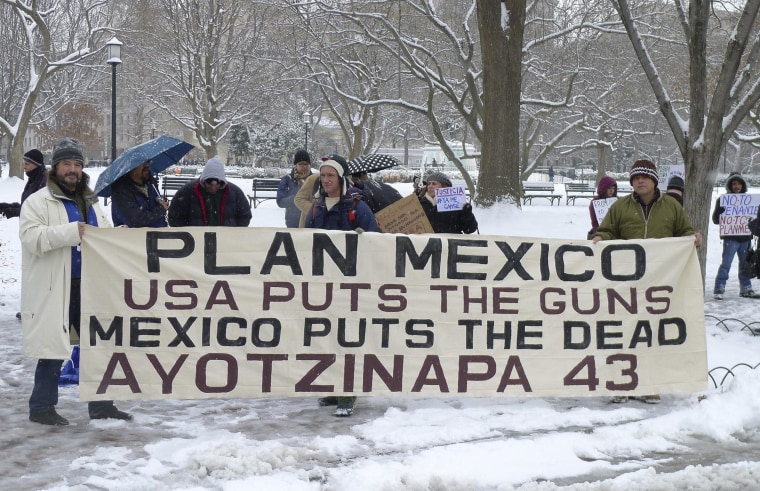 Richrd Trumka, president of the AFL-CIO, sent a letter to Obama, urging him to raise the issue of the 43 students, other killings, tortures and disappearances involving the Mexican military, public corruption, anti-union activities and other issues.
Trumka said in the letter sent Monday that the AFL-CIO and unions globally "are deeply concerned with the rapid deterioration of human and workers' rights in Mexico."
Before the presidents' meeting, a Peña Nieto aide, undersecretary for North America affairs Sergio Alcocer, raised the shooting of unarmed Michael Brown in Ferguson, Missouri, when asked whether the students' abduction would be part of the talks.
"We have cases of violence in different parts of the world," Alcocer said. "Within the United States, we know there has been this kind of violence in the area of Missouri, to mention just one case."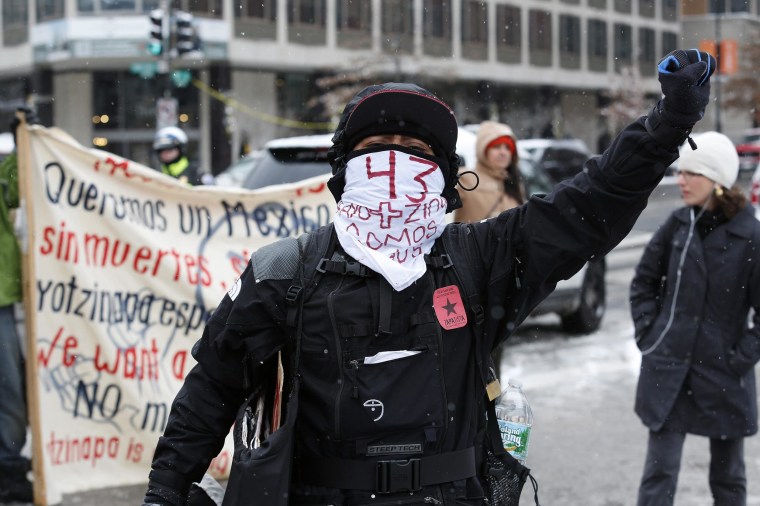 On other issues, Obama and Peña Nieto discussed last summer's spike in arrivals at the U.S. border by Central Americans who journeyed from their countries through Mexico. Obama credited Mexico with helping reduce that flow. Peña Nieto praised Obama's immigration executive action and steps Obama is taking to relax policies regarding Cuba.
Peña Nieto said Mexico is ready to help Mexicans in the U.S. with documentation they may need to apply for deportation deferrals under Obama's executive action.
"Migrants in the United States are going to be able to get their birth certificate without having to go to Mexico," Peña Nieto said.
Before the presidents met, Vice President Joe Biden and U.S. Cabinet members met with counterparts and other officials from Mexico. They focused largely on boosting their mutual economies, trade, modernization of borders and making regulatory adjustments to assist both.
"The prosperity and security of Central America is not possible without a strong Mexico; it's not possible for this hemisphere to grow to its potential without this strong economic alliance between our countries," Biden said before the officials held their closed-door discussions, according to a White House pool report.
_ The Associated Press contributed to this report