WASHINGTON, D.C. — Werner Oyanadel was at his office in Connecticut when a fresh President Barack Obama made a historic move for Latinos: he nominated Sonia Sotomayor to the Supreme Court.
Oyanadel, 45, who works for the state's assembly, remembers the May 26, 2009 nomination as a moment of joy that united much of the community during an otherwise bleak time.
"It was a celebration and in many ways it felt good in that everything that was happening near us was depressive — the economy was doing bad, the outlook for quality of life for Latinos was not positive," said Oyanadel. "Later on, I was personally happy to realize this was just the beginning."
Supporters of Obama tout substantial gains for Hispanics under his watch: The return of Latinos to work after a recession that hit them harder than white workers, as well as a drop in Hispanic poverty rates. About 4 million more Latinos obtained health insurance and the administration waged court battles for thepreservationof voting rights. Obama used his presidential power so thousands of young Latino immigrants could remain in the U.S. without fear of deportation and have the chance to work. And from his office, he forged a new relationship with Cuba.
To Oyandel's delight, Sotomayor's nomination was followed by a total of six Latinos in Cabinet secretary jobs over eight years as well the hiring of other Hispanics in key administration and White House jobs. Obama made Cecilia Muñoz, a daughter of Bolivian immigrants, one of his top advisers on domestic policies.
RELATED: Happy Birthday DACA: Youths Say it Improved Immigrants' Lives
Discussions of Obama's legacy for Latinos frequently become mired in what he did not do on immigration — mainly the failure to get Congress to pass comprehensive immigration reform. His deportation polices have repeatedly come under fire.
But looking at his presidency through a Latino lens also requires seeing it through the varied lives and backgrounds of U.S. Hispanics as well as significant demographic changes driven by Latinos.
"Obama was president with a growing Latino population. It exerted just naturally more political [and] economic power, a greater role in our society," said Bernard Fraga, associate professor of Indiana University's politics department. "Latinos are more important in U.S. society than they have ever been."
Obama is ending his presidency next week with a 71 percent approval rating among Hispanics, recovered from lows of nearly 50 percent in 2013 and 2014.
For Latinos, he will leave a legacy of inspiration, elevation, opportunity and economic lift, with the caveat of disappointment and for some, disillusionment, for what he didn't get done on immigration.
Getting Latinos insured
By the time Obama became president, Latinos had become the largest minority group, edging past African Americans in 2001. But while more than three quarters of whites had private health insurance when Obama entered office, only about 44 percent of Hispanics did. Latinos led all racial and ethnic groups, except Native Americans, in the rate of uninsured.
"We were the target for Obamacare," said José Dante Parra, CEO of Prospero Latino strategy group.
Felipe Benítez's mother, a retired doctor who emigrated from Mexico, was one of the people who signed up for Obamacare soon after the president signed the Affordable Care Act into law.
María de Lourdes Rojas was old enough for Medicare, but wasn't eligible because her working years had preceded her arrival to the U.S. and so she had not contributed from her paycheck to Medicare. Before Obamacare, she was paying steep monthly premiums for private health insurance, said Benítez, a communications strategist in Washington, D.C. Rojas is a U.S. citizen.
"Remember when (Obama) signed the bill and the mic was still hot and (Vice President) Joe Biden leaned in and said 'This is a big f***ing deal'? Well for me and the family, it was a big f***ing deal — BFD," Benítez said.
Obamacare has drawn strong criticism among Republican Latino opponents, primarily for its requirements on businesses. But supporters point to strong gains: 4 million more Hispanics have gained insurance, young Latinos are covered until they are 26 through their parents' insurance, no insurance denials for pre-existing conditions and the expansion of community health centers, which have benefited those at the bottom of the economic ladder.
"Obamacare "is one of the things I will always be grateful for and always remember and I will fight to keep it," Benítez said.
Immigration's large shadow
In his last news conference of 2016, Obama said he was proud of the coalition he built in 2008 and 2012. Latinos turned out strong for him in 2008 when he promised to take up immigration reform in his first 100 days and again in 2012 after he used executive action to protect young undocumented immigrants from deportation and to grant them work permits.
The Deferred Action for Childhood Arrivals, known as DACA, has benefited nearly 800,000 young people and indirectly some of their families, because many have been able to attend and graduate from college, work jobs or launch professions and businesses and become homeowners.
Related: American Dream: After Qualifying for DACA, Young Immigrants Buy Homes
DACA recipient Brenda Romero, 22, gives Obama a qualified endorsement.
"There's two sides of the coin: as much as his presidency has given me an opportunity to pursue my education and be able to work and not be afraid of deportation, some of the highest deportation numbers in history have been under him."
Obama focused deportations on those who had recently crossed the border, including those who had previously been deported and on those detained on an alleged crime. His office created a priority system for deportations, then tweaked it in his second term amid protests by some of his allies — Latino leaders and immigration activists — who had tagged him "deporter in chief."
Obama deflated some of that antagonism with another executive action that would have shielded parents of citizens and legal residents from deportation and widened the eligibility pool for DACA. But those programs are stymied in court.
"Immigration does sort of drown out other policy victories, particularly the Affordable Care Act, for other Latinos," said Gabriel Sanchez, a University of New Mexico political science professor.
College and a career: Thanks, Obama
While immigration got a lot of the attention during Obama's presidency, there were Latinos unaffected personally by the debate and the legislative battles over the issue. They look to other areas where Obama's policies influenced their lives.
In 2014, Roseanne Ortega graduated college with a degree in education.
A single mom, Ortega, 32, said she was able to attend school while working full time and taking care of her then 2-year-old daughter. She credits grants, other financial assistance and job opportunities with helping her graduate without debt.
She now teaches Kindergarten and hopes to one day get a Master's degree and teach at the university level. Spending on higher education substantially increased under Obama, including greater access to more affordable student loans and an increase in individual Pell grant awards.
Related: What's Behind the Falling Latino Dropout Rates?
Ortega said she'd give Obama an A for his performance as president. "Financially I wouldn't have been able to do it," she said.
Among younger Latinos, high school graduation levels are at historic highs and the teen pregnancy rate is at its lowest levels.
Building jobs and wealth
Unemployment among Hispanics has dropped more than any other group since the Great Recession, from a high of 13.1 percent in 2009, compared to 9.2 percent for whites. In October, Latino unemployment was at 5.7 percent, compared to 4.2 percent for whites.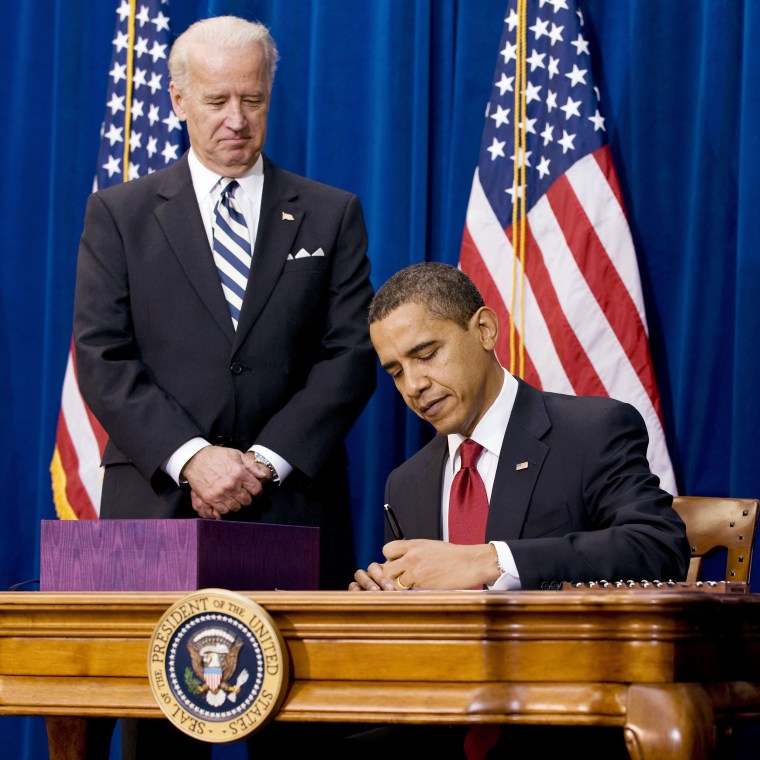 Parra, the political strategist, recalled speaking with an Uber driver in Miami before the last presidential debate. They were talking politics and the driver was unenthusiastic about the election and the candidates.
"All of a sudden (the driver) volunteers 'Obama on the other hand, that guy helped me keep my house — I was about to lose it,'" Parra said. Latinos lost 66 percent of their household wealth in the Great Recession, especially in states like Nevada and Florida.
"One of his legacies is definitely an economic one because, remember, we were disproportionately hit by the foreclosure crisis and all these (recovery) programs were very helpful to many people," Parra said.
While unemployment has dropped, the wealth gap between Latinos and whites persists and studies show that the economic recovery has been slower for people at middle and lower income levels. But Hispanics are more optimistic now: a June 2016 Pew report found 33 percent of Latinos said their finances were "good," compared to 19 percent in November of 2008.
A new relationship with Cuba
Obama's decision to end the country's 50-year-old policy toward Cuba is one that has many implications in the Latino community. The thaw has split the Cuban American community, but has improved relations with Latin American and Caribbean countries.
Elizabeth Díaz, who visited Cuba after the thaw, said she considers Obama a great president for opening up travel to her family's native country, making it possible for her to visit recently and bring back pictures of what her relatives left behind.
"As much as my grandmother fought me going there … when I came back and showed her everything, she was super happy," Diaz said.
Ric Herrero, who served as executive director of CubaNow, which seeks to improve connections among people in both countries, said Obama's normalization of relations with Cuba "will be remembered for decades." The policies had been "a stone in our shoe" when it came to relations with the rest of Latin America.
"Now that stone has been removed and I think Latinos here have taken notice of that and have been overwhelmingly supportive of that policy," he said.
Related: Two Years After U.S.-Cuba Opening, What's Next Under Trump?
Cuban-American lawmakers have opposed the changes, citing Cuba's record on human rights and the absence of free elections. Rep. Ileana Ros-Lehtinen, R-Fla. and a Cuban American, recently sent to President-Elect Trump a plea to stop sharing intelligence with Cuba.
Leverage for Latinos, but will it last?
Obama's campaigns for president energized a number of young Latinos, many who were voting for a president for the first time or who became engaged because of his candidacy. After his election, some of those Latinos joined his administration and others became involved in political and social organizations. While the federal government's hiring of Hispanics still lags behind their presence in the U.S., the pipeline of Latinos to elected office, politics and social advocacy groups has expanded.
Since Obama became president, there has been a greater shift toward the Democratic Party by Latinos, in part because of Obama's candidacy and re-election. In an October 2016 Pew Hispanic poll, two-thirds of Hispanics supported or leaned toward the Democratic Party. The way he energized the community, particularly its younger members who make up 44 percent of Latino voters, could have been an even greater force for Democrats had Clinton won, Fraga said.
Related: Young Latinos of the Obama White House: Witnesses, Participants in History
While different Latinos will debate whether the changes Obama made were indeed transformative, Fraga said he shifted expectations nonetheless.
"The fact that Barack Obama, an African American son of an immigrant, became president of the United States really demonstrated to the Latino community, why not us?" Fraga said.
Additional reporting by NBC News' Sandra Lilley.