WASHINGTON — Just two weeks ago, a letter was slipped under the apartment door of Rep.-elect Alexandria Ocasio-Cortez.
The letter informed Ocasio-Cortez that Legionnaire's disease was running through the water of her apartment building, the New York Democrat said.
"Our lives are on the line," Ocasio-Cortez said at the news conference outside the Capitol.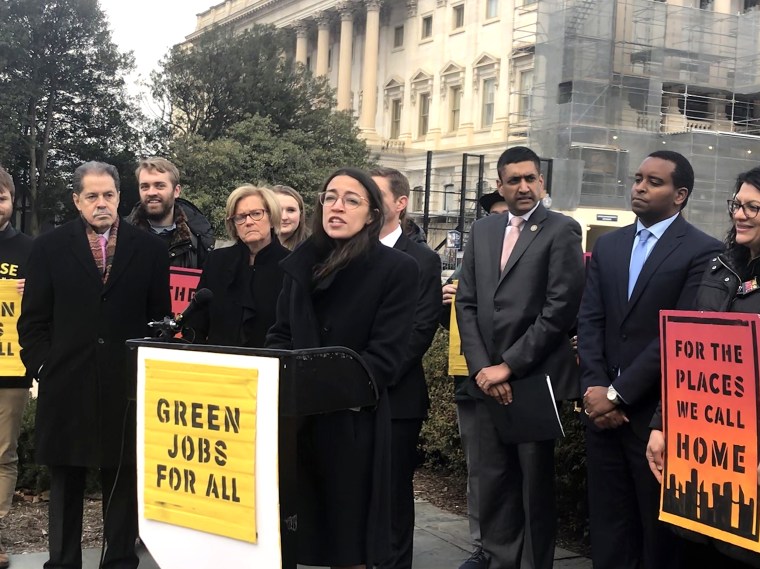 She and a collection of lawmakers officially announced what they have dubbed as the "Green New Deal," giving an environmental twist to the name Franklin D. Roosevelt gave his projects and programs that led the country out of the Great Depression.
With their effort, the group intends to push climate change, clean air and water, pollution and unhealthy environmental conditions in poor and minority communities to the forefront of the agenda of the new Congress that will convene in January. They also are pressing lawmakers to stop accepting political contributions from fossil fuel companies.
The lawmakers are backing a plan led by Ocasio-Cortez to create a special congressional committee on climate change. The forming of a special committee has support from House Democrat Minority Leader Nancy Pelosi, who is expected to be speaker when Democrats take control of the House next year.
Recently Ocasio-Cortez had joined a group of young people in a climate change protest at Pelosi's office.
"This is about the fact that if we continue to allow power … with corporations to dictate the quality of our air … to dictate and tell us that we can keep burning fossil fuels, to dupe us, people will die," Ocasio-Cortez said.
The Capitol news conference featured black, Latino, Asian American, Native American and a white lawmaker on an issue not generally regarded as a "minority issue".
Ocasio-Cortez noted the climate issues they hope to confront cut across communities and "that it is no mistake and no coincidence that when we see the disasters of climate change, you think of things like Hurricane Katrina and Hurricane Maria."
"Historically people tend to think that the environmental movement is homogenous," Ocasio-Cortez said, "and what we're actually finding is that among black and Latino communities, rates of environmentalism and environmental beliefs are actually much higher than average across the country."
Rep.-elect Ayanna Pressley, D-Mass, said the intent of the New Green Deal is to move to "100 percent renewable energy" and eliminate greenhouse gases, as well as ensure coastal communities have needed resources to build infrastructure that will counteract rising sea levels and withstand natural disasters and extreme temperatures.
At least 18 lawmakers are co-sponsoring the Green New Deal select committee proposal and 100 advocacy and environmental groups have added their backing.
Recently released scientific reports have warned that time is running out for the global community to address climate change and that drastic action is needed to slow its impact that already is producing extreme heat, disease, wildfires and hurricanes.
President Donald Trump has expressed skepticism about climate change, calling it a creation of the Chinese to affect U.S. competitiveness and later questioning whether it was man-made and then agreeing change is occurring but that the climate would change back.
Mike Levin, a newly elected member from California, said the new Congress is another opportunity to pass climate legislation after a bill sponsored by Sen. Ed Markey, D-Mass., passed in the House 11 years ago failed to get Senate approval.
Laura Manus, a leader of the Sunrise Movement, a group of young activists who endorsed and helped campaigns of candidates committed to confronting climate change, said the group would return to Washington, D.C. on Dec. 10 to rally for the Green New Deal.
FOLLOW NBC LATINO ON FACEBOOK, TWITTER AND INSTAGRAM.