The death of Maricopa County, Arizona sheriff deputy Ramon Charley Armendariz - authorities say he hanged himself in his home - has refocused attention on Sheriff Joe Arpaio and his department, already under close watch by a federal monitor in the profiling case.
Among the items found in Armendariz' house were drugs, evidence from old cases, hundreds of fake IDs and thousands of his video-recorded traffic stops that were withheld in a racial-profiling case against Arpaio.
The judge overseeing the case has raised the prospect that Armendariz may have been shaking down people living in the U.S. illegally during traffic stops, and the top prosecutor in Phoenix described the situation as a "mess" as his staff begins to sort it out.
Arpaio's lawyer hopes Armendariz was a lone rogue officer. "I don't know what triggered him," said Arpaio. But Cecillia Wang, a lawyer who pressed the profiling case, has concerns about Arpaio's office running the investigation on Armendariz.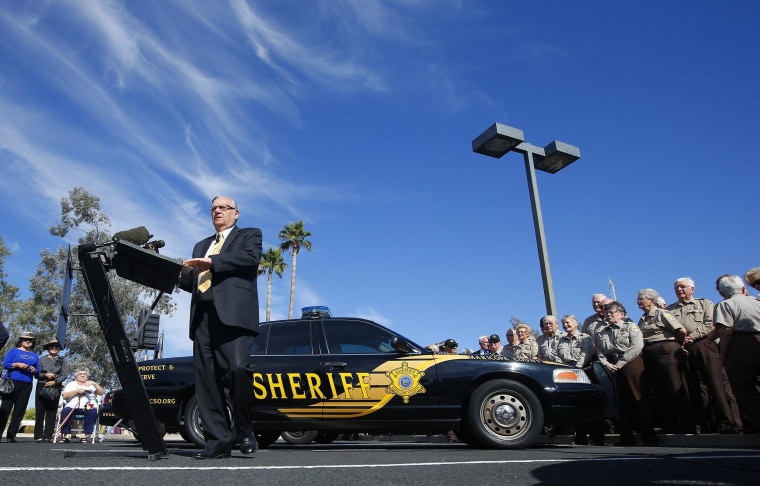 As a member of Arpaio's unit, the Spanish-speaking deputy was among dozens of officers who received special training to enforce federal immigration laws and took part in Arpaio's most controversial patrols.
A federal judge ruled Arpaio's deputies - including Armendariz - had in fact racially profiled Latinos and implemented a series of remedies, including a monitor to help carry out the reforms.
Job evaluations obtained by The Associated Press documented a flaw in Armendariz' police work - he had a problem turning in reports. At his house, officers found criminal citations though he didn't turn in the paperwork.
In early May, police arrested Armendariz after he was found firing a pepper ball gun at an imaginary burglar in his garage; police thought he was either high or having a manic episode. Armendariz stopped talking an quit his job. Later, after a nearly nine-hour barricade situation, he surrendered peacefully and was taken to a psychiatric center. Later that week, Armendariz was found dead at his home.
The videos found in his house are expected to become evidence in a separate U.S. Department of Justice lawsuit against the sheriff's office that alleges racial profiling.
Maricopa County Attorney Bill Montgomery, the top county prosecutor for metropolitan Phoenix, said his office will examine whether the materials from the house will affect cases involving the deputy, though he doesn't think it's likely that those cases will be overturned.
--The Associated Press