Netflix's hit comedy series "One Day At A Time," now in its second season, is taking some of our most polarizing and hot-button topics — racism, immigration, LGBT issues, PTSD and even how we care for our veterans — and making viewers not only think but laugh along the way.
The show's lovable family is unapologetically Hispanic, specifically Cuban American, and yet the more we come to know them, the more we all see ourselves in this typical 'American' family. And that's the point.
"I hope that non-Latino families watching our Latino family on television can see that we are more alike than we are different," said the show's lead actress, Justina Machado, who spoke to NBC News about the show's recently released second season. "We love the same, maybe a little louder," she said laughing. "We feel the same, we cry the same, we're a lot more similar than we are different."
The show is a remake of Norman Lear's hit show, "One Day At A Time," which ran from 1975 to 1984. The groundbreaking comedy featured a divorcée and her teen daughters, as well as the building's lovable super or handyman.
The show's modern 'reboot' has legendary actress Rita Moreno playing a feisty widowed grandmother, Lydia Rivera, and her daughter Penelope Alvarez, a veteran of Afghanistan struggling with PTSD and combat-related injuries and a marriage that unraveled mainly due to her husband's PTSD and related issues. She is grappling with work and parenthood as she raises two teenagers: Elena, played by Colombian-American actress Isabella Gomez and Alex, played by Marcel Ruiz, who is the grandson of famed Puerto Rican actor and artist Silverio Pérez.
The show has been praised for its details that so accurately portray its Cuban-American household, touches that will draw chuckles from those who grew up with them: the ever present cafetera (coffee pot) and the specific way the grandmother beats the sugar and coffee to make the morning drink, the ropa vieja (shredded beef) that Abuela takes to a sports outing in a tub of margarine.
These kinds of touches were important to the show's co-creator and showrunner, Gloria Calderón Kellett, who was tapped by Lear when they decided to make the remake with a Hispanic American family.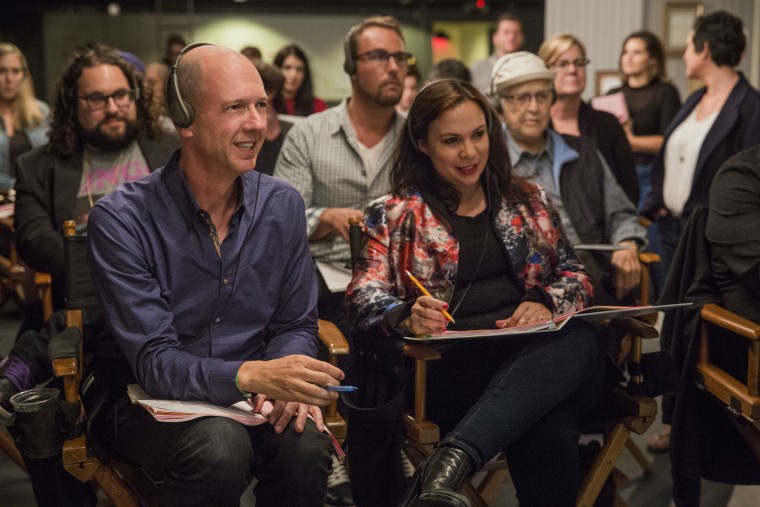 "I really didn't want to explain stuff, because as a Latina watching television when I was growing up, nothing was ever explained to me. I always had to figure it out," said Calderón Kellett in a previous interview with NBC News. "I didn't know what a bar mitzvah was until I saw it on TV and went to my Encyclopedia Britannica and I looked it up. People get it, and I think we have to give our audience a little bit of credit that they may be a little smarter than we think."
Calderón Kellet's perspective is something Machado finds pivotal to the success of the show.
"She fought for the specificity —she was on it. And, by the way, that's what we hear the most, is how relatable it [the show] is."
But amid the laughs and the cultural details, the show does not shy away from tacking issues of color, race and discrimination that will feel painfully familiar to many American families.
In Season Two, Alex tells his mom he got into a fight because he was told 'to go back to Mexico' and had a schoolmate chant, "Build the wall!," comments that he has been getting repeatedly. As the family discusses racial slurs, Moreno's character, Abuela, gets very emotional recalling being called a "spic" when she first immigrated from Cuba, a derogatory term used against Hispanics that for a younger generation doesn't bear the same weight.
RELATED: Meet the woman who gave 'One Day at a Time' its bicultural, Latino flavor
Yet the episode also addresses the fact that ethnic families have their own troubling issues with racism and colorism. Lydia, the grandmother, proudly states that "all Cubans are white;" she is admonished by her daughter, who points out Lydia's darker grandson. Machado praised the show for tackling this issue head on.
"We have different stories, we look different and it's important to put that out there," said Machado.
The show also tackles the topic of acceptance in different forms. Elena, the teen daughter, struggles with not being accepted by her father after coming out as a lesbian. Lydia struggles with renouncing her Cuban citizenship in order to become a U.S. citizen. Penelope struggles with balancing work, school and dating, her battle with PTSD and depression and a combat-related injury from her time in Afghanistan. Alex struggles with trying to have a secret relationship with his father, who doesn't accept his own sister.
Throughout the show, it's the open dialogue, along with the laughs and the family squabbles, that pulls the viewer in.
"That's what's so beautiful about this Alvarez family, they communicate so well. It's a family to aspire to be like, quite frankly," said Machado. "They have different opinions about different things, but at the end of the day, there's so much love, there's so much communication, and they let the person be who that person is."
RELATED: #NBCLatino20: Hollywood Hotshot Gloria Calderón Kellett
Like so many successful sitcoms, the story lines reassure the viewer that a family without struggles and dysfunction is not real. The wide array of topics discussed — from marriage to depression to work and parenthood — make it nearly impossible not to find a connection.
"It's all about representation," said Machado. "It's all about seeing yourself up there, hearing yourself up there, and knowing that you're not alone."
And the all-American show about a Latino family, including its two teens, is more and more a reflection of the country. According to 2016 figures from Pew Research Center, about a third of the U.S. Latino population is younger than 18 and about a quarter is under 33, making Latinos the youngest ethnic or racial group in the country.
The show comes at a time when the headlines surrounding Latinos revolve mainly around immigration and deportations amid a more polarized political climate. Though the show does tackle all of these issues, it ultimately strikes a different tone.
"Your struggle is my struggle — our show is uniting people, because it's a show about love, it's a show about respect, it's a show about compassion, it's a show about communication," said Machado. "And it's a universal story about family, told through the Latino lens. And I hope that it's helping to change the Latino narrative."