EAST HARLEM, New York — One of the nation's foremost centers for the study of Afro-Latino and Caribbean culture recently inaugurated its new home, though the founder sees it as a "homecoming" of sorts.
"Están en su casa!" ("You're in your home!"), was how Dr. Marta Moreno Vega greeted people as they flooded into the new location of New York's Caribbean Cultural Center African Diaspora Institute (CCCADI) during its recent opening festivities.
The Center is renowned for its original research and scholarly work on communities of African descent, but its mission has always been community-centered and accessible, with exhibits and events as well as educational programming for youth and adults.
Founded 40 years ago by Vega, it's now back in its hometown of East Harlem, also known as El Barrio — a natural bridge between the area's African and Latino roots.
"The mission has always been the same - to unify our community," the Afro-Puerto Rican educator told NBC. "My growing up experience was here. Coming here is being home; although I've lived longer in the Bronx, El Barrio always feels like home."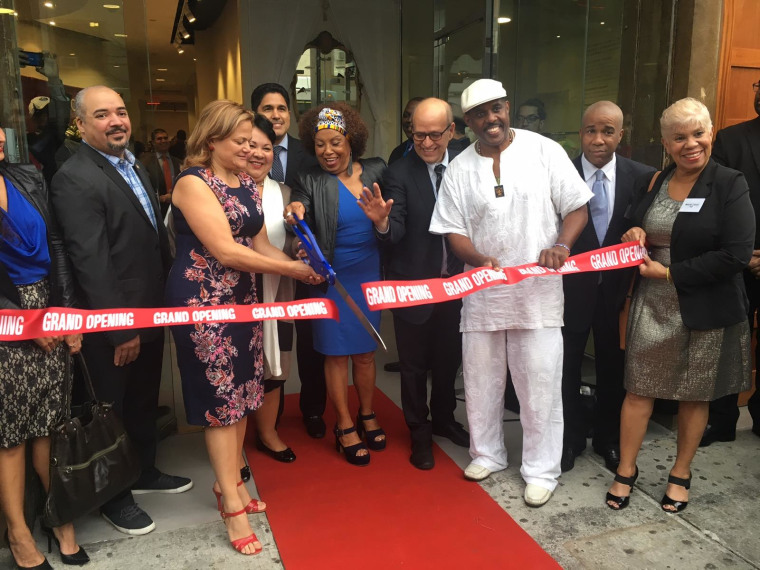 Vega, 64, is a global leader of Afro-Latino and Caribbean culture. A scholar, author and professor, she has spearheaded numerous international conferences and exchanges and is an expert in the Yoruba beliefs of African descendants. Yet she has been an active part of New York's Latino culture as director of the Museo del Barrio and as a documentary producer about nuyorican (the term that refers to New York-based Puerto Ricans) experience.
As cities like New York continue to "gentrify" and push out many of the neighborhoods' community members, Vega stressed the importance of having the center, with its strong Afro-Latino connections, in a community like East Harlem.
RELATED: Two Afro-Latinas Embrace Their Heritage During Black History Month
"Change needs to be accessible to everyone," said Vega. "Developers are building property that is inaccessible to the original community — it's almost recolonization of our people through wealth, and wealth is power."
Thanks to the help of the community, investors, and donors, more than $9.3 million was raised toward the renovation of the landmark Harlem firehouse which now houses the Center.
"We made it a point to own this property," said Dr. Vega. "Families need to get together and buy homes. We have to claim spaces. The Center is a place we can talk to the people about what's in their main interests."
"Home is not only a place, but memory — how you recreate the space you're in," said Dr. Marta Moreno Vega.
She said it's not a coincidence the inaugural exhibit was named, "Home, Memory, and Future."
"Home is not only a place, but memory — how you recreate the space you're in," said Vega. "That's what our families did. They created bodegas; we didn't go to Whole Foods," she said, recalling her childhood in the area. "Our parents created a home in the memory of Puerto Rico. It wasn't until I went to Puerto Rico, that I understood the colors of my house."
Part of the exhibition focuses on "Home in the Global Context," and what it means to establish "home" in distant environments.
Artist Scherezade Garcia, born in the Dominican Republic, has her print-making piece Sea of Wonder" (part of a larger installation entitled "Theories of Freedom"), featured here. According to Garcia, "home" is the place wherever she feels she belongs.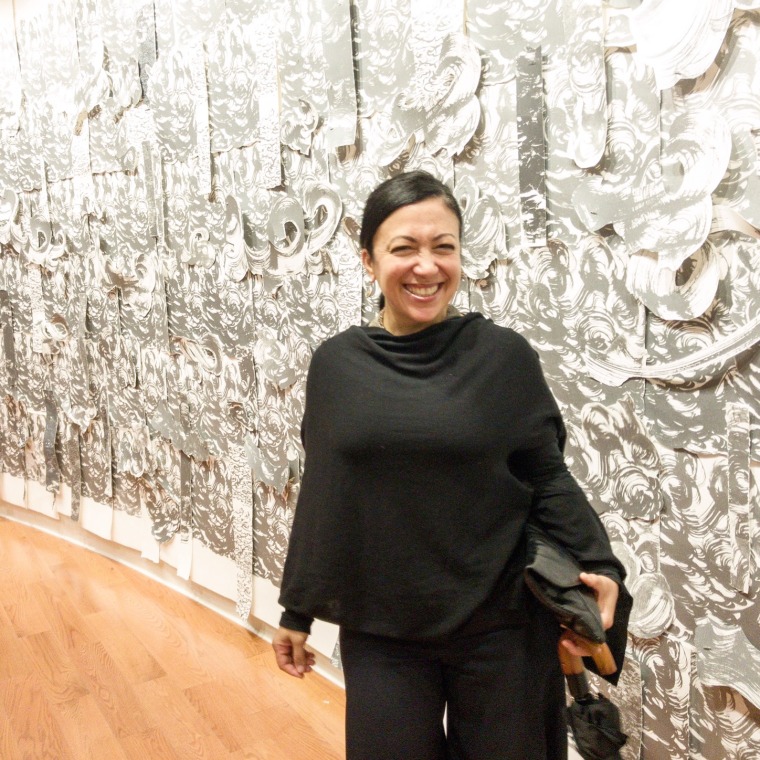 "It's not about a place, but the energy of a place. The idea of community; when I feel there is a team - that is where I belong," said Garcia. "My work is about inclusion. In my blood, I have Native American, African, French…I feel connected to the entire planet. I use grey because nothing is black and white."
The Dominican artist said she never thought she'd ever consider herself "a New Yorker."
"I was lucky I won a full scholarship to Parsons School of Design, and I fell in love with New York - the energy of the city," said Garcia. "When I started engaging with Puerto Ricans, Cubans…it was the missing piece in my puzzle."
When she heard about this exhibit, she thought it was perfect for her.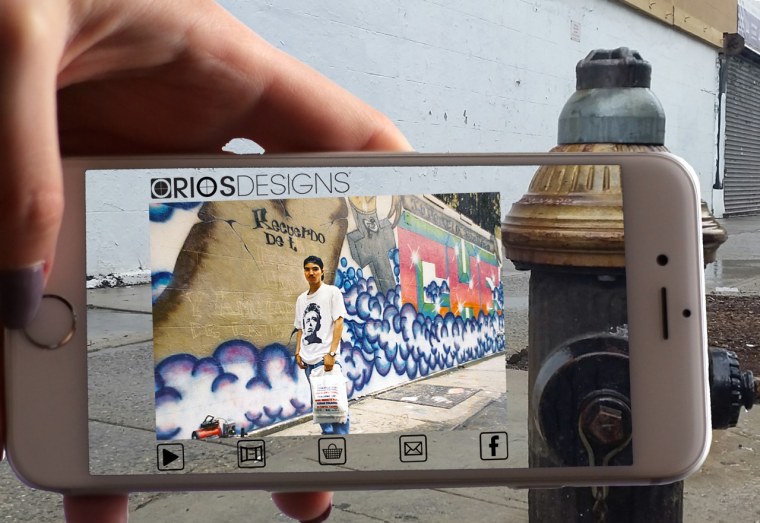 "I'm so privileged to be part of this group," said Garcia. "There is nothing more important than for my daughters to understand the history of their communities and this nation. When you don't celebrate your culture, you are lost. You can't understand your future."
RELATED: Voices: Why I Call Myself Afro-Latina
She added that she also talks a lot about ancestral memory in her work. The ocean waves in her piece signify what life brings to you, and then takes away.
"I came from an island to another island," said Garcia. "When I came to New York, it had a utopian taste. People talking about jazz - poets, artists; the taste of all languages being spoken at the same time made me feel at home. When I leave New York, I feel out of place. Only in New York do we celebrate diversity. I feel the people of Haiti are my brothers and sisters. I just came back from Dominican Republic, and I saw the hatred against Haitians. You really have to search for light. When I came to New York, I found light - that a lot of things are possible - I found hope."
Nuyorican artist Oliver Rios, on the other hand, grew up in the same neighborhood which now houses the new CCCADI, like Dr. Vega. His view of "home" has a more local feel, but he uses technology to bring viewers back in time using photography, and an app called Blippar.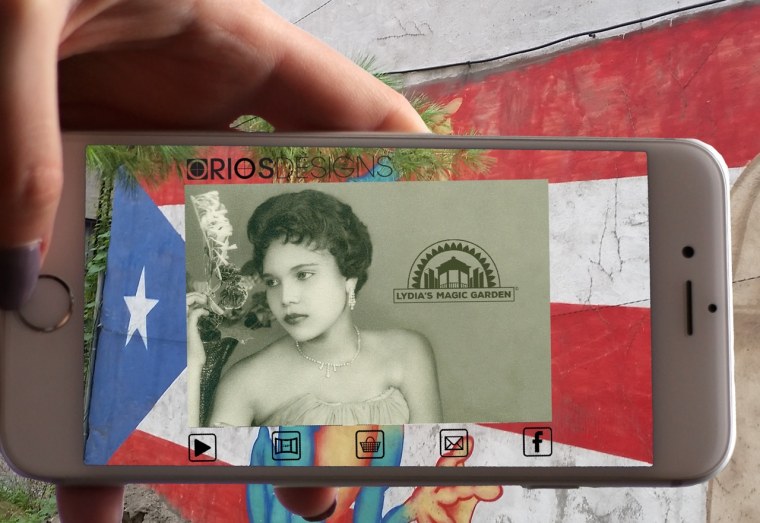 "My role in the 'Mi Querido Barrio' ['My Beloved Community'] exhibit is a profound feeling of love for the community," said Rios, who worked diligently collecting the photos and research for this project for the past three years. "It brings me back to my childhood. It brings me back home. 'Home' to me is being in your crib eating rice and beans, listening to your music. It's a sense of happiness, a sense of calm."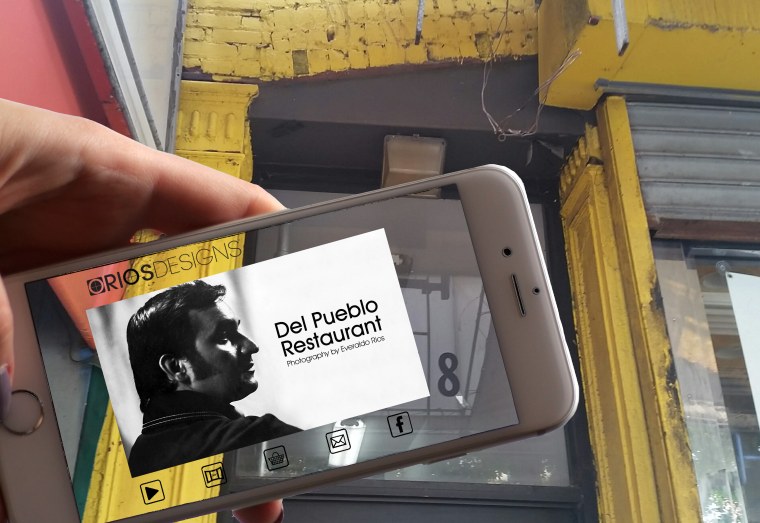 Rios' family has also had a profound impact in the neighborhood. His father was the owner of the popular Del Pueblo restaurant in the 1970's, and his mother started an award-winning garden in the 1980's (part of which still exists today) that brought the feeling of Puerto Rico to the inner city of Manhattan. Rios, himself, was a graffiti artist who mostly created memorials for his peers dying from drug-related violence in the 1990's.
RELATED: Afro-Latinos Seek Recognition, And Accurate Census Count
"Using technology brings art to a plain wall. It brings it to life again," Rios explained while he showed me a photo of a wall which once was home to his graffiti art. "We can show our children a neighborhood that's changed and show them what used to be there - the history, the fashion, how the environment itself has changed. It's instrumental in maintaining the environment."
He added that working on this exhibit, he was shocked to learn how many people loved his dad's restaurant and how it reminded them of 'home.'
Dr. Vega understands that the concept of home is an imaginary construct.
"I think that home is wherever our people are," she said. "It lets you know you have a family and you are not alone."