With a shortage of paper bags in Cuba, Ruben Valladares and his wife opened a small business in their home creating bags by cutting, folding and gluing paper together and placing the logo of the client — usually a store name — on the side.
Eight years later, their business, called Adorgraf, is flourishing. Their biggest client is the Cuban government.
Yet a major obstacle for their business is finding paper to purchase. They can't import material, and they're not permitted to purchase paper from the state company, even though they sell to it.
"We have taken advantage of all the opportunities the state has created, but we would like them to create more," Valladares said via telephone during a trip to Washington, D.C.
Like many other Cubans on the island, Valladares has been optimistic about the future of his country since Dec. 17, 2014 — when presidents Barack Obama and Raul Castro surprised the world by announcing that the United States and Cuba would restore diplomatic relations after more than five decades.
Since then, there has been excitement and resistance from Cubans in the United States and on the island. But one thing is clear: One year after the historic thaw, much more needs to be accomplished before Cubans and Americans feel the effects of bilateral relations.
The steps taken thus far, though small, have caused a surge in U.S. tourism to the island — by more than 50 percent, according to the U.S. State Department. There is even a shortage of hotel rooms on the island. On Wednesday, officials announced the long-awaited news that the United States and Cuba had reached an understanding on restoring commercial flights.
Months after the announcement, the United States removed Cuba from its list of state sponsors of terrorism, which led the two countries to reopen their embassiesin Havana and Washington in July.
RELATED: A Cuban Family Soaks Up the History of American Flag Flying in Havana
A flurry of U.S. officials have visited the island during the past year, including the secretaries of commerce and agriculture, as well as lawmakers. For the first time in years, the two countries signed environmental agreements to protect and study marine life.
Direct mail service is to resume for the first time in more than half a century; a pilot program will provide mail flights between the two countries instead of routing the mail through third countries, as they have been doing for decades.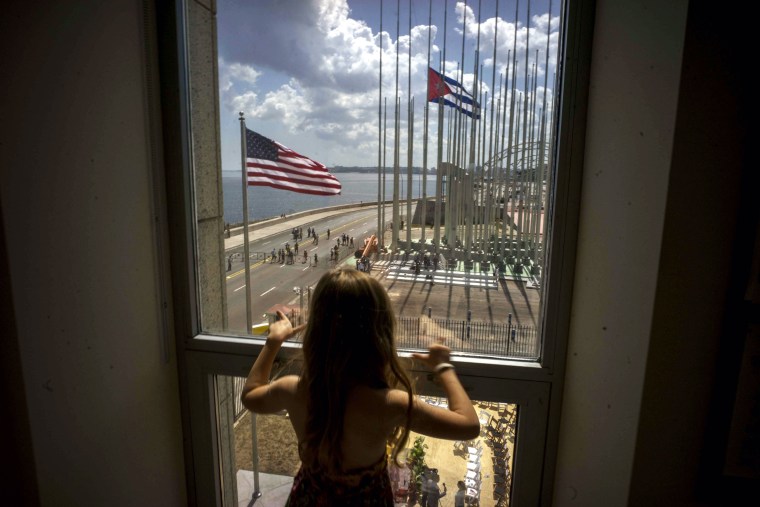 But the embargo on Cuba remains intact. It limits the amount of travel and trade to the island, and it would take an act of Congress to lift it.
Augusto Maxwell, a Cuban-American lawyer and chairman of the Cuba practice at Miami's Akerman law firm, said lifting the embargo would put a spotlight on the economy in Cuba, which has long blamed the United States for its hardships.
RELATED: Latino USA: The U.S. and Cuba, After the Thaw
"It would put the burden back on the Cuban government, where it belongs," Maxwell said.
Cubans have seen changes in the past year. The government has set up 50 WiFi hotspots throughout the island where Cubans can connect to the Internet for $2 an hour. There's an emerging class of entrepreneurs who have opened businesses like paladares, which are privately owned restaurants. But for the average Cuban who doesn't receive remittances from relatives overseas, the low salaries and scarcity of resources make day-to-day life tough.
Last week, Miami resident Aida Santos returned from a one-month trip to Pinar del Rio, Cuba, to visit her family. Not having been to the island during the previous 18 months, she was overwhelmed by people approaching her to ask about the latest news from Miami on U.S.-Cuba relations.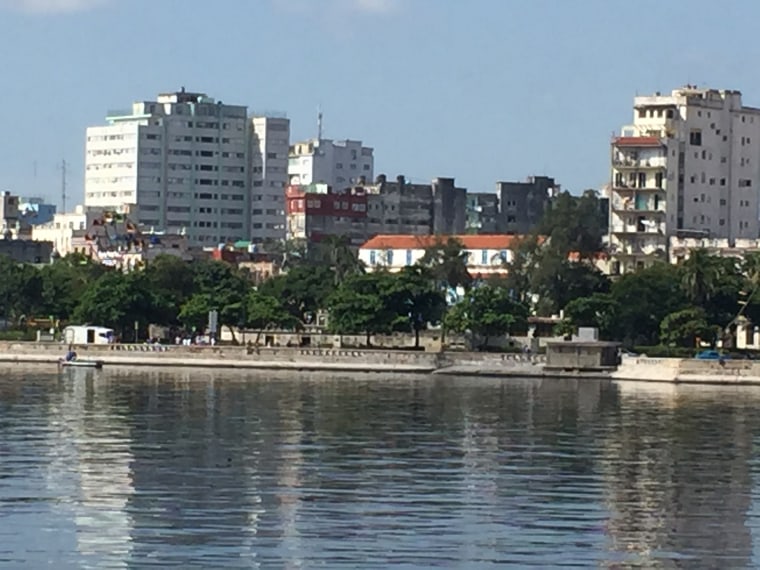 Santos said Cubans were hoping to hear something different from what is reported by the state-controlled news media. She found food very expensive and said she doesn't understand how someone earning the average sate salary of $20 a month can afford a basic grocery bill.
"At least I had dollars," she said, saying she didn't know how people with school-age children can manage to feed their families.
During the reopening of the U.S. Embassy in August, Havana-based orthodontist Yoany Amaro told NBC News that it's difficult even for Cubans who have spent years studying and building careers. "Even for those of us professionals who have made big sacrifices, we are not compensated," Amaro said.
RELATED: Cubans Awaiting Better Economy as Relationship With U.S. Changes
Ricardo Torres, an economics professor at the Center for the Study of the Cuban Economy at the University of Havana and a research fellow at American University, said it will take time for the average Cuban to see a difference.
"It took South Korea 40 years to become what they are today," he said. But lifting the embargo will undoubtedly help.
"I can't imagine that any sector in Cuba will be left untouched if the embargo is lifted," Torres said. But he added that Cuba would have to make changes to its policies to ensure that Cubans see the full benefits.
The latest negotiation, which has been a delicate topic, is compensation for U.S. properties that Cuba confiscated after the revolution. There are about 6,000 claims of U.S. companies totaling about $8 billion.
"These negotiations won't be easy," said Gustavo Arnavat, a senior adviser at the Center for Strategic and International Studies and a former Obama administration official.
One of the major reasons the United States imposed sanctions against Cuba was the confiscation of U.S.-owned property. Any reasonable settlement would create political space within Congress to end the embargo, Arnavat said.
Obama, who has only 13 months left in office, told Yahoo News in an interview published Monday that he "very much" hopes to visit the island during his last year as president — but only if he can meet with pro-democracy activists. Obama has said his dramatic policy shift would eventually bring democratic reforms to Cuba and respect for human rights.
Cuba remains the only one-party state in the Western Hemisphere. Human rights activists on the island have argued that since the United States and Cuba reestablished diplomatic relations, there has been more repression, and they say officials have been cracking down on activists and public protests more aggressively than before December 2014.
Last month, 1,447 political detentions were made, one of the highest numbers in years, according to the Cuban Commission of Human Rights and Reconciliation, an independent group based in Havana.
RELATED: Despite Uncertain Future, Cubans See Changed Landscape
Cracking down on human rights and freedom of speech is one of the reasons the Republican Party — with the exception of a handful of lawmakers — has largely opposed Obama's rapprochement.
Cuban-American presidential candidate Marco Rubio has said that if he wins the presidency, rolling back Obama's détente with Cuba would be near the top of his priorities on "Day One." There is also still resistance from segments of the Cuban-American exile community in South Florida and New Jersey who have been vocal about human rights abuses.
But there is support for the administration's ties to Cuba from other Republican groups, and the U.S. Chamber of Commerce has advocated for lifting the embargo.
The thaw in relations has sent thousands of Cubans fleeing the island — the highest number in decades. Some have left fearing that the preferential treatment Cubans receive in the United States — including all the benefits that come with U.S. residency — may end soon with warmer relations.
About 5,000 Cubans are stranded in Costa Rica after Nicaragua barred them from moving through through the country on their journey to the U.S.-Mexico border. Most had begun their trip from Ecuador, which didn't require visas from Cubans until recently. From Ecuador, migrants would make their way north by land.
The Obama administration has been clear that it isn't changing migration policy for Cubans.
Many of the U.S. changes have been effected through Obama's executive powers, and he has hinted he will continue to find ways to take more action in 2016. Cuba has been slower and more cautious than the United States in making changes, and there is still a lot of anti-U.S. rhetoric from officials.
Castro, who is 84 and has said he will step down in February 2018, insists that relations with the United States will never be normal until Washington fully lifts the trade embargo and closes Naval Station Guantanamo Bay. Castro also claims that the United States owes Havana $302 billion in damages from the embargo and attacks like the Bay of Pigs invasion more than 50 years ago.
Maxwell said Cuba has made many reforms since 2011, including easing limits on private businesses and allowing people to buy and sell homes and cars.
"There's a lot of reason to be optimistic about Cuba. I am," Maxwell said.