The connection between the Trump Administration and white nationalist language and rhetoric has become stunningly clear in the first 100 days of his term in office. This makes this administration the greatest threat to Latinos in generations.
Attorney General Jeff Beauregard Sessions delivered a speech at the US/Mexico border in Nogales on Tuesday. He decried "criminal organizations that turn cities and suburbs into warzones, that rape and kill innocent citizens and who profit by smuggling poison and other human beings across our borders."
He then outlined the tough measures against "aliens" — that was the word of choice.
Research has already proven the Attorney General to be demonstrably wrong on the point of immigrants committing crime, but Sessions continues to insist on evoking images of border crossers and gangs invading our country in order to "rape and kill innocent citizens."
Curiously, the prepared speech hosted on the Department of Justice website included a sentence that he left out in his remarks. The sentence reads, "It is here, on this sliver of land, where we first take our stand against this filth." This was quickly picked up by different publications.
Sure, you could say he was technically referring to drugs and criminal gangs. But this is the same border where thousands attempt to cross, many from Central America, fleeing those same gangs. Why should a statement conflate the border and immigration with "filth?"
Words lead to perceptions and can also lead to policies that ultimately don't benefit the majority of U.S. Latinos, whether it be about visas or trade with Mexico or the impact on our local economies.
Words have not just affected Latinos; the Trump Administration has continually demonstrated its insensitivity towards Jewish Americans. President Trump's inaugural speech declared his administration's "America First" approach, a term used during the rise of Nazism to close the door on Jewish refugees fleeing persecution and their inevitable death at the hands of the Hitler regime.
This language was a precursor to the Muslim travel ban that has been held up in the courts for now, and the shutting out of Syrian refugees who are being slaughtered by the Assad regime.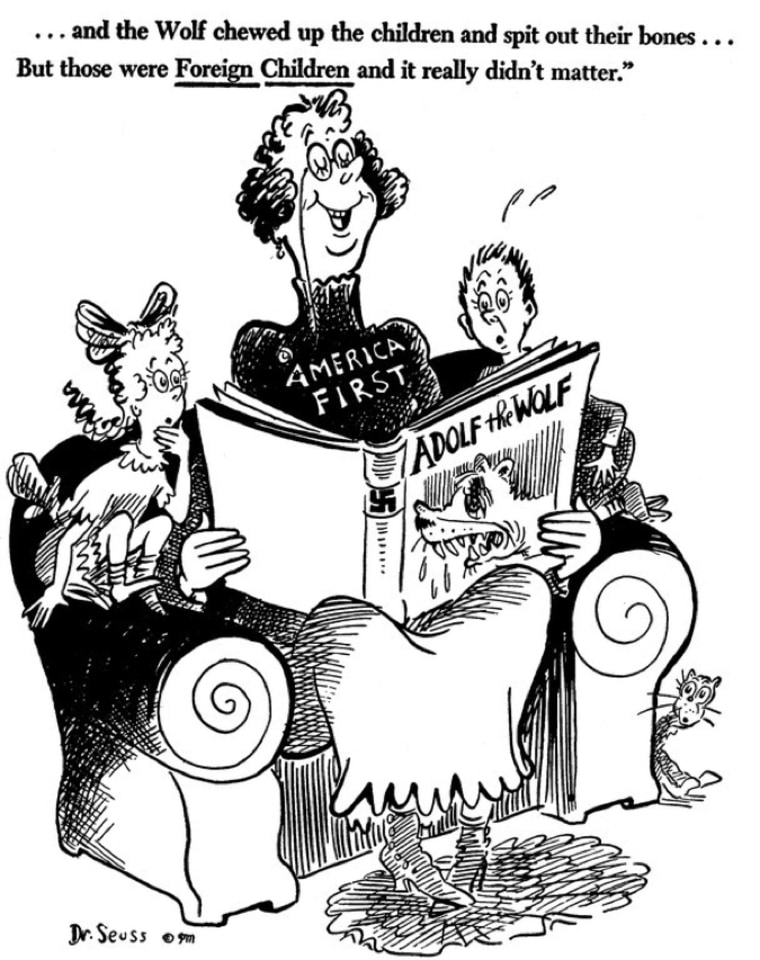 What a government says and doesn't say matters. The Trump Administration did not acknowledge that the Holocaust was an act of genocide perpetrated against all Jews, claiming six million of their lives. Instead, the Trump administration ambiguously referred to this atrocity as an act perpetrated against "innocent people".
Just yesterday, Trump Administration spokesperson Sean Spicer had a lapse in memory of historical proportions by stating that Adolph Hitler "didn't even sink to using chemical weapons" against his own people like Syria's Bashar Al-Assad. His remarks came on the first day of the Jewish holiday Passover in reference to Syria and the Assad regime's use of chemical weapons.
Even if this was just a colossal bumbling of words and facts on Spicer's part — he has been profusely apologizing for his comments —it ended up ridiculing the experience of millions of Jews who were systematically hoarded into gas chambers in the vast network of concentration camps that made up Hitler's death machine.
Moreover, when asked to clarify, Spicer said what he meant to say was that Hitler was, "I think when you come to sarin gas, he was not using the gas on his own people the same way that Assad is doing."
Spicer then said that what he meant to say was that Hitler's gassing was done in a concentration camp and not dumped right on a town. But the remarks seemed to make German Jews into outsiders. Language and words matter, even if they are said by mistake due to an epic bungling of facts.
Whether it's at the White House or at the border in Nogales, Arizona, the administration can't engage in rhetoric that reaffirms how white nationalism views the world.
Regardless of the claim that Sessions' declaration of war against the immigrant community is about crime and the rule of law, we must not overlook the bigoted undertones of the "America First" approach and its relation to Jeff Session's speech in Nogales.
Sessions' focus on immigrants as criminals — despite the fact many are related to American citizens here on the homeland who are Latino, Asian, Muslim, etc. — makes them not their "people".
The concern over this cannot be understated. A recent analysis of Donald Trump's online followers by FiveThirtyEight revealed an unsurprisingly, but stunning, relationship to Reddit subgroups dedicated to spreading misogyny, racism, and anti-semitism.
The groups that propelled Trump to the Presidency are no less aware of the significance of this language and the cues it relays in communicating their values.
It also reveals the broad strokes with which language can stoke white nationalist aims that can influence real policy, on everything from immigration to incarceration and sentencing laws to anti-gay legislation.
Words matter, and we should call the administration on it and oppose it for the good of our nation.