Rep. Mike Conaway, a Texas Republican, made a remarkable statement last week. In a desperate attempt to give comfort to Vladimir Putin, Conaway equated Russia's state-sponsored orchestration of a massive disinformation campaign meant to influence the presidential election to Mexican-American entertainers showing Democrats support.
"Harry Reid and the Democrats brought in Mexican soap opera stars, singers and entertainers who had immense influence in those communities into Las Vegas, to entertain, get out the vote and so forth," Conaway told The Dallas Morning News last week. "Those are foreign actors, foreign people, influencing the vote in Nevada. You don't hear the Democrats screaming and saying one word about that."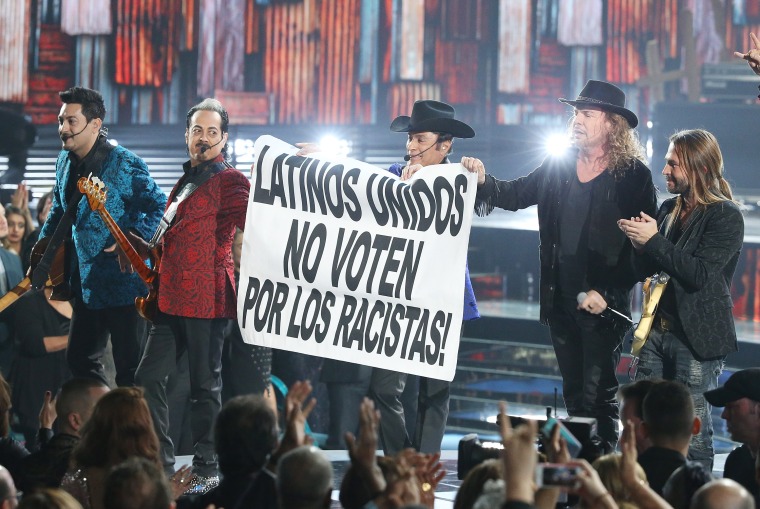 RELATED: Vicente Fernández Endorses Hillary Clinton Through a 'Corrido'
The immediate response by Hispanic leaders was ridicule, justifiably so. Sen. Catherine Cortez Masto of Nevada, a Democrat and the first Latina to become a U.S. senator, called Conaway's statement "pathetic". Rep. Joaquín Castro, D-Texas, was flummoxed by Conaway's comparison of music icon Vicente Fernandez to cyberwarfare, saying it must have been a joke.
But the only bad joke is how far Republicans are willing to stretch irony and patriotism at the expense of national security in favor of our enemies. Perhaps Conaway missed the Republican National Convention in 2000 where Vicente Fernandez performed, endorsing his Republican neighbor from Midland, former President George W. Bush.
The members of the band Los Tigres del Norte, who have been based in California for decades, responded by saying that "We are part of this society." Masto reminded Conaway that the members of Los Tigres del Norte, as well as award-winning actress Angélica María, are United States citizens, with María being born in New Orleans.
But the deeper issue is how reflexively Republicans turn to racism and appeals that are meant to exclude Latinos from our common American identity when left without any responsible excuse for justifying Russian intrusion in our electoral process. Conaway's race baiting is, frankly, the only argument he has. To distract the attention his constituents may give to his turncoat acceptance of foreign influence by essentially saying his fellow Americans who are minorities are no different than foreign enemies.
On the day we celebrate Martin Luther King Jr., we should remember that Conaway's thinking is the American disease that has inflicted our soul from before our government was created.