What a mess. The big news out of Arizona on Tuesday night wasn't only the respective victories by presidential candidates Hillary Clinton and Donald Trump. It was also the abject failure of Maricopa County officials to properly run the elections.
Some people waited five hours to vote, and others were stuck in traffic jams trying to reach their polling places. While one group of young people passed the time by sending out for pizza, an elderly woman fainted waiting in line. Although polls closed at 7 PM, some residents did not vote until past midnight. Many voters simply gave up and left without voting.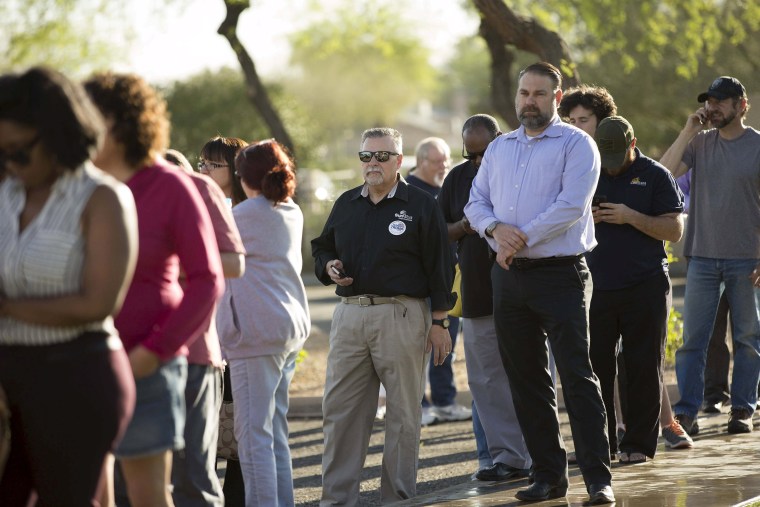 The 2016 Arizona primary was a disgrace. Not only did it reflect extraordinarily poor judgment by elected officials, Maricopa County in effect disenfranchised untold numbers of voters. This sorry state of affairs illustrates why Latinos still need the protections of the Voting Rights Act.
Maricopa County is the Arizona's most populous county, with a population that is 30 percent Hispanic, and 5 percent African American.
In Maricopa, elections are run by the Recorder's Office, headed up by Helen Purcell. In February, as states were already seeing higher than usual voter turnout due to the candidacies of Donald Trump and Bernie Sanders, the Board of Supervisors voted to reduce the number of polling places in the county.
Whereas in 2012 there had been 200 polling places in Maricopa County, this year there were 60 – a drop of 70 percent. The county claimed to have made such cutbacks to save money. However, when asked by the Arizona Republic, the Communications Director of the Recorder's Office could not say how much money was saved. She also said that the cost savings were not a major reason why the number of polling sites was reduced.
"Discrimination does not have to be intentional to be real."
To put things in perspective, consider that Maricopa County encompasses Phoenix, Scottsdale, Mesa, Glendale and other populous suburbs. This year, Maricopa County had roughly one polling place for every 21,000 eligible voters. In contrast, most Arizona counties had, on average, one polling place for every 2,500 eligible voters.
No wonder that Election Day in Maricopa County was chaotic. Many polling places lacked adequate parking. Some locations ran out of ballots, and there was ongoing confusion over the use of provisional ballots.
Worse, some predominantly low-income and Hispanic neighborhoods did not having a polling place at all. Phoenix Mayor Greg Stanton publicly said that Anglo neighborhoods received more polling locations than other communities; he has called for an investigation by the Department of Justice.
RELATED: Next Democratic Contests Have Smaller Electorates
In a letter to Attorney General Loretta Lynch, Stanton wrote, "(Tuesday's) fiasco demonstrates the urgent need for an independent and thorough law enforcement investigation to safeguard one of the most sacred rights we have as citizens."
Not so long ago, this "fiasco" would not have occurred. Until 2013, Arizona was covered by Section 5 of the Voting Rights Act, which required the state to preclear any changes in election procedures or laws with the Department of Justice (this requirement was based on Arizona's history of problems with elections). But in 2013, the Supreme Court gutted Section 5 of the VRA, removing the preclearance requirement for Arizona and 15 other states. States are now free to make changes to their elections without federal oversight – and on Tuesday in Maricopa County, voters saw how well that has worked out. The state's newspapers were rightly outraged by the problems at the polls, and residents took to social media to vent.
RELATED: Clinton, Sanders in Primary Showdown for Latino Vote
In their defense, Maricopa County election officials pointed to the fact that voting this year was not "precinct specific." Voters could cast their ballot anywhere in the county. But this system would only work if the county increased staffing at the 60 polling sites, to take into account many potential new voters. County officials did not, which was an inexcusable breach of their responsibility to the public. The result was unflattering national headlines, and another blow to the state's reputation.
After initially suggesting that voters were to blame for the long lines at the polls, Recorder Helen Purcell has apologized for Tuesday's debacle. Yet she does not seem to grasp that discrimination does not have to be intentional to be real; actions that have the practical effect of discrimination are equally pernicious.
The primary elections in Maricopa County were embarrassing and unacceptable. From the state that has given us SB 1070, Governor Jan Brewer, and Sheriff Joe Arpaio, this is a sad reminder that, even in 2016, Latinos still face disenfranchisement at the polls.