Today Neil Gorsuch, President Donald Trump's 49-year-old nominee to the Supreme Court, begins his confirmation hearings before the Senate Judiciary Committee. Gorsuch, nominated to the 10th Circuit Court of Appeals by then-President George W. Bush, represents Trump's most potentially consequential nominee. If confirmed, Gorsuch will serve a lifetime term on the high court. Latinos – like all Americans – have much at stake in the Gorsuch nomination.
However, there are sound philosophical and practical reasons for Latinos to oppose Gorsuch's confirmation. While his views on contentious social issues remain opaque, Gorsuch has already displayed an unwillingness to stand up to Trump.
Gorsuch is widely seen as an ideological heir to Justice Antonin Scalia, whose 2016 death created a vacancy on the court. At his nomination announcement, Gorsuch praised Scalia, referring to him as "a lion of the law."
Like Scalia, Gorsuch sees himself as an "originalist," a jurist that focuses on the presumed original intent of the signers of our Constitution. Such similarities with Scalia are a red flag. Scalia consistently ruled against the expansion of civil rights of minorities. And not only can the originalist doctrine be applied in a highly subjective manner, it generally – but not always – leads to conservative results. Given that Latinos have traditionally turned to the court to guarantee equal protection under the law, Gorsuch's embrace of this philosophy is troubling.
In fact, Gorsuch has been critical of progressives who waged legal battles for civil rights. In an essay for the National Review in 2005, he decried liberals who have "become addicted to the courtroom." Without what Gorsuch called "an overweening addiction to the courtroom," our country might not have things like marriage equality or voting rights.
Gorsuch's legal opinions show a tendency to rule against workers and consumers. In Hobby Lobby Stores v. Sebelius (2013), he ruled with the majority that corporations did not have to provide their employees with contraception as mandated by the Affordable Care Act. As an appeals judge, he denied the discrimination claim of a woman who was fired after taking time off to recover from cancer.
Opinion: Gorsuch Appointment Will Have 'Profound Consequences' for LGBTQ People
In another case, in a dissenting opinion, he argued that a company should be allowed to fire a truck driver who abandoned his truck in freezing temperatures for his own safety. He has protected police officers accused of excessive force and ruled against a severely autistic student in a disability rights case. While the tone of his opinions could sound empathetic, the results were often coldly pragmatic – and in favor of powerful interests.
On immigration, Gorsuch has ruled both for and against immigrants. In Gutierrez-Brizuela v. Lynch (2016), he ruled against the Board of Immigration Appeals, which had denied an undocumented immigrant's request to apply for lawful permanent resident status. Gorsuch took this opportunity to criticize the longstanding principle of "Chevron deference," whereby the courts defer to interpretation of statutes made by those agencies charged with enforcing them. This view puts Gorsuch at odds with years of legal precedent, and can be seen as a power grab of authority by the judicial branch.
His record notwithstanding, there is still a great deal that we do not know about Gorsuch. When he met privately with lawmakers like Senate Minortiy Leader Charles Schumer, D-N.Y., he reportedly did not disclose his positions on Trump's travel ban, the emoluments clause or the limits of executive power. Other senators found Gorsuch to be "noncommittal" in response to questions and worried that he might be a "rubber stamp" for Trump.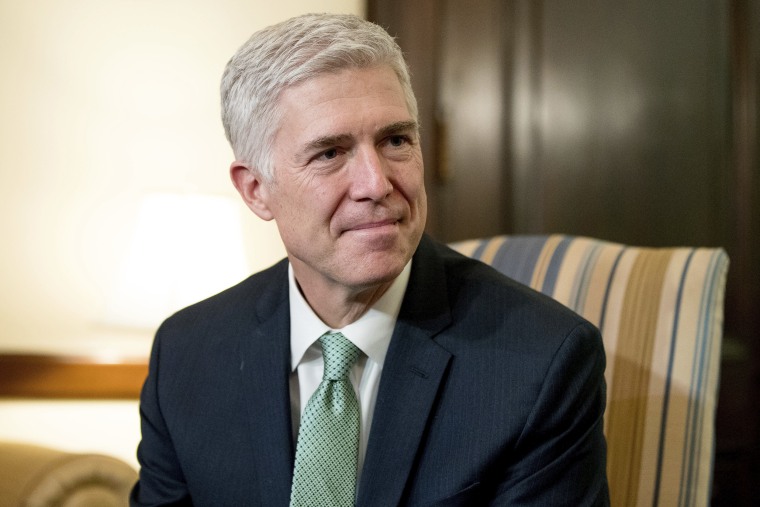 Gorsuch refused to say what he thought about landmark legal decisions like Citizens United (2010) and Bush v. Gore (2000). But surely Gorsuch discussed these matters with Trump and his advisers prior to his nomination. That Gorsuch is not willing to be transparent with the lawmakers tasked with confirming him appears at best disingenuous and at worst borderline deceitful. These lawmakers, along with the American public, deserve to know how Gorsuch feels about critical cases and issues.
To be fair, Gorsuch has had a long and distinguished legal career. He is an eloquent writer. He seems like a gentleman. Still, these positive personal attributes pale beside the enormous influence he could wield over the lives of Americans.
In the coming years, the Supreme Court will likely face cases that impact Latinos, from affirmative action to voter ID laws to challenges to Trump's immigration enforcement policies. It is imperative that we have a Supreme Court justice who can apply the law fairly, even if it means at times defying the president.
So consider that when Trump lashed out at the judge of the 9th Circuit of Appeals who blocked his travel ban, calling him a "so-called judge," Gorsuch made no public statement (he did call Trump's words "disheartening" in private). That public silence speaks volumes; it sends a signal that Gorsuch's loyalties lie with the most anti-Latino, anti-immigrant president in modern history.
Gorsuch has not demonstrated that he is a judge who will safeguard the rights and freedoms of all Americans. Latinos should oppose his confirmation.