Slovenia, we have a problem. A recent investigation by the website Politico uncovered apparent discrepancies in the immigration history of Mrs. Donald Trump, the former model Melania Knauss. Analyzing statements by Mrs. Trump, reporters found evidence that suggests she may have been working in New York City in the 1990s in violation of her visa. In response, Trump campaign spokeswoman Hope Hicks told Politico, "Melania followed all applicable laws and is now a proud citizen of the United States."
Mrs. Trump deserves the presumption of innocence, and there is no doubt that she is a proud citizen of the U.S. today. But inconsistencies in her accounts of arriving in this country underscore how complicated and confusing our immigration system can be. They also highlight the hypocrisy of her husband Donald Trump, who has made a hardline stance on illegal immigration the cornerstone of his presidential campaign. How ironic that there is now widespread speculation that Melania Trump herself was once an undocumented worker.
According to Mrs. Trump, she came to the U.S. legally. "I follow the law. I follow a law the way it's supposed to be. I never thought to stay here without papers," she told MSNBC in a February interview. "I had visa. I travel every few months back to the country, to Slovenia, to stamp the visa… So I went by system. I went by the law, and you should do that." She made similar statements to Harper's Bazaar.
The problem is that there are only a few options that Mrs. Trump could have had for a work visa, and her actions do not correlate with such possibilities. If she were on an H1B visa (as she indicated to a reporter for DuJour Magazine), there would have been no need for her to return to Slovenia so frequently for renewals. H1B visas are good for three years and can be extended for up to six without leaving the country.
As Politico pointed out, Mrs. Trump's accounts of periodically returning home for visa renewals are more consistent with her holding a B1 Temporary Visitor Visa or a B2 Tourist Visa. But these visas do not allow work in the U.S. So it is not far-fetched to wonder if Mrs. Trump was once an illegal worker – making her former status not that different from so many unauthorized migrants today.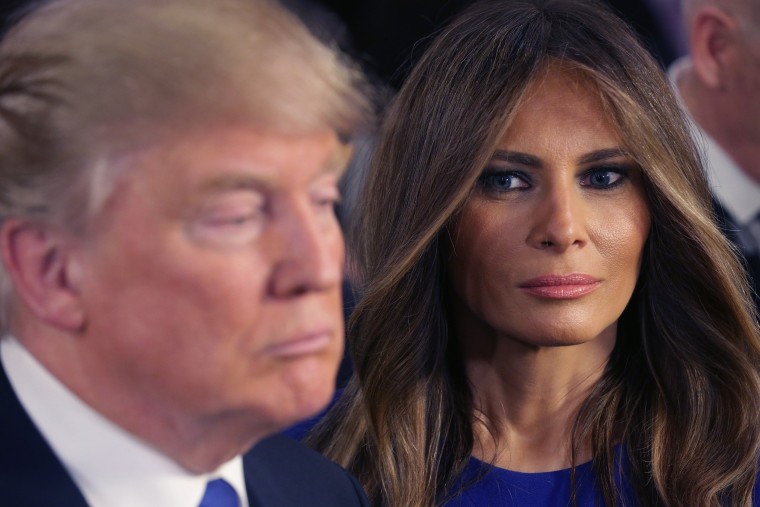 Even if Mrs. Trump had obtained a H1B visa, there are still problems with her story. To apply for an H1B visa, applicants must hold a bachelor's degree or the equivalent. Although her website once claimed otherwise, Mrs. Trump does not have a college degree; she left the University of Ljubijana after one year to pursue modeling fulltime. If Mrs. Trump misrepresented her academic credentials to U.S. authorities, that would constitute visa fraud. Visa fraud is punishable by civil and criminal penalties, including the potential loss of a green card and the revocation of citizenship.
There is a special visa available for fashion models which does not require a college degree. However, this visa (H1B3) is granted to models "of prominence" – think Kate Moss or Gisele Bundchen. This probably would not have been the case for the future Mrs. Trump, who in the 1990s was unlikely to qualify for the U.S. immigration requirements of "distinguished merit and ability."
While Mrs. Trump has said that she arrived in the U.S. in 1996, her former roommate, a racy photo shoot, and a biography by Slovenian journalists all place her in New York City by 1995. With such gaps in the life story of a potential First Lady, no wonder journalists from the Los Angeles Times to the Washington Post are wondering about when, exactly, the future Mrs. Trump came to this country and how she received her green card (She became a citizen in 2006). And even if she were not paid for her 1995 photo shoot, which is not uncommon for models, how was she supporting herself in her early years in New York?
In Mrs. Trump's defense, immigration documents are private and confidential information. Still, her story shows us that complying with immigration law can be difficult, whether a person is a day laborer from Mexico or an aspiring supermodel from Eastern Europe.
Melania Trump may not have even realized she was potentially violating the law. Her circumstances matter, though, because of her husband's harsh attitude towards illegal immigration. Consider that Donald Trump has vowed to end the H1B visa program that may have allowed Melania to live and work here. Or that Trump once demanded that President Obama release his birth certificate and college transcripts. Yet so far, his campaign has declined to provide clarifying information about his wife's past.
The takeaway here is that our immigration system is byzantine and due for reform. Most undocumented workers are not so lucky as to marry a wealthy real estate developer, but even those who do can run into problems. As the former head of the American Immigration Lawyers' Association, David Leopold, wrote at the website Medium, "It is now clear that Donald Trump's own family has been personally touched by America's dysfunctional immigration system."
Melania Trump's immigration circumstances are both unique and unremarkable. Like millions of undocumented workers, she likely came to the U.S to pursue her dreams and make a better life for herself. The controversy surrounding her past should serve as a reminder that demonizing undocumented workers is neither warranted nor wise.