WASHINGTON — The night of the 2016 election, my wife and I went to sleep stunned, like most Americans, that Donald Trump had won the White House. When we woke up the following morning we found out we were going to have a baby.
America is the greatest country on Earth, and has provided me as well as my family with so much. While I am a Democrat, when I found out that I was going to be a father to a beautiful baby girl, I put partisanship aside. Like so many other Americans, I want our country to succeed.
As a parent, providing for my family has become priority number one. That means worrying about my daughter's well-being, finding a home with a great school district, what neighborhoods are the most family friendly and how to teach my daughter to take pride in her American and Hispanic heritage.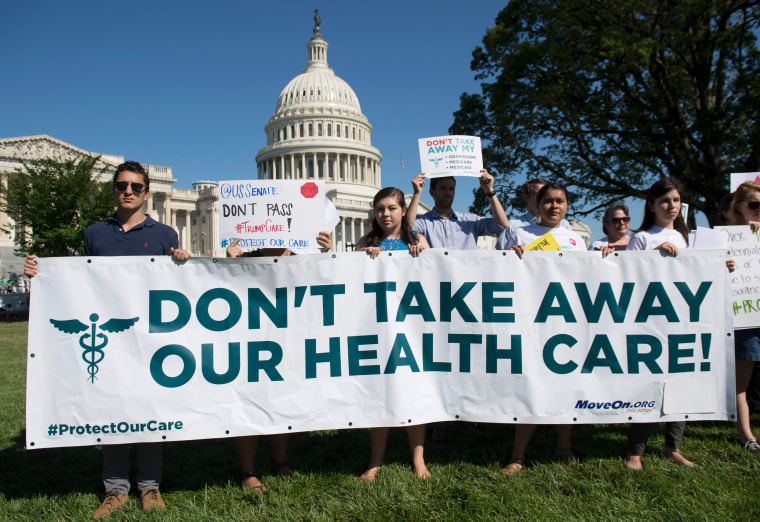 But today it seems like politics has invaded everything, making the mundane aspects of parenthood political. I worry about many things, but lately it's been about the future of my daughter's health.
Having a child is a miracle fraught with the realities of human fragility. There are so many things that can go wrong between the time a child is conceived until it is born.
As a father, I am looking for Congress to help ease my fears, not add to them. On this very basic metric, our president and Congress are failing.
No parent wants to be in the position of putting their family's financial stability in peril to pay for their child's health care. Yet, The "Better Care Reconciliation Act" (BCRA) and its latest iteration would deprive upwards of 20 million people of the essential health care they need and will gut protections for millions of people with pre-existing conditions. This could increase the cost of care for my family and put undue strain on our pocketbooks.
RELATED: Latinos Are Growing Share of Uninsured: Health Coverage Report
For those who already have health insurance, and don't have a pre-existing condition, consider the following: being a mom could become a 'preexisting condition.' Before the Affordable Care Act (ACA), pregnancy was considered a pre-existing condition, and insurers frequently denied coverage because of it. Carrying a baby carries some risk, so insurance companies see pregnant women as more of an expensive group of customers when they apply for coverage.
But thanks to Obamacare, they can no longer do that. Yet under the Republican bill, insurers may be able to charge higher prices due to a person's recent medical history.
Don't families deserve better?
One thing a new parent should not have to worry about is whether they are going to have health insurance or go bankrupt paying to keep their child healthy. Under the ACA, 4.2 million Latinos gained insurance coverage and the Latino uninsured rate fell to a record low of 16.2 percent.
Due to the expansion of Medicaid through the ACA, the number of uninsured children dropped significantly. In 2000, around 26 percent of Latino children were uninsured. In 2013, right before major coverage provisions of the ACA took effect, two million Latino children, or 11.5 percent, were uninsured. In 2015, after implementation of the the ACA, that number dropped further to 1.4 million, or 7.5 percent.
This dramatic decline in the number of uninsured Latino children represents the largest drop over a two-year period in our nation's history.
The Senate bill or BCRA would significantly hurt the progress made in keeping our families healthy. It would erode funding for Medicaid, which is essential in providing health care coverage for 74 million people, including 18 million Latinos.
RELATED: One-In-Seven U.S. Babies Born in 2015 Were Multiethnic or Multiracial
Repealing the ACA without a replacement would be wildly irresponsible and it's increasingly unlikely that the GOP will come to agreement on a legislative path forward. Republicans must turn to governance and hold hearings in Congress to fix what's wrong with the ACA and make it better. And it's got to be bipartisan. They have to work with Democrats.
And I may be a Latino Democrat, but more and more Americans agree with me. A new poll found that an overwhelming 8 in 10 Americans want Republicans to work with Democrats to fix health care, not strip it from people.
It seems I'm not alone in wanting congressional leaders to make it easier — not harder — for people to save money for their children's future.
As a parent I am responsible for my child's well being. So all I'm asking is that Congress help families, not add to their financial worries.
Being a parent is an amazing blessing fraught with many challenges. The President and Republicans in Congress should be thinking about how they can make our lives easier not harder.
Kristian Ramos is a D.C.-based political strategist and a native of the Southwest.