If Trump clinches the Republican nomination and names Gov. Susana Martinez as his running mate it would be sheer genius. According to Fox News' Bill O'Reilly there is only one choice for Trump's running mate – and that is the New Mexico Latina governor.
Easier said than done. Following O'Reilly's comments the Governor's Press Secretary said she had no intention of entering the fray as a vice presidential candidate. Not surprising given Martinez endorsed fellow Latino Republican Marco Rubio and denounced Trump'scomments about Mexican immigrants even leaving open the possibility that she wouldn't vote for him.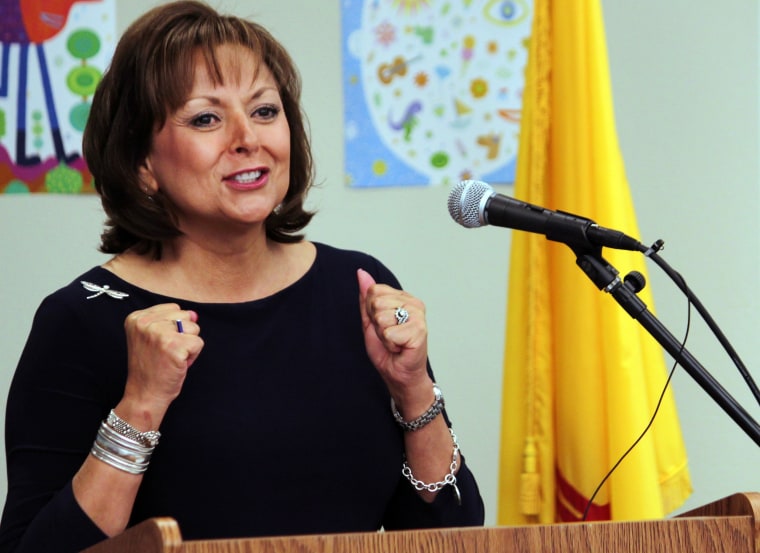 While it would be a heavy lift to get Martinez to say "I do," she would do wonders for Trump, but not exactly for the reasons that O'Reilly cited, such as her ability to "cut across all ethnic boundaries…"
First, let's get one thing straight, the Latino ship has sailed. Trump's anti-immigrant rhetoric and policy stances are beyond a general election pivot.
RELATED: Poll: Trump Poised to Get Lowest Vote Ever Among Latinos
The most recent poll by Latino Decisions has Trump with barely 11 percent of the vote — less than half of what Romney received in 2012.
It is worth noting that Governor Martinez's principal electoral base of support in New Mexico was among non-Latinos. Only 38 percent of Latinos supported her, a figure that doesn't indicate a lot of cross-over voting by Hispanics.
The magic that the first ever Latina governor would bring would be in cementing the GOP establishment vote. Governor Martinez is a Republican shero — she's well respected by both the Tea Party and party establishment. In her 2014 re-election she won decisively with 57 percent of the vote and today she serves as the chair of the Republican Governor's Association.
As a former DA she's a law and order politico. But at the same time she does not have a brash Sheriff Joe or Trump persona. On a personal note she adds a dimension that a wealthy and Ivy League schooled Donald Trump lacks. Governor Martinez's father was a veteran who owned a small security guard business. While she was an undergrad at the University of Texas El Paso she worked as a security guard to put herself through school.
RELATED: Opinion: On Immigration, Remittances and Walls Miss the Point
On the topic of immigration Governor Martinez is the GOP's happy medium. When she first ran in 2010 she made clear her opposition to amnesty; once elected she fought to do away with driver's licenses for undocumented immigrants and was a proponent of tougher immigration enforcement. Yet in 2012 the New Mexico executive publicly criticized Romney's idea of self-deportation and instead supported a policy solution of comprehensive immigration reform. Most recently she has criticized the comments Trump has made about Mexican immigrants.
She could let Trump keep playing the immigration "bad cop" part while she can be the "good cop" to the GOP establishment that wants a Jeb Bush type of approach to immigration.
And at the risk of stating the obvious, she's a woman. The Republican Party has had a persistent problem with women, with the gender gap only growing in recent elections. Can a female running mate close or flip the gap? No, but she can work toward neutralizing the polemical comments Trump has made about women.
Of course, Governor Martinez is not perfect. Just this December the governor and her staff made headlines after a holiday party at a hotel got rowdy and the police were called to the scene.
It was not her finest hour. But time and keeping on the non-partying path will keep her from being a liability. In politics you get one do over.
Susana Martinez is a strong political figure. More specifically, she has all of the elements — politically and personally — that Donald Trump lacks.
Trump's deal making skills would be essential to get Governor Martinez to agree to be his running mate. However if Trump wins the nomination by a majority of the delegate count, the RNC closes ranks, and Trump pledges to tone down the immigration rhetoric then he may just have a deal and a yin to his yang.