When I saw on Facebook Sunday morning that President Obama had spoken to Cuban "celebrity" Pánfilo, I figured it had to be a joke. Then I learned that the video had been uploaded and was being shared by the United States Embassy in Cuba. I clicked, and there was the leader of the free world and his Cuban interlocutor exchanging pleasantries with a familiarity that made me uncomfortable.
At some point, "Pánfilo" offered Obama his house so that he could stay with his family, and even told him on which side of the bed "Michelle" should sleep. Ah, that famous Cuban hospitality! For a noticeable part of the conversation, "Pánfilo" addressed Mr. Obama in Spanish using "tú," (the informal "you").
It may be a slip, but it was not accidental that his casual tone kicked in when he told Obama what he may and may not bring to Cuba in order to avoid a delay at the airport. It's no secret that the imperative sounds more commanding when it addresses "tú" instead of "usted."
In those three and a half minutes of the sketch, the modus operandi of both governments became obvious.
Obama wanted to show from the get-go his intention to speak to and with the Cuban people. He wanted Cubans to know that he gets it, and he sprinkled his conversation with a couple of localisms that were really never meant to be uttered by a head of state, no matter how cool he may be.
On its end, the Cuban government made sure to place on the other side of the telephone someone who knows the exact limits of what is politically permissible. "Pánfilo," aka Luis Silva, has a TV show in government-controlled television. He knows the script. While Obama himself is speaking from the actual Oval Office, his Cuban counterpart is an actor, in a (poorly) staged studio; his character, in ridiculous makeup, pretends to be someone several decades older (and semi-decrepit), signaling that the only way one can make mild social criticism in the island is with the protective cloak of advanced age, and confirming, once again, that Cuba is indeed a country for old men.
It's not superficial that the buffoon doesn't speak as or for himself. It is a sad reality that this humorless "Pánfilo" is Cuba's most popular comedian. But that's fodder for another essay.
RELATED: In Cuba and U.S., Expectations Are Mixed on Obama's Historic Trip
As I watched the skit, I wondered out loud who is advising Mr. Obama on Cuba. If he really wanted to speak with the people, there was another Pánfilo he needed to hear from: the Afro-Cuban man who, in 2009, was imprisoned by the Castro regime for appearing drunk in a YouTube clip screaming what most Cubans are afraid to say while sober, that "what Cubans need is food" —not even freedom, just food! Still, his one minute and 21 seconds of fame earned him a two-year sentence in jail.
On Monday, during his joint press conference with Castro the Younger, President Obama, again, made his intentions clear: "I told President Castro that we are moving forward and not looking backwards." Inspiring as it may sound, not looking backwards after 57 years of dictatorship is irresponsible and naive. We must not move to the future by sweeping the past under the rug. Cuba needs a Truth, Memory and Justice commission that documents and acknowledges deaths and disappearances resulting from political violence.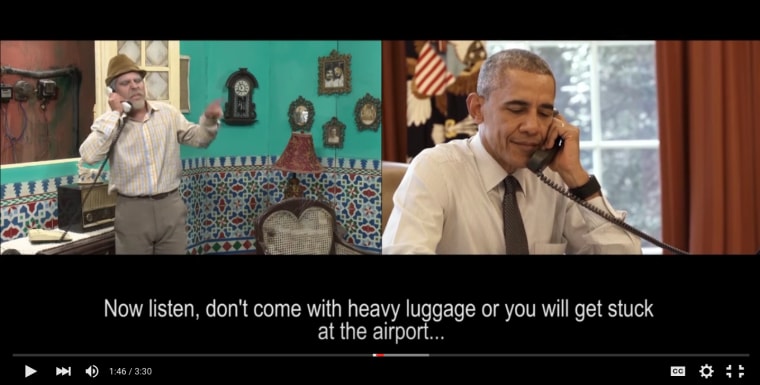 President Obama has said he wouldn't set foot on the island until human rights conditions improved. But political repression has increased since December 2014, when it was announced that there would be a thawing of relations. In the first two weeks of March 2016 alone, there were 526 political arrests on the island. Failing to mention the Ladies in White while in Cuba, or the systematic repression they face every Sunday when they go on their peaceful morning walks to draw attention to the regime's violations of human rights is not only a blunder, but a morally objectionable omission. After decades of totalitarianism, Cubans need active solidarity, not platitudes. We have no use for subtlety at this point. We need concrete words and deeds.
RELATED: Cubans Line Streets to Catch Glimpse of Obama As Two Presidents Meet
President Obama, who is clearly concerned with making history, must understand that history is also made of images. Alas, 21st century history is also made of memes. And he has provided one for the ages: at the end of the historic press conference, Mr. Obama, ever the diplomat, approached Castro, shook his right hand, and attempted to put his left arm over the shoulder that generally has the stars of the uniformed general. Castro, in a textbook definition of "manhandling," removed it like an Aikido master and raised it up, and Obama's hand was left hanging awkwardly. This moment, which may seem trivial, captures the real power dynamic underneath all these exchanges. In the approach/avoid tango, Castro is leading.
We must un-Americanize the Cuba problem. It is unreasonable to ask President Obama to bring democracy to Cuba. It is not his job. As a Cuban native, it was my job, and I fled the island. It is the job of the entire Cuban population, and some Cuban citizens flee, some remain silent, some demand their rights, and some join the Castro mob in its daily repression of human rights by harassing and beating social justice activists. I do not expect Obama to bring about democracy in Cuba. I am, however, dismayed that he took his entire family on a vacation trip to an island in which repression is commonplace —as if it were a theme park. The sad part is that it is a theme park! Where else can you find a shrine to the Cold War that hasn't ended? Where else can you see such beautiful ruins? Where else can you fetishize poverty and feel like a liberal? Have you not seen the photos from the New York Times special on Obama's visit to Havana? The city may be crumbling, but look at the light!
RELATED: President Obama Lands in Cuba to Forge New Vision for the U.S. Relationship
Our problem is, of course, this article. As I write it, Cuban peaceful demonstrators have been forcibly arrested throughout the country, limiting their movement, association and visibility before, during and, most likely, after Obama's cameo appearance in my homeland. The problem is that every piece written about Obama's tour of old Havana or his eating the monthly meat ration of a Cuban at an independently owned restaurant is a distraction from Cuba's real problem, which is not its relationship with the US, but its fundamental lack of freedoms from a dynastic tyranny.
The ever-growing legions of Cuban experts, and most importantly, time, will tell if President Obama's trip to Cuba was ill-advised or a brilliant move. Until I'm proven wrong, I can only think of Dr. Martin Luther King Jr.'s famous dictum: "In the end, we will remember not the words of our enemies, but the silence of our friends."