"Viste?" an expression universally understood in Spanish-speaking countries and continents as the one word 'I told you so.' Usually delivered confidently, accompanied by raised eyebrows and a snarky smile, A facial expression I'm sporting so frequently these days, I'm afraid my face my face freeze this way. Which fortunately will work for the remainder of Donald Trump's presidential campaign, but I'd rather have free reign of my facial muscles for the rest of my life.
From the minute Trump launched his 'Make America Hate Again' tour, Latinos denounced his racist rhetoric as insidiously dangerous. Some of our executives put their money where their people are. Univision canceled his pageant and NBC business ties with the Donald. Famed chef Jose Andres pulled his restaurants out of his buildings and Mexican billionaire Carlos Slim ended all business relationships with the overgrown bombastic oompa loompa. But the rest of American didn't mind Trump's antics. He skyrocketed in the GOP primary polls.
Establishment Republicans desperate for explosive numbers remained mostly silent. Some of them even supported Trump's nonsensical immigration policies. His antics were considered bombastic but toothless even as Latinos were being attacked at his rallies. Lorne Michaels invited him to host SNL and Barbara Walters did an hour long cuddly special on Trump and his family. All the while Latinos were made to look like overly emotional people of little consequence while Trump continued his fact-free campaign.
Last week Michael Cohen, a Trump executive and advisor, said he was fine with the fact Hispanics en masse are rejecting Trump because according to him "…the ones that don't like Trump aren't even here legally and can't vote, so it doesn't really matter, right?"
Except that it does. More than three quarters of American Latinos are citizens and last I checked, citizens vote.
Aside from basic math, Trump is facing a new challenge.
Apparently Trump's vicious attack on Muslims has taken everybody by surprise. But not us. Paul Ryan, Charles Krauthammer and even Dick Cheney have finally spoken out against the dangerous ideas the Donald is promoting and I can't help but wonder why now? Not because Muslims don't deserve our support. They do and they have it, one hundred fold.
But why didn't Latinos get support when we were used to kindle this bonfire of ignorance? It raises a question - what is it going to take for the American establishment to realize we are one of their pillars?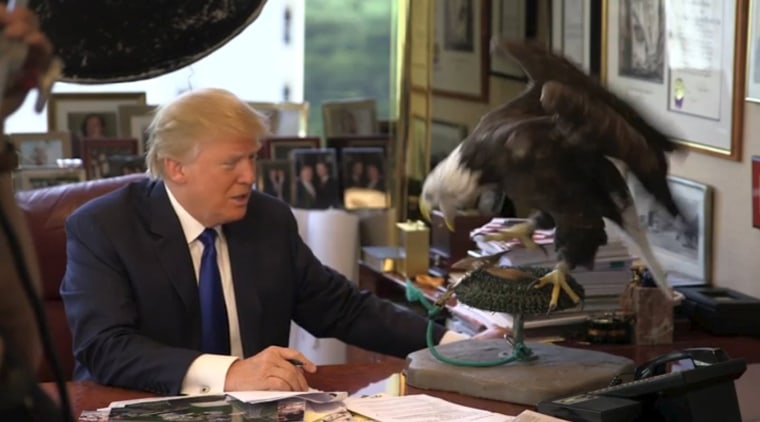 A good start would be by understanding we're like that bald eagle that snipped at Trump's megalomaniacal grabby hand. This is the time to flex our muscle and to refuse to be ignored. We'll stand side by side with our Muslims friends and any other group Trump decides to trash. But we'll also be calling out the Latino blindspot the media so comfortably sits in. When Latinos called out Trump's dangerous rhetoric, it wasn't enough. But we told you he was only getting started.
Ultimately, denying or delivering the next President to the Oval Office with the sheer power of our vote will be our moment to stand proudly as part of this country and tell the world, 'Viste? We told you we told we mattered. And we're here to stay.'