Nothing shows leadership like attacking the victims of a deadly hurricane.
That's what Americans learned on Saturday morning, waking up to the news that the president – already under fire for his administration's inadequate response to Hurricane Maria's devastation – is now lashing out at the mayor of San Juan.
From the safety and comfort of his New Jersey golf resort, Trump attacked Mayor Carmen Yulin Cruz on Twitter. "The Mayor of San Juan, who was very complimentary only a few days ago, has now been told by Democrats that you must be nasty to Trump," he rage-tweeted at 7:19 AM. With this sentence alone, the president politicized the unfolding tragedy in Puerto Rico, based on nothing but his bruised ego and bad headlines.
It seems almost grotesque that Trump views Cruz's begging for help in saving lives as an attempt to make him look bad.
Cruz has emerged as a powerful voice for her city, and for the island by extension, as she has pleaded publicly for more relief efforts. She has not, in fact, been "nasty" to Trump or FEMA workers. On Friday on MSNBC, she made an emotional plea for help saying, "If anybody out there is listening to us, we are dying. And you are killing us with the inefficiency and the bureaucracy." She wondered why the U.S., with all its military might and power, could not figure out the logistics for an island that is 100 miles long and 35 miles wide.
There have been at least 16 confirmed deaths in the aftermath of Hurricane Maria, although that number is expected to rise. Most Puerto Ricans on the island are still without power, gas, food, or running water. Numerous media outlets have reported on the slow pace of relief efforts, which have already drawn comparisons to the Bush administration's botched response to Katrina.. A report in the Washington Post, for example, explained how the president's weekend at his golf club slowed his administration's initial response to the disaster.
In the face of such a crisis, on social media our president chose to focus on what he called "such poor leadership" by Cruz. Never mind that the mayor has been seen wading through waist-high water trying to rescue stranded residents, and has gone on little sleep for over a week. Or that the three-star general in charge of leading the relief effort has stated that there are "not enough" troops and supplies on hand for the recovery. Even the acting head of Homeland Security, who had earlier claimed that Puerto Rico was a "good news story" has admitted that the relief effort is "not satisfactory."
"Leave it to our Race-Baiter-in-Chief to resort to the tired tropes that minorities want everything done for them."
Yet the person the president chose to go after was a Latina, a woman of color who dared to call his administration out.
Still, Trump wasn't finished. Not content to merely politicize a humanitarian crisis, he injected it with a note of thinly-disguised racism. Referring to the people of Puerto Rico, he tweeted that "They want everything to be done for them when it should be a community effort."
These words are shameful. If the president hadn't been so busy last weekend tweeting about flags and football players, he would understand that what is happening in Puerto Rico is by default a community effort. The residents of Puerto Rico – about 3.5 million American citizens – went through the hurricane on their own. They have indeed been helping each other, searching for food and fuel, and looking for their loved ones in the absence of a more robust government response.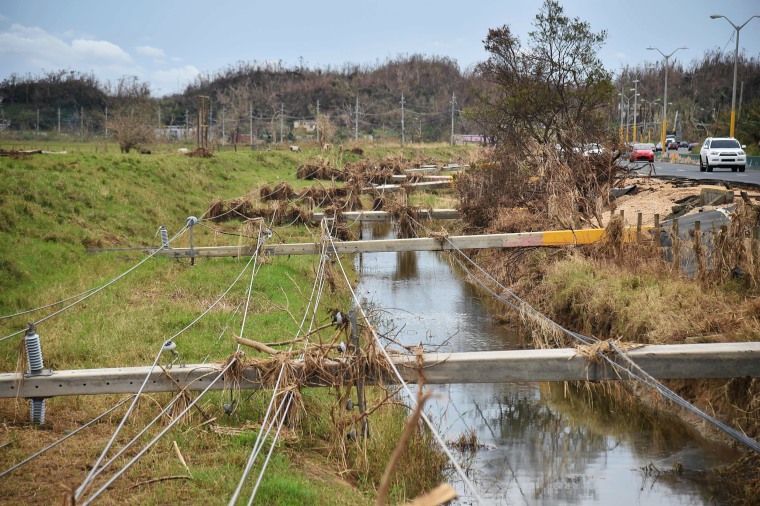 Leave it to our Race-baiter-in-Chief to resort to the tired tropes that minorities want everything done for them, that they're lazy, and that they are dependent on the government. These sentiments are offensive in the best of times. In the wake of a catastrophic weather event, they are despicable. Coming from this president, they are yet another sign of his lack of empathy, his lack of respect for women, and his indifference to the concerns of Latinos.
Trump's response to the mayor of San Juan reveals how unfit he is for office. He apparently cannot handle pressure without resorting to personal attacks on others. He seems to lack any sense of personal accountability. He is easily angered. Even when lives are literally at stake, he is still in his element behaving like a bully. As of today, Trump has hit a new point for unacceptable behavior – and provided his fellow Republicans with more opportunities to distance themselves from him.
And the saddest thing of all here? Trump's personal pathologies will provide another distraction to the media from the humanitarian crisis unfolding on U.S. territory.
Trump's latest tweets on Puerto Rico constitute a national disgrace. At a time of major national emergency, he has – again – shown the world just how small he really is.