The disappearance of three young Mexican men, all film students, who have been missing over a week while they were working on a spring break film project in Guadalajara has sparked outrage and calls for answers. Over 1,500 people have participated in protests in Guadalajara and Mexico City.
Academy Award winning director Guillermo del Toro, whose film "The Shape of Water" won for Best Picture, retweeted to his 1.36 million followers the tweets with the hashtags #NoSonTresSomosTodxs (which means "we're not three, it's all of us") and #LosTresEstudiantesDeCine (which means "the three film students"). Del Toro is a native of Guadalajara.
Javier Salomón Aceves Gastélum, Daniel Díaz, and Marco Ávalo were last seen on March 19 when the three aspiring filmmakers from Universidad de Medios Audiovisuales (CAAV), a film school located in Guadalajara, Jalisco, were in the midst of filming a class project during their Spring Break. Díaz had crutches and Salomón had brought along his girlfriend, his cousin Alejandra and a friend of hers.
"I saw some men coming with guns and long weapons. They told us they were with the police and I ducked down," Alejandra told a local paper in Spanish."When I raised my head, I saw that the vans were gone, so were they."
With no new information on the case, the pressure for authorities to find the young filmmakers alive is increasing.
Numerous universities in Guadalajara and in other parts of Mexico showed their solidarity and released statements calling for authorities to "immediately find alive the three students from Universidad de Medios Audiovisuales (CAAV) that were deprived from their freedom."
The film students join a longer list of young adults and other people who have gone missing in recent years.
As of Feb. 28th, over 5,000 people went missing in Jalisco. As reported by a local publication, 36 percent of all people missing are between 16 and 28 years old — meaning that a third of all the disappeared in Jalisco are young people like Javier Salomón, Marco Ávalo and Daniel Díaz.
More recently, in Jalisco, near Guadalajara, three other students went missing on the same week the film students disappeared. Only two have been returned home.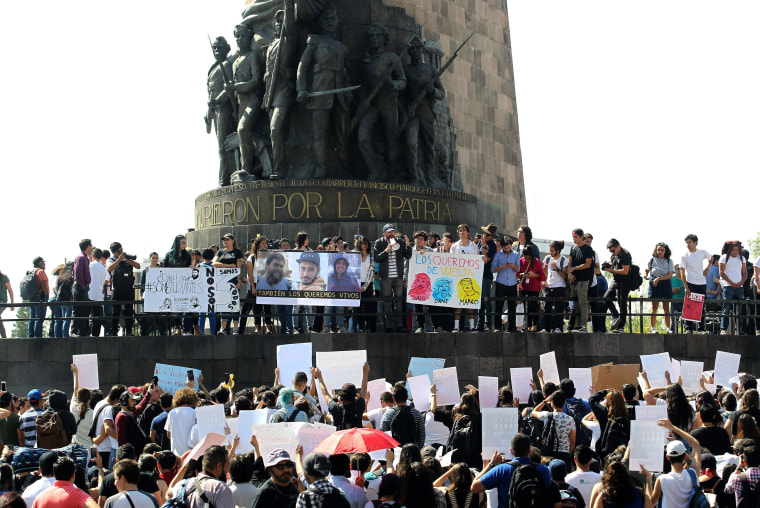 On March 29th, protesters pick up their mobilization after organizing two other marches in Mexico on the same week that Salomón, 25, Díaz, 20, and Ávalo, 20, went missing. A third protest is set to take place on March 29th. Five days after their disappearance, students from their film class released a video — a call for help.
"We are abandoned, betrayed ... there is no one to back us up, there is nobody to take care of us," said the young filmmakers in Spanish on the video. "Today we raise our voices because we cannot remain silent... Salomon, Daniel and Marco are three kids my age whose lives are just beginning, we hope they come back."
In 2014, the case of the 43 missing students in Ayotzinapa gained national attention after a group of nearly 100 students from the Ayotzinapa Teacher's College were ambushed by local police on September 26 of that year — leaving six dead and 43 missing. This sparked massive protests in Mexico and internationally, as well as calls for the Mexican Government to investigate what happened. Families of the 43 are still demanding answers in that case.