Two Mexican filmmakers — a director and a cinematographer — have won big at the 88th Annual Academy Awards after having won the coveted awards before.
Director Alejandro González Iñárritu won Best Director for his movie "The Revenant." This is González Iñárritu's second win for Best Director — he won in 2015 for "Birdman" which also won for Best Picture. The movie's main actor, Leonardo DiCaprio, won his first Academy Award for Best Actor, though he had been nominated several times before.
While Iñárritu accepted the award, the music played louder and louder, signaling him to wrap up his speech. He spoke passionately about race and representation in Hollywood, then dedicated the award to his father.
"What a great opportunity for our entire generation, to really liberate ourselves from all prejudice and this tribal thinking," he said. "… And make sure for once and forever that the color of our skin becomes as irrelevant as the color of our hair."
The movie also won for Best Cinematography under two-time Oscar winner, Mexican cinematographer Emmanuel "El Chivo" Lubezki. Lubezki is the first cinematographer in film history to win three years in a row; he previously won for "Birdman" and "Gravity."
Related: 10 Must-See Latino and Latin American Films
For the first time in the Academy Award's history, a Chilean film won an Oscar. "Bear Story," created by Gabriel Osorio and Pato Escala, received the award for Best Animated Short Film.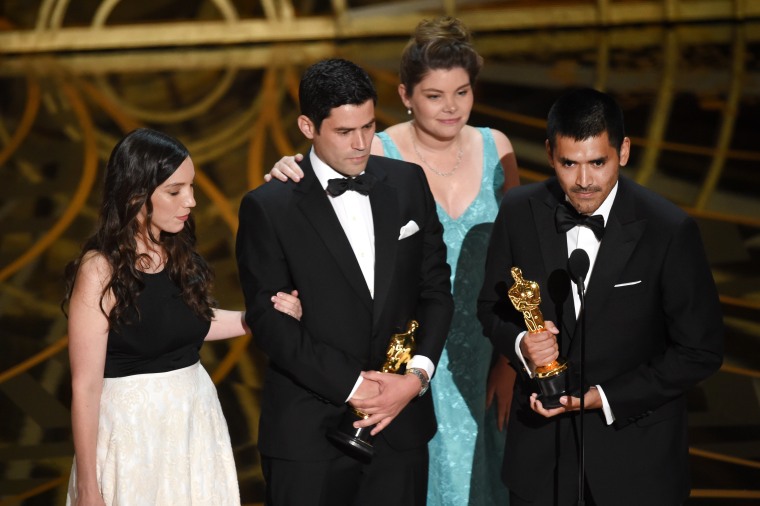 "This is the first Oscar for our country so it is very important for us," they said in their acceptance speech. They thanked "everybody in Chile that has supported us and trusts in our work." They left the stage, proudly saying "Viva Chile!"