"Ahi viene Iris Chacón!"
For more than two decades these four words, sung at the start of a show, brought a world of glamour, campy outrageousness and laughter to millions of living rooms in Puerto Rico, Latin America and the United States. It made Iris Chacón – known as La Vedette de America - a household name and a beloved icon that still endures 45 years later.
The curvaceous and risqué singer, dancer and entrepreneur known as "La Chacón" - dressed in flamboyant outfits that showcased her main asset – her ample derrière – paved the way during very conservative times for the likes of Jennifer Lopez and Kim Kardashian. Dancing while scantily clad and backed by male dancers, she revolutionized the world of show business and became the phenomenon known as La Bomba de Puerto Rico — the Puerto Rican Bomb.
Entire generations of Borícuas – both on the island and in the mainland – were brought up with El Show of Iris Chacón, on the air for more than 15 years. Its heyday was in the 1970's and 1980's, with number one ratings on prime time in Puerto Rico and major markets such as Miami, New York, Chicago and Los Angeles.
La Chacón is now 66 years old. If her recent participation in the Loisaida Festival — an event in the heart and soul of the Puerto Rican community in New York's Lower East Side — is anything to go by, she is still wildly adored by her public.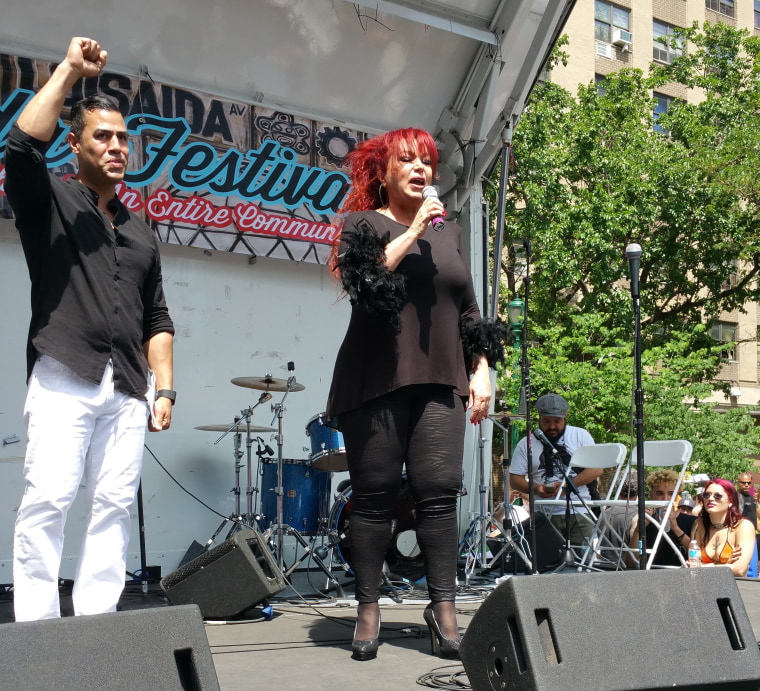 In a testament to her multigenerational appeal, the young and not so young at the festival chanted "Ahí viene Iris Chacón," holding up signs that read "Te Queremos Iris" (We Love You Iris) and singing every word of her signature tunes – Tu Boquita (Your Mouth) and Caramelo, Chocolate (Caramel Chocolate), cheering her on when she displayed her signature moves.
"I have been in this job for more than 45 years," Iris Chacón said in an interview with NBC Latino. "It's three generations and the work that I have done still lives on. I am thrilled that I can be an example for these new generations," she said. "And with social media this has become a new wave."
Chacón's career began in 1969. News events of that year reshaped the world. The internet was born, Neil Armstrong was the first person to walk on the moon, the Vietnam War was coming to an end, and the Stonewall riots broke open the door for the gay, lesbian and transgender civil rights movement.
In the small town of Puerto Nuevo, Puerto Rico, Iris Belia Chacón Tapia broke through age-old stereotypes to become a phenomenon not seen since Josephine Baker. As a shy, little girl from humble and religious beginnings, Chacón just wanted to sing and dance and bring joy to others.
"In the decade of the 70's women were still conservative in their dress, and men were authoritarian and machista. There had never been in Puerto Rico a vedette with my style." — Iris Chacón
"I was just a little girl in the body of a woman, dancing and being happy," Chacón said. "But it was a difficult decade. Because in the decade of the 70's women were still conservative in their dress, and men were authoritarian and machista. There had never been in Puerto Rico a Vedette [a French word meaning a multi-talented dancer] with my style."
She triumphed despite the odds — criticized for being risqué and chastised by members of the island's Catholic Church for dancing with very little on — and threatening the strict social mores of the time.
"They accused me of dancing with transparent muslins," she said. "But I had on three pairs of stockings the color of skin and fishnet stockings on top!"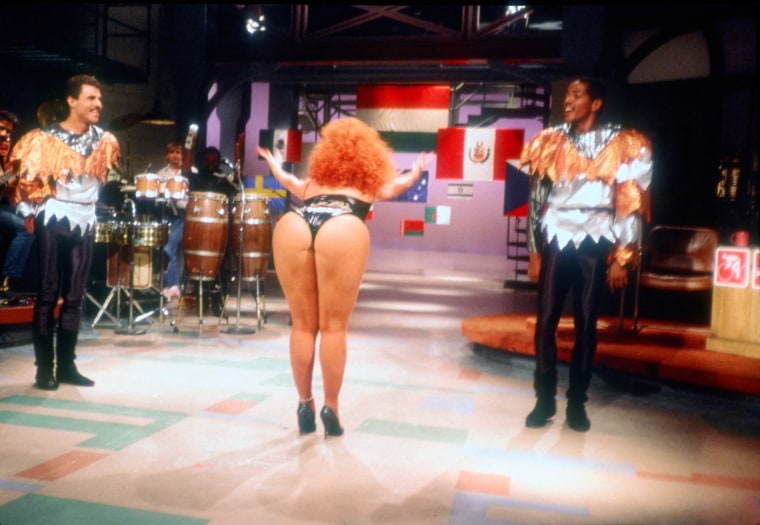 Chacón's has an impressive list of firsts. She was the first Latin artist to sell out Radio Music Hall in New York during three consecutive seasons, her show a hit in 15 countries. She was the first female independent producer in Puerto Rico, at the helm of a large production office with 20 employees, not counting extras.
Chacón also gave Gloria Estefan and the Miami Sound Machine one of their first television appearances, before they exploded on the national stage. She opened the way for the crossover of Latin artists, appearing on U.S. television shows as "The Joan Rivers Show" and "Letterman," the latter joking about asking for her hand in marriage.
Chacón was also the first Hispanic presenter to grace the front pages of the Wall Street Journal, as a result of a television commercial for an automotive coolant that played on the Spanish word for La Bomba de Puerto Rico's main attribute, her voluptuous backside. Even today the ad stands as one of the most famous television commercials in Puerto Rico's history, a hallmark of a generation.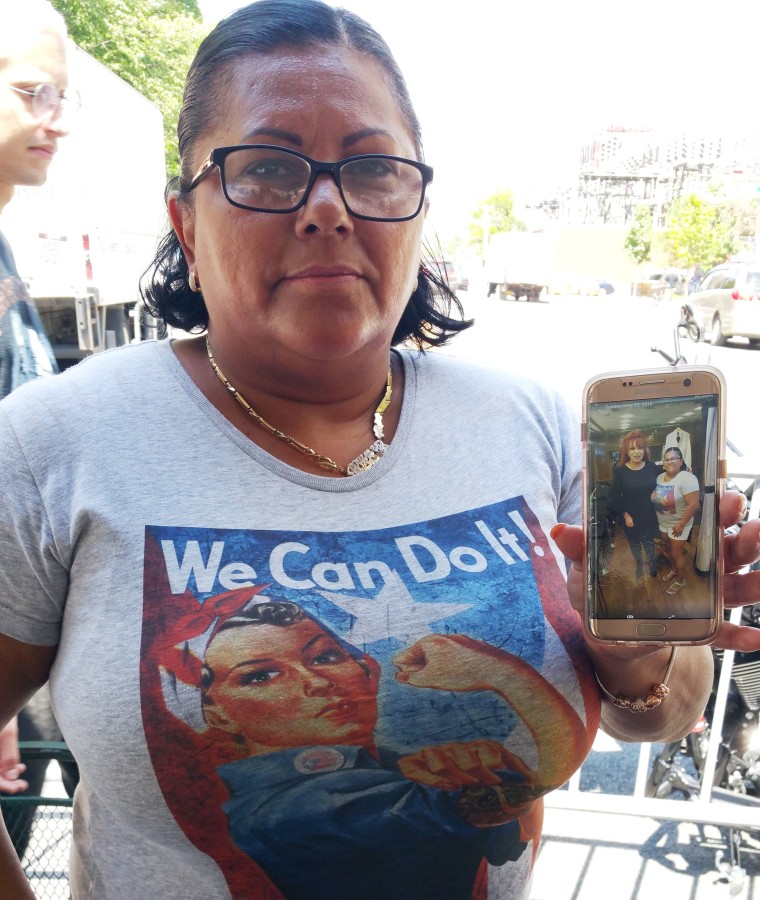 "I knew I had to fight, even when my English was not very good. I wanted people to see the woman behind the artist," she said. "I am a woman who is a fighter, someone who has learned to use all my talent and give all of me."
And it was hard work.
"There was no Photoshop during my time. You would have to sit for hours during a photo shoot, and it was all done by lighting," said Chacón. The curves, which I had, where enhanced by amazing lighting," she said. "Nowadays you have these Apps which will airbrush away any faults. I love them! Now it takes minutes to do what used to take hours. I am happy that the girls of today have it a lot easier, but the hard work made me who I am."
But Chacón's story is more than one of an iconic sex symbol; hers is a story of fortitude, from the start.
"Puerto Rico is like the sea. The sea withdraws, and comes into itself. But when it returns, it returns as a powerful wave. And I am still here, for Puerto Rico." — Iris Chacón
"My story is one of surmounting the odds even before being born, because I had to grab on to life and fight to survive the concoctions and laxatives with which she (my Mother) tried to get rid of me," Chacón writes in her book Yo Soy Iris Chacón. "I came as a surprise and that is why I was not a wanted child," she wrote.
"The rain stopped and in that very moment a big rainbow peered out. My grandmother was fascinated by what she saw. And just as if she had had a spiritual awakening, she lifted her arms up and giving thanks said: She will be a girl and her name will be Iris, this is an omen from the heavens for she will be blessed." Soon after, Iris Chacón was born.
And though the road has been a long one, with ups and downs, Chacón says this is "my story and the story of all of those who, by making my road difficult or enjoyable, strengthened my character and helped me to not give up when faced with adversity."
Adversity, much like her native Puerto Rico is currently fighting, with a 72 billion dollar debt and a migration that threatens to rob the island of its main asset — its people.
"Puerto Rico is like the sea. The sea withdraws, and comes into itself. But when it returns, it returns as a powerful wave," said Chacón about her beloved island. "And I am still here, for Puerto Rico."
Chacón and her husband have recently moved back to the island, to be close to her daughter, Katiria, and her two grandchildren, Victoria Isabelle and Gustavo Ignacio. She has written her book and still does shows. but, Her story, however, doesn't end here.
Though she feels that in terms of being her star character – La Vedette de America - "she has done it all," Chacón believes she still has a lot to give her public – as just Iris - the woman, wife, grandmother and survivor.
She is contemplating a late night radio show and even bringing her career to life in a Broadway musical. Watch out Lin-Manuel Miranda, Ahí viene Iris Chacón.