CHICAGO, Ill. — Interviewing Bolivian doctors in Chicago is like interviewing members of a huge family. It's remarkable not only because they're so close, but because they're so numerous: The Windy City has the largest concentration of Bolivian doctors in the US, which has helped make this community one of the ten largest in the country.
This large medical family is also my family; my grandparents immigrated in the late 1960s for better professional opportunities. Digging deeper into their story, I uncovered they were part of a mass migration from Bolivia to the U.S., motivated partly by American generosity and partly anti-Communism during the Cold War.
The story starts in a monastery in Cochabamba, Bolivia, where two high school wrestling teammates met to catch up half a century ago.
How fear of communism spurred an idea
John Buckingham's first flight on an airplane was from Chicago to Bolivia. He remembers leaving at night with his father, Dr. Richard Buckingham, and how they first flew into Miami and Lima, Peru before reaching Bolivia.
"In the fall of 1962 we went to Bolivia because [my father's] best friend in Catholic high school in Chicago became a priest and was stationed down there," said Buckingham. They stayed at the rectory in the Dominican mission, where his father's friend was the head priest. Through him, his father met someone who had new and exciting ideas about how to help Bolivia: Father Timothy Sullivan.
Father Sullivan was also a native Chicagoan; after entering the Dominican priesthood, he left for his station in Cochabamba in 1961. His focus was university youth at Cochabamba's University of San Simón, and he helped create a Catholic party within the student body that counteracted Communist influences in the institution.
Ramiro Prudencio, who was a medical student at the time, remembers Dr. Buckingham visiting the university. "Dr. Buckingham said to us, 'Well, how can I help you?'" recalled Prudencio.
The Bolivian students told Buckingham that medical graduates had to go to other countries for specialty training because Bolivia did not have opportunities. Many of those countries were Communist, including Cuba, Czechoslovakia and Russia, and that worried Buckingham and Sullivan.
'We have to do something,' they said, 'because we don't want all these doctors being Communist,'" remembered Patrick Rearden, one of Sullivan's fellow priests.
Dr. Buckingham later wrote, "We cannot afford the danger of having such a significant segment of the population of these countries as the physicians represent come under the influence of enemies of the Western World." So the Chicago doctor and the priest gelled an idea to send Bolivian medical graduates to Chicago, their mutual native city, to train in medical specialties.
The Chicago hospitals were particularly receptive to foreign graduates at the time, Buckingham later wrote, because the Vietnam War was increasing U.S. demand for physicians. In fact, one of the immigrant Bolivian physicians, Hector Caballero, said that after training in the States he was drafted into the army for three years.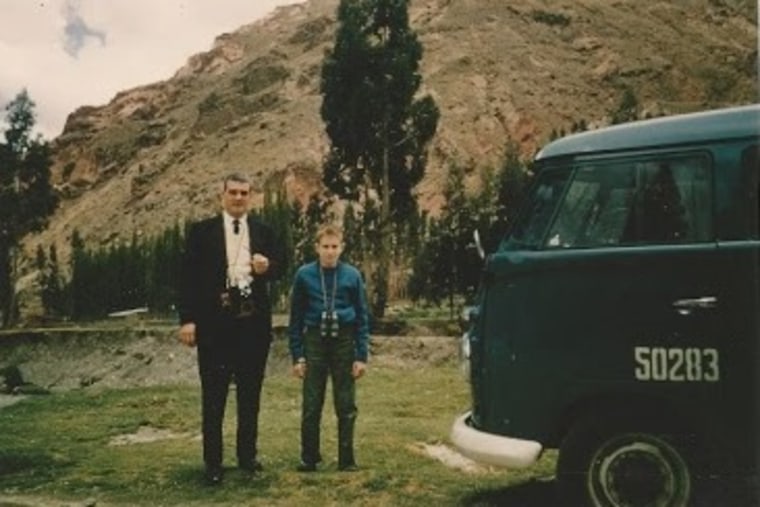 Buckingham and Sullivan's ultimate goal was to share American physicians' educational advantages with Bolivian doctors and enable them to fill teaching posts in their home country's medical schools.
"The Dominicans' [priests] plan was very noble because they wanted us to become specialists and eventually go back to improve Bolivian medicine," said Jaime Escobar, one of the first Bolivian medical graduates who left for Chicago.
Hello Chicago
Not long after helping translate for Buckingham and Sullivan in Cochabamba, Prudencio also landed at Oak Park Hospital in Chicago, expecting to find a cold, industrial city rife with crime. "To my surprise I realized that this city was a beautiful place where people were generous. Everywhere I went I found a helping hand, a smile and a welcome," he said.
In over 10 years approximately 150 doctors came from Bolivia to Chicago — about half through Sullivan and Buckingham's program. Others started coming independently. "It became a chain."
The graduates had working scholarships, which paid them $150 per month plus room and board to work in non-patient care roles like IV therapy or lab tech while they learned English.
A number of them were able to send money home to their families in impoverished Bolivia. After they passed the foreign graduate exam, the Catholic Physicians' Guild helped the doctors find residency placements in Chicago area hospitals.
"It was a beautiful experiment," said Prudencio. "I am probably speaking for all of us when I say that it was a miracle to come to the U.S., the mecca of medicine, and have the opportunity to be trained here. Coming from a poor medical school, it was unbelievable," said Prudencio.
RELATED: Our Latino Heritage: A Bolivian Family Of Small Business Owners
In over 10 years approximately 150 doctors came from Bolivia to Chicago — about half through Sullivan and Buckingham's program.
Others came independently through friends, family or raw ambition. "It became a chain," Escobar, one of the first doctors to come to Chicago, said. "When I had been at Oak Park for two or three months I helped get a contract for a friend and my cousin."
My own family was part of the ambitious group; my grandfather, Jorge Cavero Sr., had long since completed medical school and he and his family yearned for the opportunity to come to the U.S. My abuelita gave up her job and agreed to come with my grandfather to Chicago in the late 60s.
"We were supposed to go back"
"There is one regret that I think most of us have," Prudencio told NBC News. "We were supposed to go back."
Escobar said he used to tease Sullivan and Buckingham that their mistake was sending them as immigrants instead of exchange visitors or students with five- or 10-year limits.
"That was a great mistake," said Alfonso Vía Reque, a Bolivian who helped his brother immigrate to the U.S. for medical training. "They owed the university and the people of Bolivia," he insisted. "They didn't pay a penny to become doctors, and then they left the country."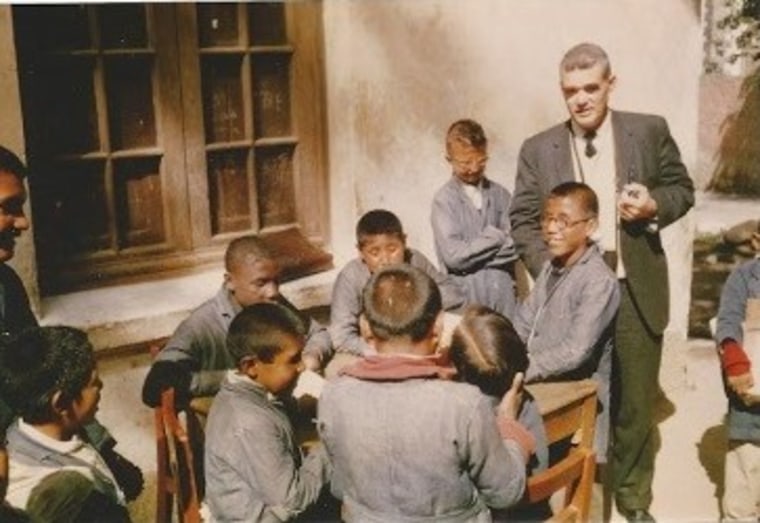 Escobar says that for the first five years, the majority of the graduates planned to return. However, as time passed, the hesitation grew. Some of the Bolivian physicians married Americans and started families. Others enjoyed the professional opportunities in the States that they knew would not be replicated in their home country — doctors in Bolivia had to spend a year working in rural areas under difficult conditions and endure seemingly endless political upheaval.
"My country is in turmoil always," said Prudencio. "This country offered us not only opportunity but also stability."
Orlando Paja, a dental graduate from Cochabamba, said doctors also endured political persecution. "I was branded a Communist when they were rightist and a rightist when they were Communist. I was persecuted," he said.
In the early 70's, Dominican priests brought the program to a close because the young physicians were not returning as they had hoped, said Father Rearden. Even the independent flow of doctors slowed to a halt because the Vietnam War ended, increasing competition for residency, especially for foreign graduates, said Escobar.
The 'Chicago Boys' form the Bolivian American Medical Society
The Chicago immigrants had become the largest group of Bolivian doctors in the U.S. The few other Bolivian physicians scattered across the country called them the "Chicago Boys," and true to their name, they began weaving a new social and professional fabric in their adopted city: a Bolivian medical society.
Escobar and 11 other doctors founded the Bolivian Medical Society in June 1976, soon changing its name to the Bolivian American Medical Society to include their American colleagues — BAMS for short. Escobar was elected their first president and asked to stay for two full years. Rodrigo Encinas, the current president of the society, calls him their "George Washington."
BAMS doctor Enrique Vía Reque said families would rotate hosting the weekend gatherings centered around Bolivian music, food and conversation.
My grandparents weren't among those founding members, but they came early and dove into the society's activities, hosting events well into the 90s when I was young. I still remember the rapid Spanish and abundant salteñas (Bolivian empanadas) of those parties.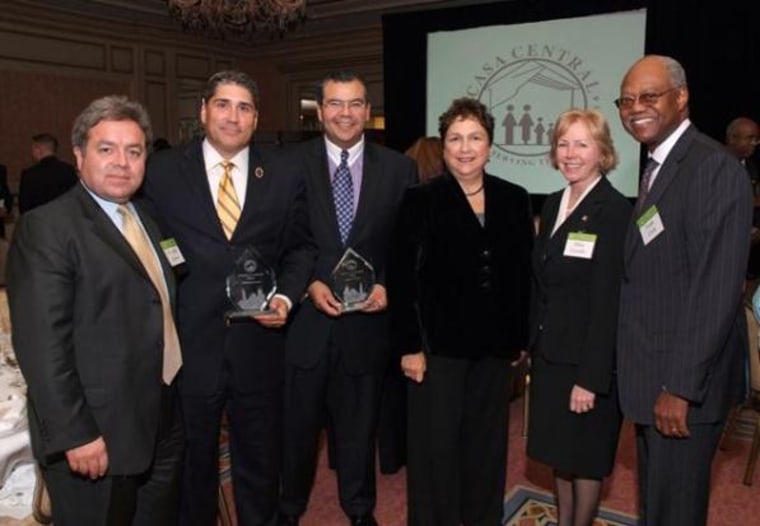 BAMS members organized "congresos," or trips to Bolivia that involved giving medical lectures to Bolivian physicians, fundraising and donating equipment to medical schools and their libraries, and sometimes performing surgeries or medical treatment.
Eventually, Bolivian President Jaime Paz Zamora awarded BAMS a Condor of the Andes prize — the country's highest honor — making the society a fellow recipient with its ancestor, Dr. Richard Buckingham.
In the late 80s and early 90s, BAMS went national. The doctors began to reach out to Bolivian physicians and medical professionals across the country — in California, New York, Florida and Washington D.C., where the largest Bolivian population in the U.S. resides — as well as in Bolivia and abroad.
Over the years, some of the Chicago Boys rose to success in their fields--four of them became department chairs at Chicago area hospitals. Perhaps BAMS' most famous member was Dr. Hugo Muriel, who was appointed to the political position of Health Commissioner for Chicago. My grandfather's clinic, Cavero Medical Group, became a thriving family practice that has been passed down to my uncle, Jorge A. Cavero.
The group held conferences in cities across the U.S. and Bolivia, and members say that they were able to help revamp the library in San Simon Medical School in Cochabamba with new computers, furniture and paint, while also furnishing two full rooms for the students. Escobar wrote in his history of the Bolivian physicians in Chicago: "Si no volvemos a Bolivia, nunca nos olvidaremos de ella" — in English, "Even if we do not return to Bolivia, we will never forget her."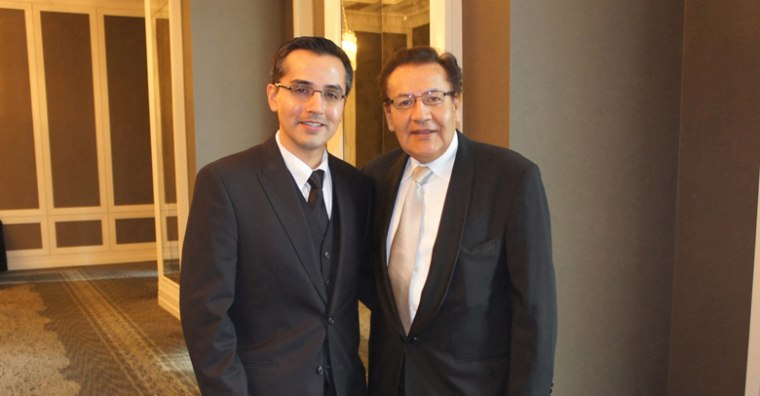 Generations Later, Proud Bolivian Americans
The society's members are growing older and moving toward retirement now, and the younger generation has branched out to other professions too, but the group's core has remained the same.
For me, the BAMS family became synonymous with my family--a mini-Bolivia in Chicago, and the only Bolivia I grew up knowing, since traveling to Bolivia was hard. And for those who remembered the mother land, their Bolivian enclave became a semblance of home.
"You didn't always know others when you came here," said Via Reque, "but you had something in common, being Bolivian."