TIJUANA, Mexico — More than 50 migrants in the caravan seeking asylum at the U.S. border have been allowed in to have their claims processed as of early Wednesday afternoon, organizers of the group said.
Fifty-three migrants were presently being processed for asylum, according to Alex Mensing, an organizer from Pueblo Sin Fronteras, an aid group that helped organize the caravan.
Roughly 100 migrants from the caravan were still waiting outside the San Ysidro port of entry in the rain on Wednesday after coming to the crossing in hopes of seeking asylum over the weekend. The group has camped outside the border crossing, braving rain and sleeping on concrete while they wait their turn to be admitted. A group of more than 20 people was allowed in Wednesday, according to the organizers.
A U.S. Customs and Border Protection spokesperson said they did not have updated numbers to share as of early Wednesday afternoon.
The group of about 150 migrants had arrived at the port of entry Sunday afternoon but had been told they would not be processed right away after officials said the crossing was at capacity. Small groups have slowly been admitted since Monday night.
A migrant who gave her name as Katherine and her baby girl, Ashley, were allowed into the port of entry Wednesday morning. Katherine feared the two would not be able to seek asylum with the group after Ashley became sick and had to be taken to the hospital earlier this week.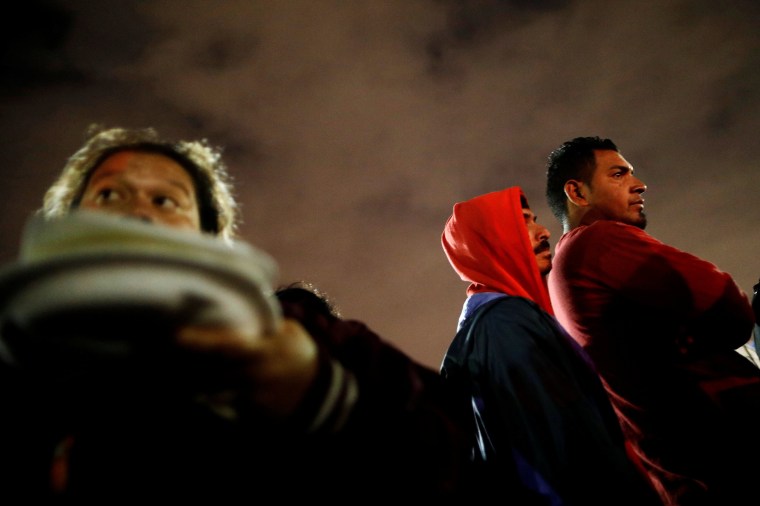 Katherine has said she was seeking asylum after gang members came after her and her daughter because her boyfriend owed them money.
Many of the migrants are fleeing violence in Central America.
Alexandra Mejia, a transgender woman fleeing persecution in El Salvador, was also admitted on Wednesday morning, a day after feeling like she couldn't take waiting in the camp much longer.
"I can't take it here anymore," she said Tuesday. "The nights are too cold and sleeping on the floor is painful. We have to walk a mile to use the bathroom every day at a nearby shelter. I can't do it any longer."
Attorney General Jeff Sessions said Wednesday afternoon that he was adding 35 assistant United States attorneys "to the border to prosecute illegal entries into our country." He was also moving 18 immigration judges to the border, he said.
"We are not going to let this country be overwhelmed. People are not going to caravan or otherwise stampede our border," he said. "We need legality and integrity in the system."
President Donald Trump tweeted Monday that the caravan "is openly defying our border." Asylum is a form of relief recognized under international law.
The Justice Department announced Monday night that it had filed charges against 11 people who were "suspected members" of the caravan for allegedly entering the United States illegally. One was alleged to have been previously deported, according to a department statement.
A federal law enforcement official told NBC News on Tuesday: "Membership with the caravan was disclosed during routine immigration inspection and questioning done by federal immigration authorities."
But the caravan organizers pushed back, saying the announcement was "clearly an attempt to criminalize the refugee caravan."
"Nobody on the organizing team or legal team of this caravan has ever encouraged anyone to cross illegally," said Mensing during a Tuesday morning news conference.
Annie Rose Ramos reported from Tijuana, and Daniella Silva from New York.