LAS VEGAS — Puerto Rican-Dominican reggaeton Latin trap artist Ozuna — who is behind one of the biggest hits of the year "Taki Taki" with Selena Gomez, Cardi B and DJ Snake — was the biggest winner of the 2019 Billboard Latin Music awards on Thursday night.
Ozuna, who had already broken the record of most nominations —he got 23 across 15 different categories, broke another record by winning 11 awards, the most wins in one year.
Ozuna took home the top award of the night, artist of the year, as well as top Latin album of the year and Latin rhythm album of the year for his 2017 album "Odisea."
Fellow chart-topping artists and urban singers Bad Bunny and Nicky Jam followed Ozuna with 4 wins and 5 wins respectively. One of Nicky Jam's wins was for the hit "X," alongside Colombian reggaeton star J Balvin.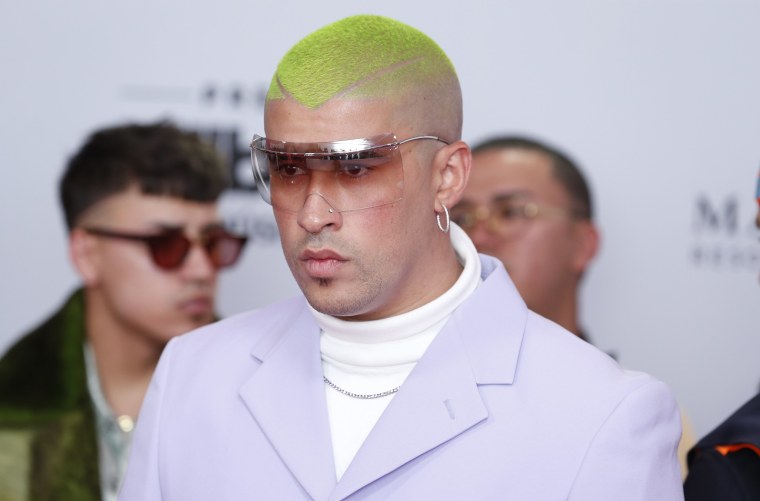 Urban genres nabbed many wins at the Latin Billboards, effectively reflecting how reggaeton and Latin trap have fueled the steady growth of Latin music globally in recent years, after being mainly dominated by Mexican Regional music, pop and tropical genres.
Reggaeton mega hit "Te Boté" with Puerto Rican artists Nio García, Casper Mágico, Darell, Bad Bunny, Nicky Jam and Ozuna — which landed on both the Billboard's Hot Latin Songs chart and the Hot 100 music charts in 2018 — won three awards, including hot Latin song of the year and streaming song of the year.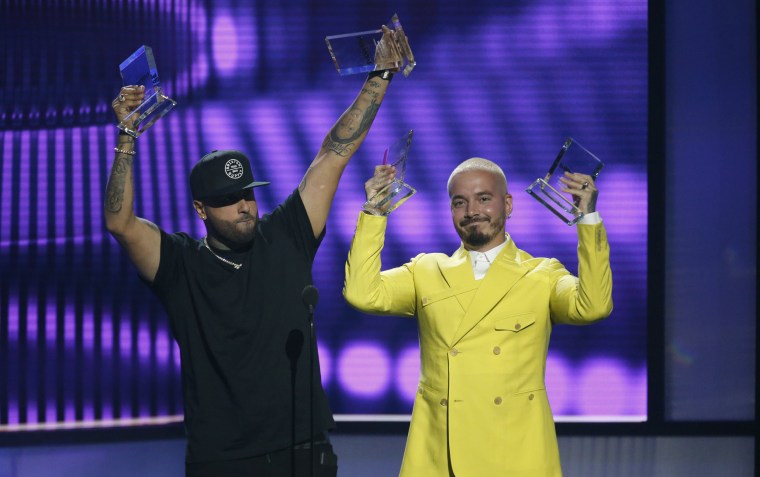 The masterminds behind "Te Boté," Nio García and Casper Mágico, told NBC News they still remember the day they sat down in a carpeted floor in Orlando to write the song — not imagining it would ever become a Billboard-winning hit.
"One of the key factors is to make sure we do good music, but by doing that we also got a super remix," said Casper Mágico. "But we never imagined that it would become such an important hit," added Nio García.
Another reggaeton singer, Annuel AA, also took home an award in the category of best new artist.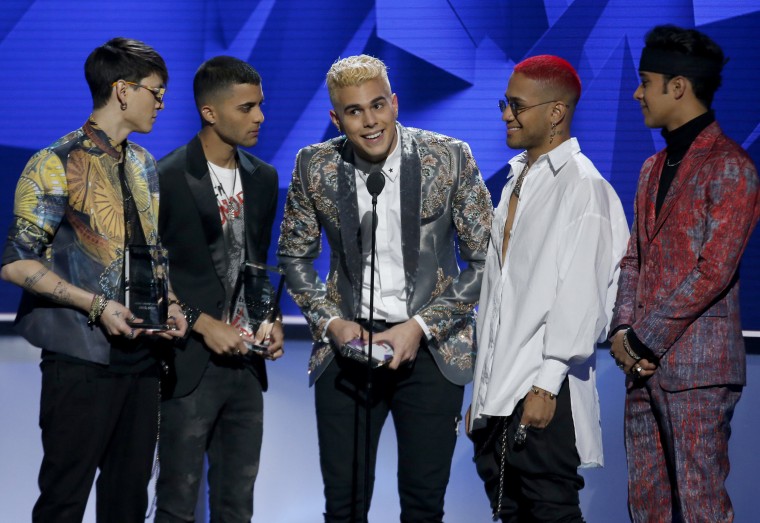 Amid the reggaeton wave, Latin pop boy band CNCO took three wins — including Latin pop album of the year, after performing their bilingual single "Pretend" on the Billboards Latin stage.
"If you feel comfortable with it, we should do it more. A lot of people are now doing songs in Spanish and in English now," bandmate Joel Pimentel, who grew up singing mainly in English, told NBC News. "We do encourage people to go out and do it [singing bilingual songs] because people will like it."
Mexican trio Reik won Latin pop song of the year for their hit "Me Niego" with Ozuna and reggaeton giant Wisin, embracing a growing trend of blending urban music with pop.
The Latin Billboards also showcased the rise of female urban artists such as Anitta, Becky G, Karol G and Natti Natasha — all of whom landed nominations across the male-dominated genre.
Dominican urban singer Natti Natasha became the first female artist to win in the Best New Artists category in at least four years. She was nominated with fellow Colombian reggaeton singer Karol G in the same category.
"In many ways, we've been building our own path," said the Colombian reggaeton singer in Spanish during Latin Music Week in Las Vegas. "I feel like there was a lack of habit of listening to us and listening to our lyrics in urban music... But the fact is that the doors have opened up for us now."
While at least 13 women were nominated for Billboard Latin Music awards, Natti Natasha was one of three women who nabbed wins on Thursday night. Shakira was the other winner, who landed two awards. Cardi B won crossover artist of the year with "I Like It," with J Balvin and Bad Bunny.
"If we're all going to be about girl power, it's more about acting the part and not just talking about it," said Becky G.
Other nominees and crowd favorites performed during the award show in the Mandalay Events Center in Las Vegas.
J Balvin brought his Coachella collaborations to the Billboard Latin Music stage, singing hits with Spanish singer Rosalía and Grammy-nominated musician Sean Paul, among other performances.
A day before Sean Paul and J Balvin took the Latin Billboards stage to sing hit "Contra La Pared," the Recording Industry Association of America (RIAA) awarded the artists with a Platinum Award.
"It was a surprise for me. I didn't think that it had been streamed so much," Sean Paul told NBC News. "It's been about a month now, and it's a big streaming record for me right now."
Ozuna dropped a new remix of his song "Baila, Baila" during the Billboard Latin Music show, including reggaeton giants Daddy Yankee, J Balvin and Anuel AA.
Latin music giants such as Marc Anthony, Aventura and Carlos Vives also lit up the Latin Billboard stage to put a spotlight on the growing evolution of Latin music — especially the urban and reggaeton genres that have not garnered nominations in big, mainstream award shows despite their record-breaking numbers in the past few years.
FOLLOW NBC LATINO ON FACEBOOK, TWITTER AND INSTAGRAM.