ATLANTA — Ozzie Areu is remembering 1995, when he was the main security guard at Warner Bros. in Burbank, California, the iconic studio that represented the magic and mystery of Hollywood films and TV shows.
Twenty-five years later, Areu is the first Latino to own and operate a major film and TV studio in the United States, having bought Tyler Perry's old Atlanta studio, where he was president and helped build Perry's formidable entertainment empire.
Areu's trajectory, in a way, is a Hollywood script in itself.
"It is surreal — from the moment I drive through the gates in the morning I say, Thank you, God," Areu said. "Because, who would have ever thought," as he looks toward the entrance of the studio bearing his name — Areu Bros. Studios.
Areu is taking a gamble and creating a studio squarely aimed at giving voice to little-known writers and directors of color. His mission? To build a media content empire on the premise that diversity sells in movies and TV.
"It will take a lot more than one person to change Hollywood, but when you see someone like the Areu Bros. Studios shaking things up, that is always a good thing," says Dr. Ana-Christina Ramon, director of research and civic engagement in UCLA's division of social sciences. "The thing about Hollywood is that once they see someone else taking a risk and it's profitable then other studios will want to jump on board."
From 'Friends' to Tyler Perry
Ozzie's road to Hollywood was full of plot twists and turns of fate. The security guard job at the WB lot placed him — time and time again - in the room where it happens. Areu wanted to be a police officer and was waiting on a training date.
As the days passed, the sitcom "Friends" was quickly soaring in popularity and they needed someone like Ozzie — affable and warm but disciplined — to manage security on the set. It was around that time the police academy called — he was rejected on a technicality but, they told him, he could re-apply in six months.
Frustrated and disappointed, he threw himself into the security job with "Friends." It was fun and challenging, and he was surrounded by a world he never dreamed he could be a part of — rubbing shoulders with the entire cast, including Jennifer Aniston and Courtney Cox.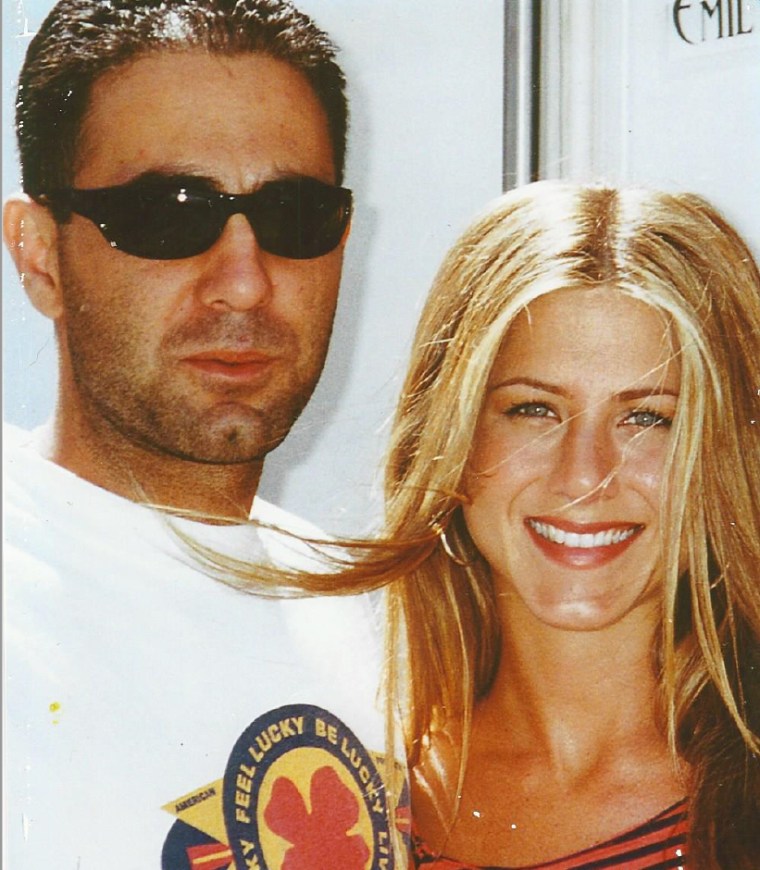 Areu developed a real rapport with the actors, and after just a few months he was invited to stay for table reads where the producers and cast would ask his opinion on scripts. Aniston quickly noticed Ozzie's impeccable work ethic, innate curiosity and, above all, his discretion. When she and Brad Pitt were dating, she asked Ozzie if he would consider becoming Brad's personal assistant, and he immediately said yes.
"I did all kinds of things for them, from walking the dogs to washing their cars, grabbing lunch or coffee to dropping off dry cleaning," said Areu. "But they also trusted me to read and review scripts and other things that were really important to them."
After five years with Pitt and Aniston, he took an assistant's job with Ellen DeGeneres and Portia DeRossi and continued to hone his production expertise.
Soon after, he was introduced to Perry, then an up-and-coming director. Perry was just starting to build his TV and film empire when Ozzie joined him as an assistant; Ozzie commuted to Atlanta from Los Angeles for nearly a year before being promoted to president of Tyler Perry Studios.
"It was a 45-second conversation," Areu said. "I went back to my office and thought, 'This is real, but is it really real?' Tyler always championed me to dream bigger."
Growing Tyler Perry Studios
Areu spent the next 13 years side by side with Perry, growing, learning and leading the rapid growth of Tyler Perry Studios. Working alongside Perry as he built his empire from the ground up was the best education, Areu said, adding that it was also invaluable to have Perry's complete confidence.
Areu still gushes when he talks about his former boss. "Tyler is a man among men," he said recently, speaking to NBC News from the gargantuan office he now occupies — the same office that once belonged to Perry.
In 2018, Perry moved his studio operation six miles away, to a former Army base on 330 acres. Areu had planned on moving with him, but when Perry put his former space up for sale, it struck Areu that many of his dreams had been fulfilled within those walls.
"I was driving out of the gates one night and thought, 'Why don't I buy this studio?'" Areu said laughing. He was worried whether he could afford it, but decided he would find a way.
Areu Bros. Studios now sits on the former lot of Tyler Perry Studios — a 60-acre site nestled in a working-class, predominantly black neighborhood in Atlanta. The lot is surrounded by a vast stretch of green space, with a lake cutting along the center of the campus, which includes office buildings, five soundstages, and film and TV sets. It also includes a residential back lot with about a dozen homes where TV shows like "House of Payne," about a multigenerational black family, were shot.
Changing the narrative
Areu is gleaning many lessons from his years of experience with Perry and, like his mentor, is focused on creating opportunities for people of color, in particular, behind-the-scenes creatives like writers, producers and show runners.
"It's good to get out of the echo chamber of Los Angeles," said Kim Leadford, president of Areu Bros. Studios. Leadford has worked in Hollywood for over 12 years, helping secure financing for films like "Life of Crime," "Killing Gunther" and "Life After Beth."
Both Areu and Leadford have plans to create a tech campus akin to Google's. Their plans include building a state-of-the-art soundstage and recording studio, and hosting tech incubators and writers' rooms that feature a mix of established and little-known writers and storytellers.
Aside from TV and film entertainment, they're planning to venture into music and technology.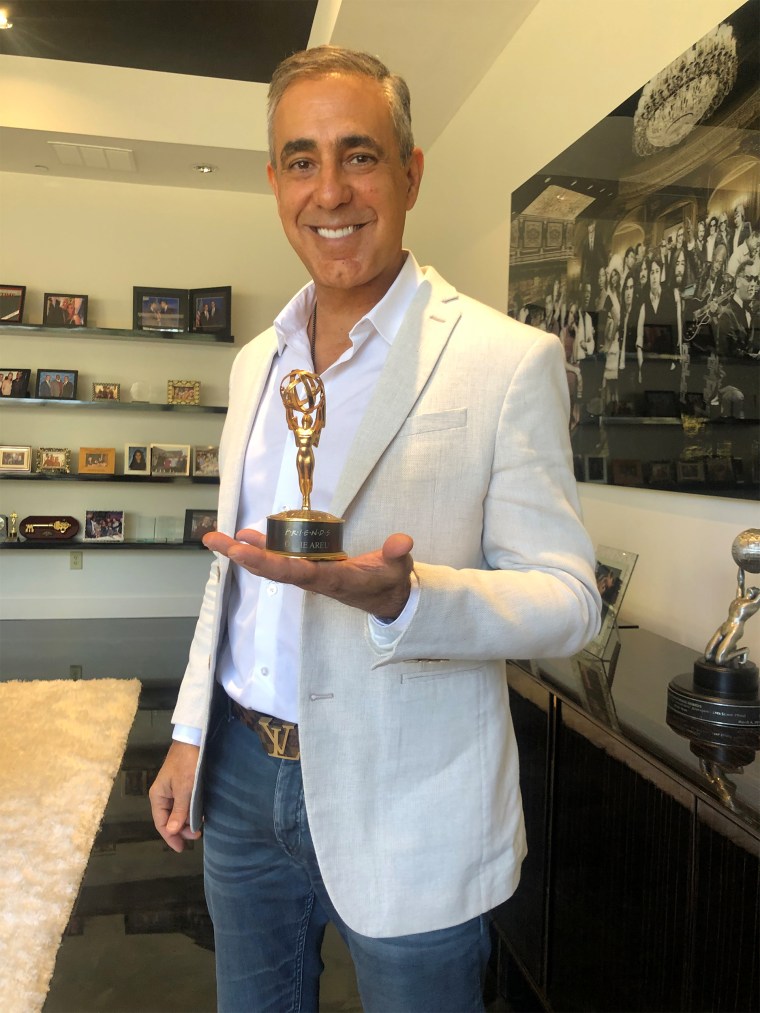 Their aim is to boost opportunities in the industry. "We are getting behind women and people of color to support good storytelling and to help their projects secure financing," Areu said.
Areu and Leadford are convinced that diversity sells and that movies like "Crazy Rich Asians" are not unicorns. They both point to the universal appeal of the storyline in that 2018 romantic comedy and the fact that it had an Asian director and featured a largely Asian American cast.
Leadford said their investors are completely behind the company's foundational mission. Cuban American singer-songwriter Gloria Estefan is one of the Areu Bros. Studios' earliest financial backers. Estefan is also said to be working on creating an autobiographical TV series in partnership with the studio.
Reimagining Hollywood
During a recent visit to the Areu Bros. Studio, the campus was enjoying a rare moment of silence — there were no shows, music videos or movies in production.
Just a few weeks before, the hip-hop artist Drake had finished shooting a music video, and the cast and crew of "Coming to America 2" had just packed up after eight months of production. For now, it is these outside productions that pay the bills while the studio builds up its internal portfolio.
The Areu Bros.' production staff of 10 was buzzing about the studio's first official project — a creative partnership with New York City-born writer and creator Dito Montiel, who is of Nicaraguan and Irish descent.
Montiel made his directorial debut in 2006 with "A Guide to Recognizing Your Saints," and he is now working with Areu Bros. to develop his memoir on which the screenplay is based into a multicultural TV series recasting the hardcore punk band at the center of the story as women and people of color.
Montiel said part of the plan for reimagining his 2006 work includes finding and tapping into undiscovered writers, much like an open casting call.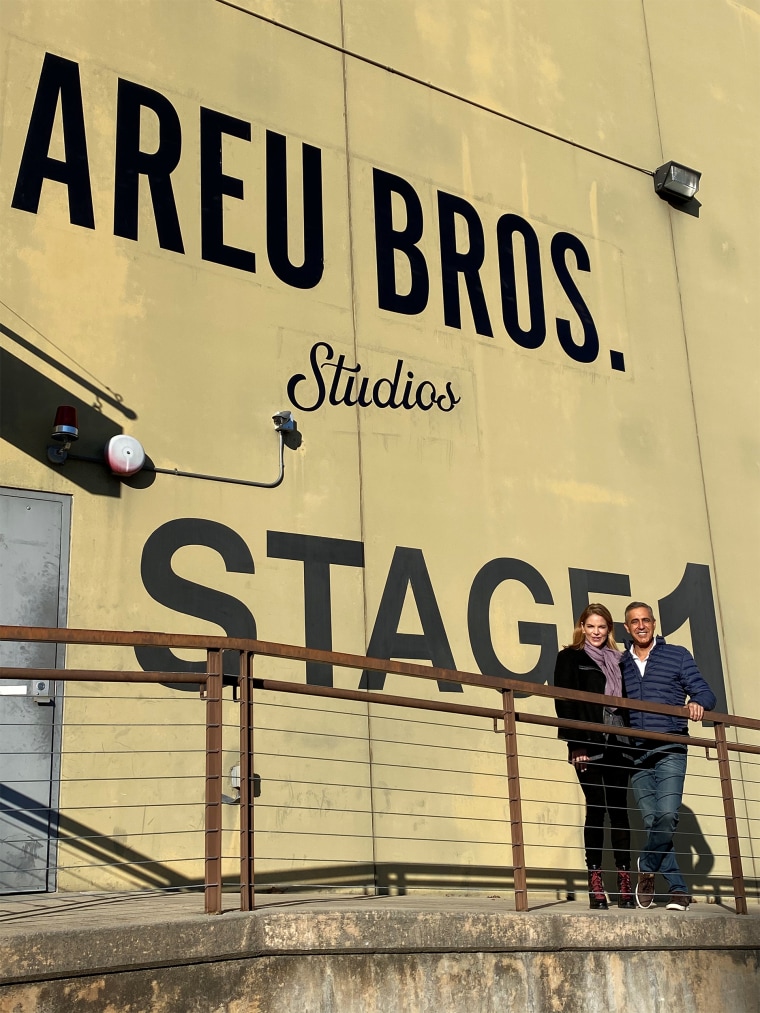 This couldn't come at a better time, said Montiel, saying that Latinx representation in Hollywood is mission critical. According to a UCLA study released this month, Latinos represent 20 percent of the U.S. population and are a large driving force behind the country's economic growth — yet they account for only 3 percent of Hollywood roles in front of and behind the scenes.
The study found that in 2018, 7.1 percent of the directors of top-grossing films were women and 19.3 percent were people of color. In 2019, 15 percent of directors were women, but people of color dipped to 14.4 percent.
Screenwriting credits did increase for people of color — from 10.4 percent in 2018, to 13.9 percent in 2019.
"Numerically, we will be the majority soon and the hope is that women and people of color find ways into positions of power in the industry so that we do have equity and access to resources to create and showcase diverse stories," said Ramon, one of the study's co-authors.
The small team at Areu Bros. is taking on that mission to expand opportunity, one that has defined Areu's amazing trajectory.
"When I pull into that gate every morning, every time I see security there, it reminds me of me," he said. "If you can dream it, you can be it."
Follow NBC Latino on Facebook, Twitter and Instagram.