We're all familiar with our cherished U.S. holiday traditions — Christmas stockings, eggnog and gingerbread houses, caroling and mistletoe. But many of us have also been enjoying the holiday customs we celebrate in our native Caribbean and Latin American countries; some we enjoy here in the U.S. and others we do when we're visiting our native homes.
The gathering of family members and traditions that are passed on from generation to generation makes the Christmas holiday even more special, and here are are some of our favorites.
Mexican posadas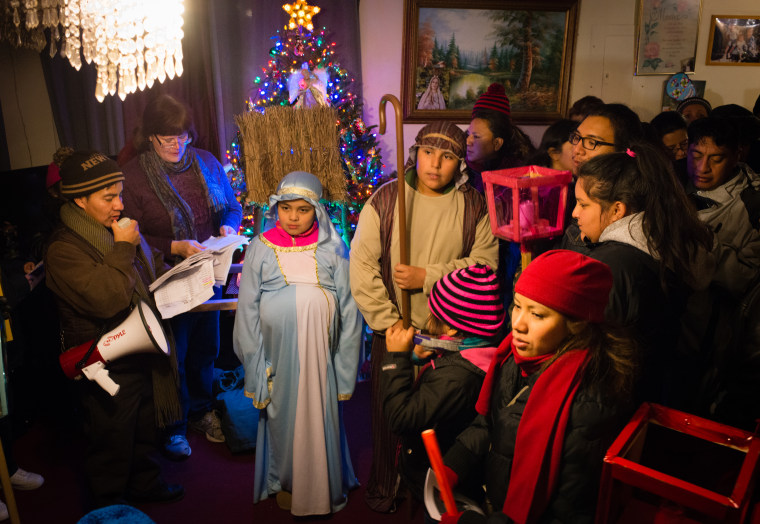 From December 16th until Christmas Day family members, specifically children, participate in 'posadas,' a word which means "lodging." For nine days the children replay the religious story of the Virgin Mary and Joseph seeking a place to rest before the birth of Jesus Christ.
Every night someone hosts the posada at their house, and the children sing songs about the Virgin Mary and Joseph as they ask and look for a place to stay. Each night the children are told that there is no room in the house and that they must go. On the last day of the Posada the children are finally welcomed into a home. In gratitude, everyone prays and celebrates with food, games and fireworks.
Kevin García, a communications major at Montclair State University in Montclair, New Jersey, has not visited México for 7 years. But he says that's one of his favorite holiday traditions.
"Posadas are very important to the Mexican culture for a variety of reasons. Posadas are the essence of Christmas tradition and religion," Garcia, 21, stated. "Being that majority are raised in a Catholic household, reenacting the process that Mary and Joseph experienced allows us to value the true meaning of Christmas."
Puerto Rican parrandas
Parrandas are Christmas carols - on a totally different level. The beloved Puerto Rican custom involves gathering a group known as la trulla (the troop) and going unannounced to a neighbor's or friend's house at night and waking up the hosts with traditional Puerto Rican Christmas songs. Musician members of 'la trulla' will have instruments such as maracas, the guiro or la higuera, an instrument made of hollow wood shell from the skin of a fruit.
Once the group is finally invited inside the home they enjoy delicious Christmas treats and drinks. The party does not end here. Once the group is done eating, 'la trulla' bring along new members and moves on to another house until the early hours of the next day.
Venezuelan hallaca making and roller skating to church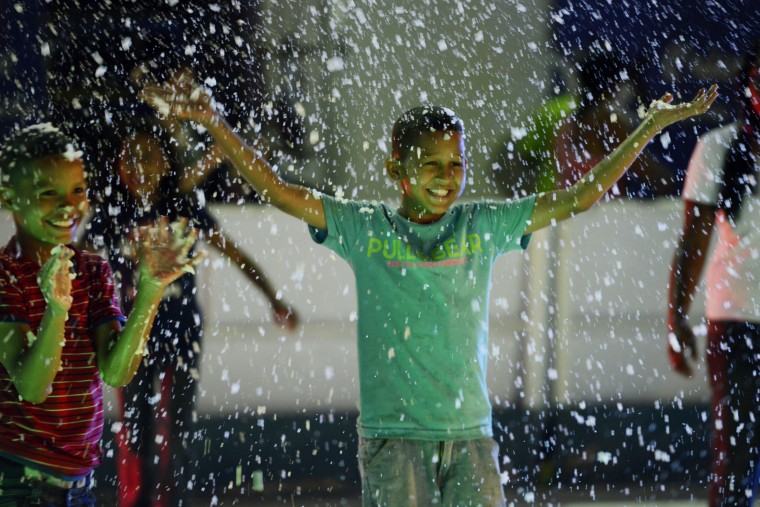 Hallacas are an iconic dish and a staple of a Venezuelan Christmas. Making hallacas takes long hours and intense work, so the making of this delicious dish is usually reserved for this special time of the year. Hallacas are corn dough stuffed with a stew of beef, pork and chicken and fish or other seafoods in some places; it's "adorned" with raisins, capers and olives.
"I used to love making hallacas because it was a time where my entire family came together and cooked," says Geraldine Cols Azocar, an NBC News video producer who is from Venezuela. "Growing up we did not all live in the same city, so when Christmas came around it was a time to reconnect with all my cousins. We would eat tons of food, play and catch up with everything that happened during the year."
Firework shows are very popular in Venezuela during the holiday season. Venezuelans play folk music with the 'tambora' and the 'charrasca'. From December 16th until Christmas Eve, Caracas enjoys a peculiar tradition - rollerskating to morning church services. Roads are closed to traffic to make it safe.
Bolivia's "canastón"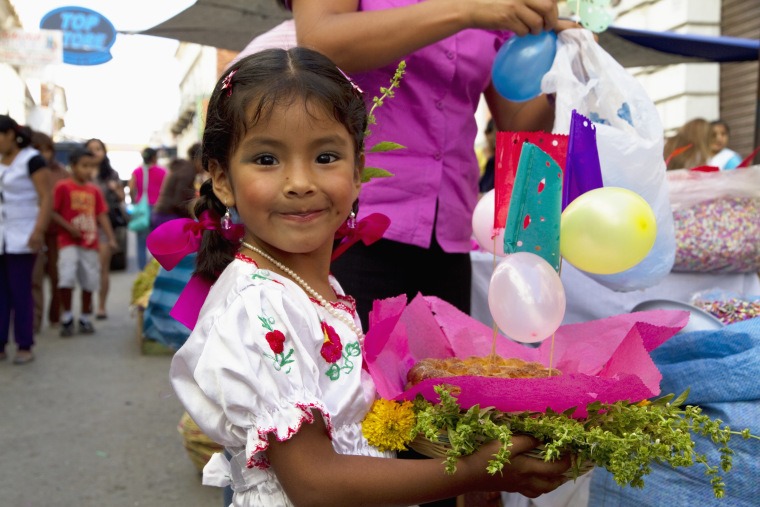 While one may think of Christmas as a time for family members and close friends to exchange gifts among themselves, Bolivians take it a step further with 'canastón'.
'Canastón' is a tradition where employers give their employees a large gift basket containing stapled food, non-alcoholic sparkling cider and treats.
A government law called 'el aguinaldo' requires employers to pay their employees double or even three times their normal salary if they have to work during Christmas. This had its origin in rural areas where workers had to keep the farms and stables operating while their employers enjoyed the holiday with family.
Guatemalans "burn the devil"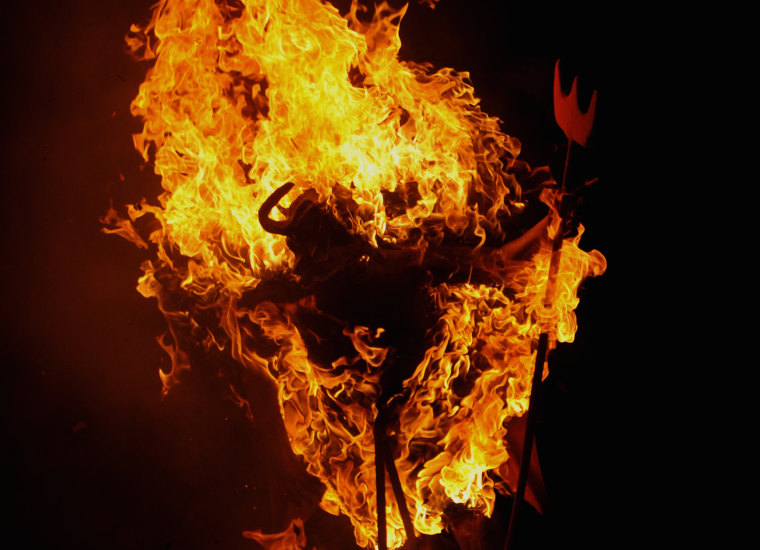 Around Advent Guatemala has quite the holiday tradition: La Quema del Diablo, or Burning the Devil. This unique custom is celebrated on the streets of Guatemala, where bonfires light up the neighborhoods. On December 7th, at 6pm sharp, Guatemalans burn effigies of the devil: The idea is to keep Satan away from their homes during the spiritual holiday celebrations.
Dominican Republic's Tres Reyes Magos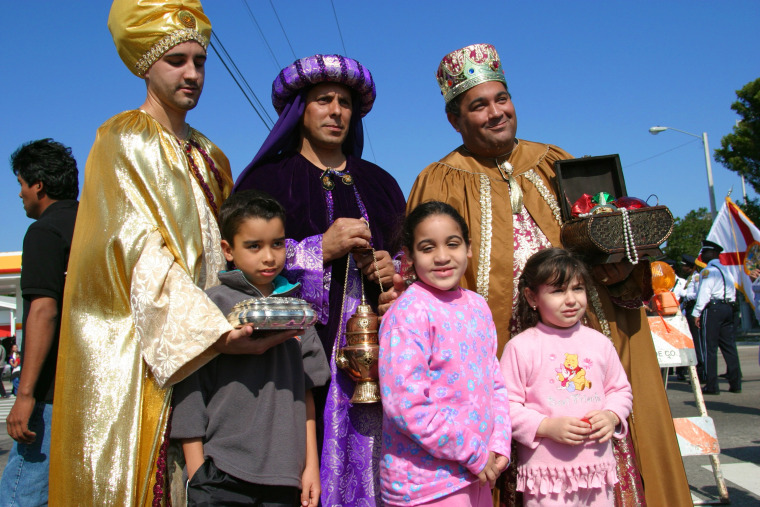 While children in the United States open up their gifts on Christmas Day, many kids in Spanish-speaking countries open presents on January 6th, El Día de los Tres Reyes Magos (The Three Kings Day. It's a tradition that commemorates Epiphany or the bringing of presents to the baby Jesus from the Three Wise Men, according to the Bible story.
Some families in the U.S. and Latin America give gifts on both days, Christmas and Three Kings, while in some Latin American families the main presents are still given on Three Kings Day.
RELATED: On Three Kings Day, New Yorkers Celebrate with Parade
Soraida Hernandez,22, a New Jersey-based hairdresser who is a native of the Dominican Republic, recalls always being anxious to open her gifts on Three Kings Day. "Christmas is undoubtedly one of the most anticipated and important holidays as it is a time of reflection and unity. Sitting at the table with my family to share the traditional Dominican Christmas food and desserts is always memorable," she shared.
Many Dominicans and other Latinos attend 'La Misa del Gallo' ("gallo" means rooster, and "Misa de Gallo" is a Spanish term for Midnight Mass) in celebration of Jesus Christ's birth while also praying for a blessed upcoming year
"But after Christmas and the end of the year party comes the most anticipated day for Dominican children - January 6th," Hernandez said. "Seeing the younger children in my family be as anxious as I was brings back beautiful memories of my own childhood."