In a world of high tech phones and cars that drive themselves, quietly in Nashville, Tennessee another generation of a Latino family is continuing an impressive tradition. Only this time, it's a girl who is learning to become a luthier, or one who makes string instruments.
This month, Manuel Delgado's 9-year-old daughter, Ava Canción, was accepted into the Tennessee Folklife Apprenticeship Program, which encourages the preservation and mastery of a craft; she will be learning under her dad. She will be the youngest in her family and the fourth generation to take up the skill that brought her great-uncle and great-grandfather to the U.S. from Mexico 70 years ago and into fame as guitar makers to rock stars and symphonies alike, with one of their guitars displayed at the Smithsonian.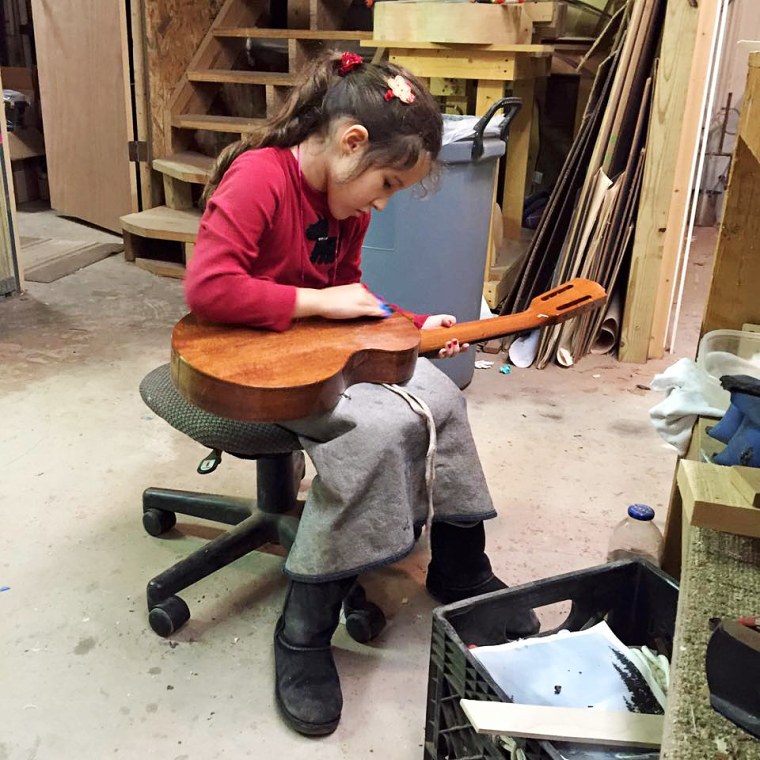 The story of Candelas Guitars and the Delgado family, which makes instruments by hand, starts in Torreón, Mexico, with brothers Porfirio and Candelario Delgado. They built guitars and played music as the duo, Los Hermanos Candelas (the Candelas Brothers).
They opened their first shop in Torreón in 1928, then another a few years later in Juárez.
The two made guitars in Mexico for such luminaries as the late Mario Moreno, also known as the beloved Cantinflas, as well as for Los Tres Caballeros, a group who played music in several Walt Disney films, and Eduardo Ruiz, lead guitarist in Desi Arnaz's band.
The natural next step was a move to the U.S. So, in 1947, the two moved to California, finally landing in East Los Angeles and opening Candelas Guitars in Boyle Heights.
Candelas Guitars is located on César Chavez Avenue, in Boyle Heights and is run by Candelario's oldest son, Tomas, who essentially took over the Boyle Heights shop after his father's death in 1986. Musicians such as the group Los Lobos, folk rock icon Arlo Guthrie, Jackson Browne, José Feliciano, classical and flamenco guitarist Pepe Romero and Charo, all have worked with Candelas Guitars.
It would be 20 years later that Porfirio's son, Candelario or Candelitas, as he was known, would take up his father's craft and take on the family business.
Candelario had three children, Tomas, Manuel, and Monica. Tomas and Manuel took up the mantle and became the third generation to build guitars.
Tomas runs the shop in Boyle Heights and now owns the building where his father and grandfather worked.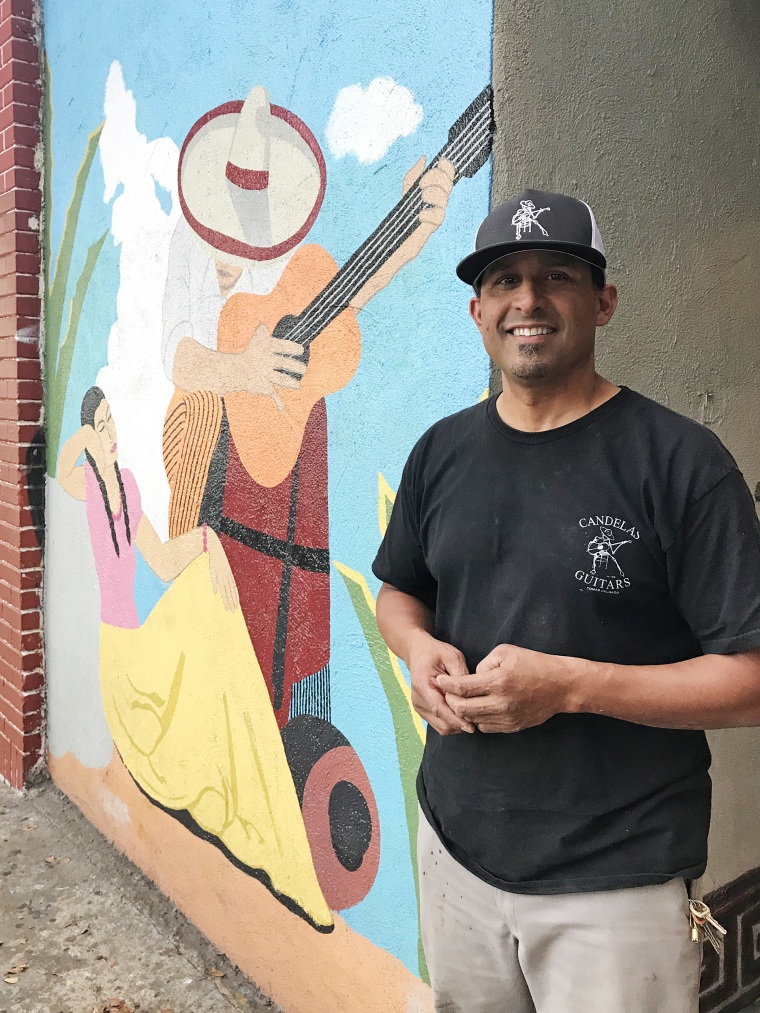 "I do what I do because I get to build guitars and they live on after I pass away," Tomas Delgado told NBC News. "I wanted to own my own building. I had a target and it was freedom."
Tomas and his younger brother Manuel both apprenticed under their father and grandfather. Tomas has built guitars for classical flamenco players, Adam Del Monte and Marcus Nand, Los Lobos and Ozomatli, Eric Wilson from Sublime, and a special order for a viola player in the Los Angeles Philharmonic. He also does a lot of high-end restoration.
Tomas' guitars run anywhere from $38k to $40k, and at the moment there's a 2 to 3 year wait. It takes about 3 months for him to finish a guitar.
"When I was learning how to play guitar, I remember walking past the store and seeing guitars being built right in my neighborhood. That made an impression," Raúl Pacheco of Ozomatli, who plays several Candelas instruments, said in an interview in 2010 with the Los Angeles Times.
Manuel opened his own shop in Nashville, one of the world's most influential music hubs, 14 years ago. His wife Julie, a singer and songwriter, said it was her idea for her husband to start building guitars again; he had taken a break after his father's death.
Nashville may have been a new city for Manuel, but making guitars has been his thing since childhood. He made his first guitar at 12, beating his father's record, who crafted his first instrument at 14. In 2002, Manuel created the "Unity Guitar" with the purpose of helping raise money for undocumented victims after 9/11.
Manuel said his daughters, Ava Canción and Lila Armonía, 4, have been helping around the shop since they were little.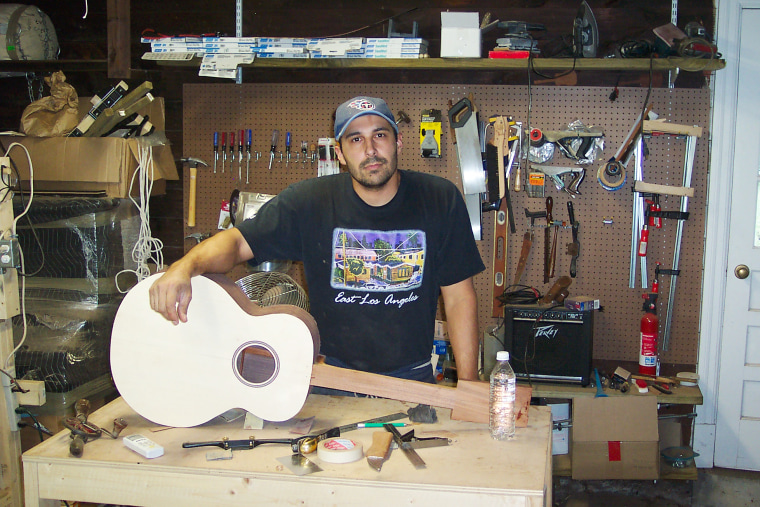 "They're very much a part of what we're doing," he said. "My sister, Monica, was kind of relegated to more of the sales role; our dad was old-fashioned. My girls are learning the trade — sanding and all."
Delgado Guitars in Nashville has about a 1-year waiting list for handmade guitars. He builds a variety of guitars from, steel string, dreadnought, Flamenco, square neck, basses, Cuatro, Tres, and a number of Mariachi instruments.
Manuel is determined that the craft of making instruments by hand can only stay alive by giving the same commitment to being a luthier as you would any other small business owner or artist.
"I work with the National Endowment for the Arts because it takes a commitment to see things like this flourish, and I want to pass this history down. I don't mind if people come into my shop and take pictures," said Manuel. "I'm building the instruments, so come on in and watch me build. I document the things I'm doing and share them on social media, because if there isn't a support for these types of artisans, it's difficult to have longevity. We're a family of immigrants who came to this country and brought this craft with them."
The Folklife apprenticeship program Manuel's daughter Ava was accepted into will help her acquire the foundational skills and techniques neeto be used to build several stringed instruments -- including classical guitars, guitarrones, bajo sextos, vihuelas and more.
Manuel said it's important to support these traditions as well as music and the arts; he hopes the current administration does not cut arts funding. "How can you make sure that things like these continue on," he said.