President Barack Obama furthered his support in Colombia with a new economic assistance program that would allocate $450 million for peace efforts, as announced in the White House Thursday in a joint press conference with President Juan Manuel Santos.
The two presidents were also commemorating the fifteen-year anniversary of Plan Colombia, the U.S. initiative to aid the Colombian government on their ongoing war on drugs.
This is Colombia's most recent effort to end the 50-year-long conflict that has long plagued the South American nation.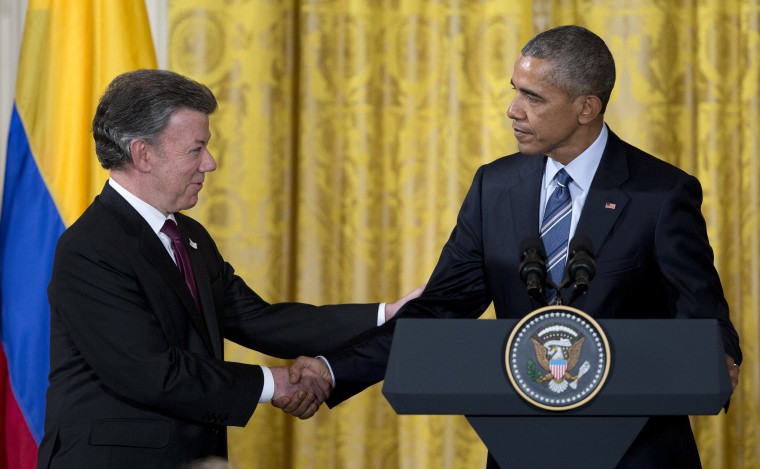 "Plan Colombia has been a tribute to the people of Colombia and their efforts to overcome so many challenges," President Obama said, "After 15 years of sacrifice and determination, a tipping point has been reached. The tide has turned."
"I'm proud to announce a new framework for the next chapter of our partnership. And we're going to call it Peace Colombia -- Paz Colombia," he added.
President Santos added that achieving a peace agreement would be "the cherry on the cake of Plan Colombia."
Peace negotiations have received mixed reactions from Colombians. A recent survey found that only 49 percent believe the government will sign an agreement. Additionally, 61 percent of respondents do not agree with the way the president has been conducting peace talks with the rebels.
Related Article: After Historic Colombia Peace Agreement, Optimism and Concern
Following the historic peace dialogue between Colombian President Juan Manuel Santos and the leader of the FARC in Cuba in 2015, the government has received reactions ranging from opposition to optimism.
Former President Álvaro Uribe Vélez has been one of the most vocal voices opposing peace negotiations, often saying it is an amnesty agreement for the rebels.
Uribe has released a statement following the announcement of 'Peace Colombia', saying: "We cannot accept that leaders of FARC, the world's largest cocaine cartel, won't be extradited or taken to jail in Colombia… We think that the concessions to the FARC will be a stimulating example of further violence, rather than a peace agreement."
Despite criticism, 'Peace Colombia' program seeks the demobilization of guerrillas, mine clearance over the next five years, and expansion of alternative development programs to the municipalities most affected by violence. The program will be introduced officially to Congress on February 9.