Television has become a window into the outside world for millions of quarantined Americans. And this Sunday, when the much-anticipated series "Penny Dreadful: City of Angels" premieres on Showtime, Latina actress Stephanie Arcila says that the horror drama will be an emotional and intellectual release for many fans confined at home.
"We are divided inside and outside," Arcila told NBC News. "Many people are living in a moment of fear."
She said viewers will be able to find things in common with the Mexican-American community from the 1930s that is portrayed in the show.
"City of Angels" is set in 1938 Los Angeles, and follows Tiago Vega (Daniel Zovatto), the first Mexican American detective in the city's police force. And as he works on a grisly murder case with his partner (Nathan Lane), Arcila says the show draws on real and imagined tensions to transform Los Angeles into a battleground.
"The show takes place right after the Great Depression and before World War II," she said. "And this is a time when Latino and black families are being divided. The government builds highways through their neighborhoods, and Los Angeles becomes a battleground for politics, race and money."
Off-screen, racial tensions in Los Angeles escalated into a riot in the summer of 1943. The Zoot Suit Riots were triggered after white soldiers and sailors beat up Mexican Americans wearing zoot suits.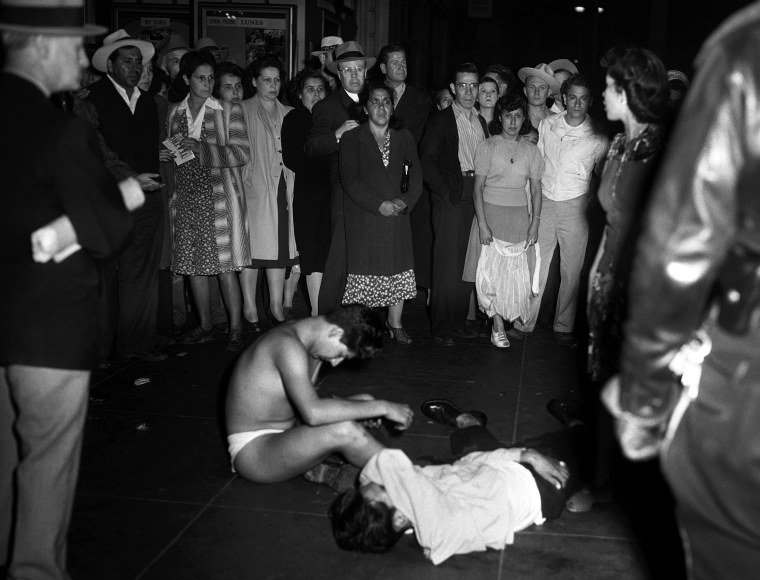 Swing music and jitterbug fans made the zoot suit popular in the 1930s. And Arcila says that they are part of Mexican American history and identity today.
"Zoot suits came about because it was very uncomfortable for men to dance in regular pants suits," she said. "So they started creating bigger, wider suits that took a lot more material and were high-waisted to dance comfortably."
But beyond fashion and dance, historians say that zoot suits, like the ones featured on the show, also became symbols of a counterculture.
"While police singled out Latinos and other minorities for dressing in a certain way or looking a certain way, this also united them against the police," said Laura E. Gómez, UCLA law professor and an expert on Mexican-American history.
Gómez says that there is a tendency in the United States to look at people of color as homogenous, and this strips their identity of individual texture and variety.
As an example, a newswire article published by The New York Times in 1943 described zoot-suiters during the riot as"roving bands of youths whose most conspicuous badge is the zoot suit with its ankle-hugging pants cuff and knee-length coat."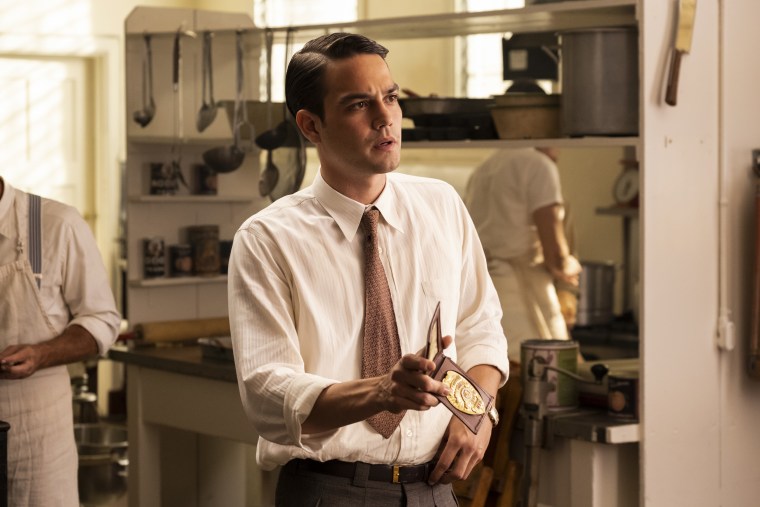 Gómez says the media and the authorities in 1943 Los Angeles reduced zoot-suiters into a faceless, monolithic mob, excluding them from society by ignoring their diversity.
She compares profiling then with more recent policies today, saying "you can draw a straight line" from 1943 Los Angeles to New York's stop-and-frisk policies.
"In both cases, young Black and Latino men were being targeted as groups," Gómez said. "And this creates a cycle of distrust against police."
Arcila, who grew up speaking Spanish in Miami with Colombian Peruvian parents, said it was important for her to connect with her character's diverse backstory as a Mexican immigrant.
With its exploration of division and fear, "I think a lot of people right now will relate to the show," Arcila said.
Follow NBC Latino on Facebook, Twitter and Instagram.