PHOENIX, AZ -- Phoenix has moved one step closer to launching a municipal identification card that city residents, including undocumented immigrants, will be able to use to access various services and to prove their identity.
The Phoenix City Council voted 5-4 Wednesday night to issue a "request for information" that essentially allows the city to develop and implement a municipal ID card by July for its residents. Phoenix Mayor Greg Stanton joined the other four Democrats on the city council to vote in favor of the card.
Supporter who packed the city council chambers Wednesday night erupted into applause when the vote was announced. Among them was Viridiana Hernandez, co-founder of a group called One PHX ID that has been advocating for the card. Her group collected 12,000 signatures of people who favor the municipal ID card.
"This is a huge win," Hernandez said. "It really took the community coming together and demonstrating that this is an urgent matter."
But some of the city council members who voted against the municipal ID card warned that it could cost the city a lot of money to implement and that legislation has already been introduced in the Arizona State Legislature to try to block it.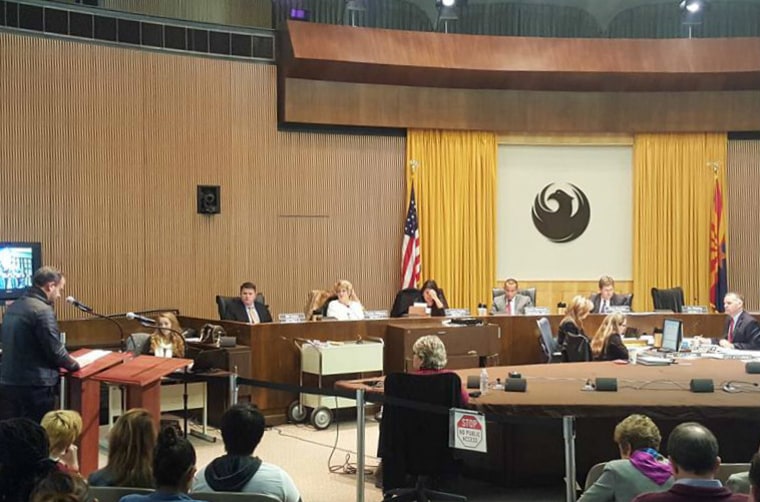 As it stands, the card would be available to all Phoenix residents. They would be able to use it to access public services, such as parks, libraries and public transportation. The plan is to include personal information—such as photo, age, height and weight—on the card and to have it function as a proof of identity.
Supporters say the municipal ID card would be especially beneficial for Phoenix residents who currently don't have an ID or who've had a hard time getting one, such as the homeless and the elderly. The card would also allow members of the LGBTQ community to select the gender of their preference.
RELATED: Cities Have Moved Ahead to Welcome, Integrate Immigrants
In addition, the municipal ID card could help encourage undocumented immigrants to report crimes. Currently, many undocumented immigrants are afraid to call police whenever they're victims or witnesses of a crime, because they fear they'll be asked for an ID.
That's exactly what happened to Hernandez.
Two years ago, she called police to report that her house had been broken into. When police officers arrived, they asked her for an ID. But because she's undocumented, she couldn't provide a state-issued ID.
"It was really scary to know that as a victim who was trying to report a crime, I was the one who could've been arrested for not having an ID," Hernandez said, adding that she didn't get arrested but knows people who have.
Other cities have also been taking action on issuing identification regardless of legal status. New York City recently passed legislation and has been issuing IDs, a measure that has received wide support from immigrant advocates. The city of Charlotte, North Carolina has been debating the idea.
Phoenix City Councilmember Jim Waring has been one of the most vocal opponents of the municipal ID card. He said he fears the city will "waste a lot of time and money" to create a card that he said won't have many functions, because it would be considered a secondary form of ID.
For example, he said Phoenix residents would be able to present the municipal ID card to police. But unless they have a primarily ID or have been arrested in the past, their names won't show up in the police database. Therefore, police officers won't be able to verify their identity.
Waring also noted that Arizona state senator John Kavanagh, who's a Republican, has introduced legislation that would prohibit any city-issued ID cards from being used for identification purposes.
"The state will prevent us from doing it," he said. "We'll have spent a boatload of money, and we'll accomplish nothing."
Nonetheless, supporters said they see the vote as a big victory and pointed it out that the details of the municipal ID card still need to be worked out.