Two distinct Pablo Picasso paintings, one from his Rose Period and the other a Cubism work, threw the intrigue of stolen art and of antiquities with disputed ownership into the spotlight this week.
The Picasso masterpieces, "Head of a Young Woman," and "La Coiffeuse" (The Hairdresser), are considered national treasures of Spain and France, respectively.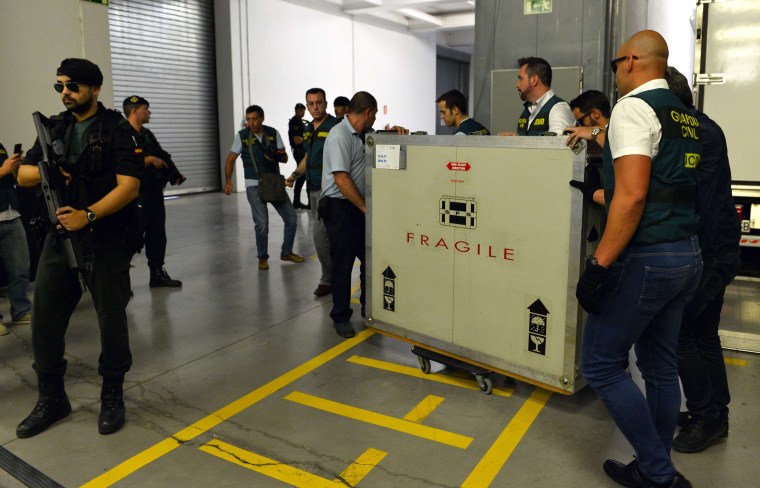 The first, valued at $27 million, was transferred this week to Madrid's Reina's Sofia Museum which houses Picasso's large anti-war masterpiece "Guernica," a police statement said.
U.S officials plan to turn over the second painting, "La Coiffeuse," at an event on Thursday.
"Head of a Young Woman" had been smuggled out of Spain and was taken to a yacht on the French island of Corsica, officials said this week.
On July 31, French custom agents seized the painting from a British-flagged yacht off Corsica, halting what they said was an attempt to export it to Switzerland.
Corsican authorities said in a statement on August 4 that they had been tipped off about an attempted smuggling of the prized painting to Switzerland.
The work is owned by Jaime Botín, Spanish billionaire heir and art collector who was planning to sell it elsewhere, but since it is considered a national treasure in the native country, it is not allowed to be sent abroad without government permission, according to reports.
Botín has been trying since 2012 to obtain rights to export the painting, but the culture ministry refused because there is no similar work on Spanish territory from the same period of Picasso's life.
During his 1904 to 1906 Rose Period, Picasso produced works with happier themes than those of his blue period where his themes were conveyed as somber and daunting tones. It is an important period in art history.
"The painting will be stored in a warehouse of the museum until we know more about its destiny," a museum spokesman declared.
Picasso's "La Coiffeuse" painting from the Cubism period of 1909 to 1912 is valued at 15 million dollars. It was discovered missing in 2001 and was later recovered in December 2014 when it was shipped from Belgium to the U.S. in a FedEx package marked as "art craft." Cubism was developed by Picasso and Georges Braque and is distinguished by its cubes in the artwork.
RELATED: Picasso Stolen from Paris Museum Seized In U.S.
U.S. Immigration and Customs Enforcement (ICE) will return "La Coiffeuse" to France at the French Embassy in Washington, DC on Thursday. ICE spokeswoman Sara Rodriguez declined to comment before a news conference about the return of the painting.
However in February, Loretta Lynch, then-U.S. Attorney for New York's Eastern District, petitioned for the paintings return to France. According to reports at the time, the painting had been smuggled out of a storeroom of a Paris museum.
The Associated Press contributed to this report.