NEW YORK, NY -- Pigeons. You either hate them - or hate them, most big-city residents would say. But spend a minute with Brooklyn-based artist Tina Piña Trachtenburg and you will never view pigeons the same ever again. The San Antonio, Texas native whose artistic nom de guerre is Mother Pigeon is on a one-woman mission to rehabilitate one of New York City's most reviled dwellers through her provocative and whimsical street art.
"A city without pigeons would be a sterile shopping mall," she declares. "They add so much beauty and sweetness to our environment."
According to the pigeon activist humans have made the birds dirty and gray. In a natural setting where they have access to birdbaths or water (pigeons love to bathe she claims) you can see their striking hues and individual beauty.
"Pigeons come is amazing colors—iridescent feathers in purples, greens, and blues," she explains. "If they are dingy gray and dirty it's because we have made them dirty," she maintains.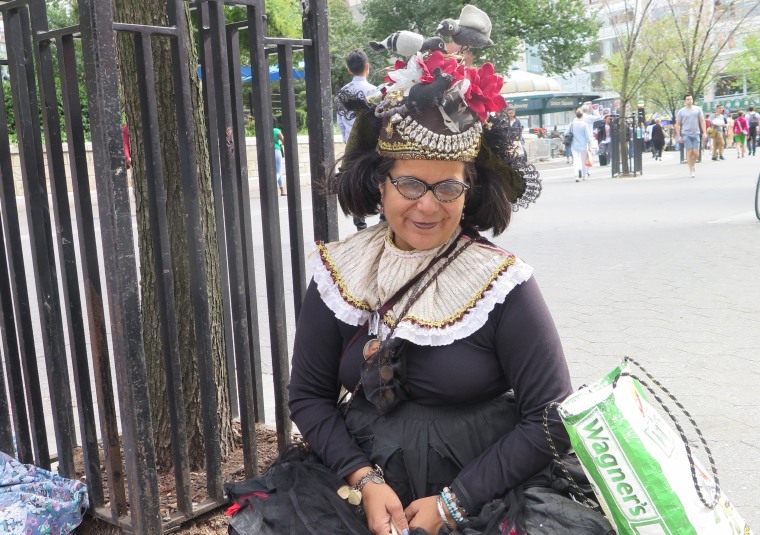 Piña Trachtenburg's love affair with pigeons began shortly after moving to Brooklyn in the 1980's from her native Texas. Her parents are originally from Oaxaca, Mexico, the "spiritual home" of world- renowned artist Frida Kahlo. Piña Trachtenburg says that she stumbled onto a flock on her New York City rooftop and began feeding them. Then she began to notice how special they were.
"They are like people and come in very different personalities—some are bossy, some are chill, some are feisty, they are all sweet," she says.
Whenever she went out on errands, the flock followed her down the block. She started carrying birdfeed and more followed. Then she began hearing pigeon hate and was inspired to do something.
She and her family (she has a family band with her daughter and husband called, "The Trachtenburg Family Slideshow Players") began composing and singing songs about the ubiquitous feathered urban creature. They wrote a children's book. About three years ago she convinced her husband to wear a pigeon outfit and carry a sign that read: "Pigeons mate for life." (They do, and it's one of the qualities she most loves about the birds.)
"We walked the city and I gave away handcrafted papier maché pigeons," she said. But her husband got sick of walking around with a pigeon outfit. And people didn't get it, she lamented. She needed another idea to keep the pigeon advocacy going.
Inspired by a stuffed pigeon she saw in a store window but could not afford to buy, she went home and made one with felt acrylic and stuffed it with recycled clothing. She showed it to a friend who bought it on the spot. She made more pigeons and took them to parties, like accessories. The stuffed pigeons were a hit, a surprise, she thought, since she assumed most New Yorkers hated the real ones.
The best-selling stuffed pigeons morphed into her current art installation, "NYC Nature Scene."
On most days you'll find the married mother of one nestled amid a sprawling flock of hand crafted stuffed pigeons in various shades of gray, black and dark blue, a public art installation she calls an outstallation. She travels with her herd and sets up shop in parks and street corners but her usual go to places are the pedestrian and pigeon hot spots of Times Square, Washington Square Park, and Union Square Park, where I bumped into her and her quirky exhibit.
The scene was surreal. The felt pigeons are positioned on the ground to look like they are eating, cooing, resting, or about to take flight. They are so lifelike that real birds often mingle with her intricate fake ones. In fact, if you walk by quickly, you'd miss that this is art. And activism. A sign introduces the Bushwick, Brooklyn artist's sense of humor: "Don't feed the pigeons, they're already stuffed."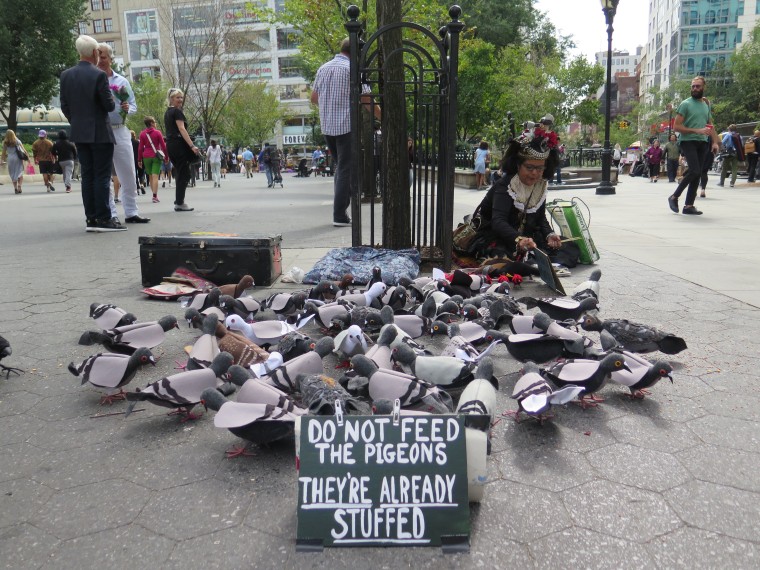 "I try to have fun and entertain because this beautiful creature is too often seen as a pest and not the exquisite bird that it is," she says. "It breaks my heart to see what we have done to them."
Her stuffed pigeons sell at $40 a pop and they sell briskly. In the two years she launched the exhibit, she's discovered that the fake ones are more popular than the real ones. But, she's not discouraged.
"At least when they stop and chat it gives me a chance to have a conversation about these magical birds," she says.
Over the years, the bird activist has saved dozens of injured or orphaned pigeons from certain deaths in city streets. One in particular stole her heart. She christened her Lovely Rita. The baby pigeon fell from a 7th window ledge and broke her two legs when she landed on a sewer between a street food vendor and her outstallation.
"When I saw her hurt, I took off my skirt to protect and cover her and the falafel guy who was feeding her water, helped me call a wildlife group where she was nursed her back to health and set free to her flock," she said. "She had the cutest little leg casts."
This summer rumors started flying among pigeon lovers that the city's birds were being netted and sold to farms to be used as live target practice at shooting ranges. She said three hundred pigeons were went missing from Union Square Park and several activists calling themselves the Pigeon Defenders New York City reported the theft. There is a mural in their honor and the New York City Police Department has opened an investigation. Pigeons are in fact protected wildlife.
There are hundreds of things to love about pigeons, says Piña Trachtenburg. Among her favorites qualities is that they are more intelligent than cats or dogs (number six on the intelligent animal index!), they co parent and the males help with nesting and rearing of the chicks, they live all their lives as a community and in families and are supportive of each other, they are loyal patriots (they live and die in the same neighborhood they were born in). Oh, that reputation that they are dirty is a stereotype. According to the advocate, pigeons are the City's hardest working, largest and cheapest sanitation crew.
"If it weren't for pigeons New York would be a giant garbage can," declares the artist. "Have you seen all the crap people throw out? Next time you see pigeons thank them—they are always cleaning up after us."
Asked if she would describe her pigeon art as performance art she demurs.
"Folk artist, performance artist, street artist, musician—I don't classify myself in any one way. I am not trained in art history and didn't I go to art school," she says. "I am an artist who loves nature, animals, and especially, pigeons," she says. "I am just trying to open people's eyes to the beauty and spirit of this creature."