An Ecuadorean father of two was turned over to U.S. Immigration and Customs Enforcement after he made a pizza delivery to a U.S. Army base in New York City, sparking outrage and anguish from his family and local officials this week.
Pablo Villavicencio, 35, was detained by military police officers and turned over to ICE last Friday and remains in custody pending deportation, according to a statement from the immigration enforcement agency.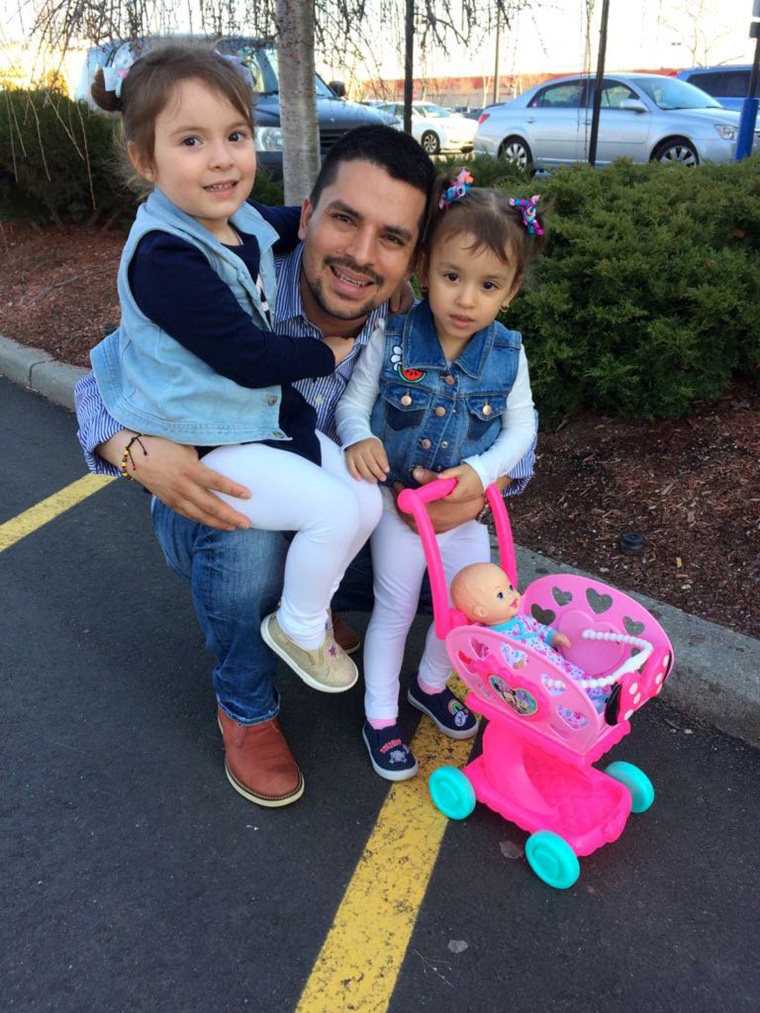 His wife, Sandra Chica, said Wednesday that Villavicencio had delivered pizza from Queens to the base at Fort Hamilton, Brooklyn, in the past, presenting his New York City identification card, and had never had an issue before.
"I just want an answer: why?" she said during an emotional news conference.
"It's cruel that they are going to separate my daughters from him," she said. The couple have two daughters, 2 and 3, and live in Hempstead, on Long Island.
Chica, a 38-year-old American citizen, said her husband could be deported as early as next week. She added that her husband has a pending green card application they filed in February.
Villavicencio told NBC News partner station Telemundo 47 by phone Wednesday that his arrest has been "torture" for the family.
"They've treated me like a criminal," he said.
"These days, it has been a nightmare. I don't wish this on anybody," he added, according to NBC New York.
The family and officials declined to say which restaurant Villavicencio worked at, but local reports identified it as Nonna Delia's in College Point, Queens — a 26-mile drive from the base.
When reached by phone Wednesday, an employee with Nonna Delia's confirmed that Villavicencio worked there but said the restaurant was not commenting further because the family was "very upset."
At a rally in support of Villavicencio in Bay Ridge, Brooklyn, on Wednesday, demonstrators blocked a street and chanted, "Free, free Pablo," according to NBC New York. The New York Police Department confirmed to NBC News that it had issued seven summonses for disorderly conduct to protesters.
The identification card Chica said Villavicencio presented, an IDNYC card, is a city government-issued photo card available to residents and is meant to benefit vulnerable populations, such as people in the country illegally, the homeless, young people and people formerly incarcerated, according to its website.
"The arrest of Pablo with a municipal ID is sending shock waves throughout the immigrant community because they were told they would have some form of living in this city without harassment," Eric Adams, the Brooklyn borough president, said during the news conference.
ICE said in its statement that Villavicencio is an Ecuadorean citizen and was granted voluntary departure in March 2010, but failed to leave the country by July 2010 as ordered. His voluntary departure then became a final order for removal.
Fort Hamilton officials said in a statement that at about 11 a.m. on June 1, a visitor attempted to gain access to the base to make a delivery without valid Department of Defense identification. He was told to get a daily pass, which prompted a background check showing an active ICE warrant on file. That prompted personnel to contact immigration authorities and turn over the visitor to ICE, officials said.
A Fort Hamilton spokesman told NBC News that he did not know if Villavicencio had been on the base before or if the base had ordered from that pizzeria in the past.
The spokesman added that Department of Defense installation commanders have the authority "to take reasonably necessary and lawful measures to maintain law and order and protect installation personnel and property."
But City Councilman Justin Brannan questioned how Villavicencio's arrest had made the city safer.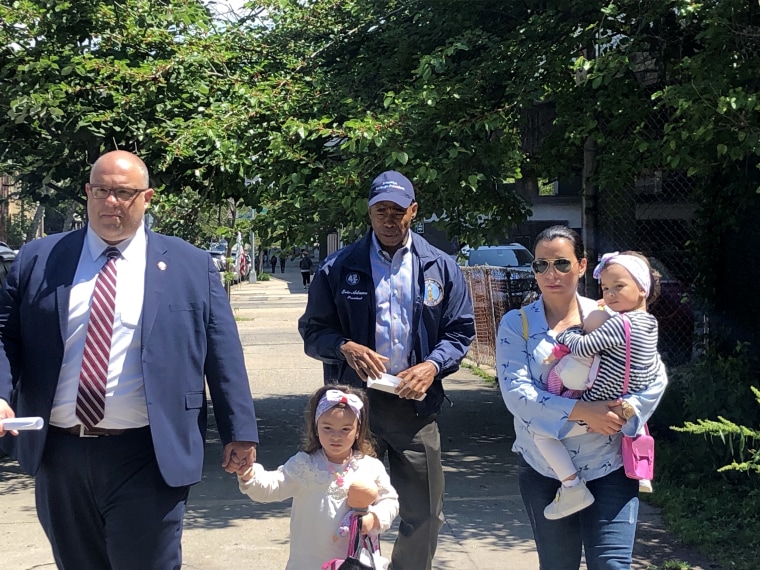 "If our country is doing this because we want to keep people safe, how are you going to look me in the eye and say taking Pablo the pizza deliveryman off the street is making America safer than it was yesterday?" Brannan, who represents the area of Brooklyn that includes the base, told NBC News.
Murad Awawdeh, vice president for advocacy at the New York Immigration Coalition, a group that is helping Villavicencio's family, echoed the sentiment.
"It's quite baffling. The guy was delivering pizza to the Army base — which they took when he became arrested — so I think that it's quite horrendous for them to even talk about maintaining security when he's delivered food like he's done in the past time and again," he said.
Mayor Bill de Blasio called for Villavicencio's "immediate release" in a tweet Thursday afternoon.
"Delivering a pizza is not a threat to public safety," he said. "The ultimate city of immigrants stands ready to provide him and his family with any assistance we can."
And Gov. Andrew Cuomo said he spoke with Chica and secured pro bono legal counsel for the family.
"ICE's arrest of Mr. Villavicencio while he was simply doing his job was an outrageous affront to our New York values," he said in a statement.
Chica said she wanted people to know the devastating effect this would have on her and her daughters.
"I have no way to explain to them why their dad is not coming home from work," she said. "This is not right."
On Thursday afternoon, Chica went to drop off luggage for her husband at a detention center in New Jersey.
She told reporters that her husband could be deported as early as Monday.
"I went this morning to the jail, I saw him, he is really devastated," she said.
Chica said she hoped that the family could still reunite if he were deported.
"I have to continue with the petition and the process to see if I can bring him back as soon as possible because of my kids. I have to continue," she said.
CORRECTION (June 8, 2018, 9:27 p.m. ET): A previous version of this article misspelled the first name of the Brooklyn borough president. He is Eric Adams, not Erik.