WASHINGTON – The unmistakable whiff of hope for a Latino vice president was in the air at this year's largest gathering of Latino elected officials.
Those hopes were stoked by the presence of three men: House Democratic Caucus Chairman Xavier Becerra, Housing Secretary Julián Castro and Labor Secretary Tom Perez.
The Latino Three were presente at this year's conference of the National Association of Latino Elected and Appointed Officials, known as NALEO, a group that for the past 40 years has dedicated itself to getting more Hispanic in elected office, including the nation's highest offices.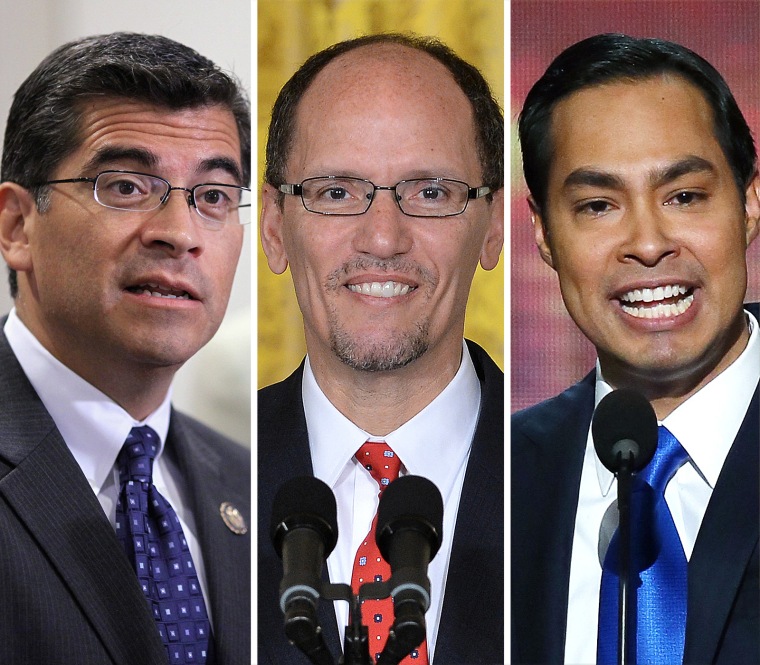 "I'm excited about it," said Xilonin Cruz-Gonzalez, a member of the board of education at Azusa Unified School District in California, with glee in her voice. "First I'm excited there's three Latino potential candidates and that they're all here too."
Cruz-Gonzalez wasn't ready to pick a favorite, but being from California she knew Becerra, who represents a congressional district in California.
She had met Castro when he had spoken to a National School Board Association conference she attended two years ago, and she got her introduction to Perez at this NALEO conference, she said.
"Any of the three would be awesome. They all have different strengths. Xavier knows Washington, knows how everything works. Julián is young, that's always great. And then Tom is just so great because he's so energizing," she said.
The Latino Three each delivered remarks at different moments in the conference on its opening day, Thursday, and all three gave their views on the immigration news of the day, delivering the Democrats' message, as a vice president might be dispatched to do.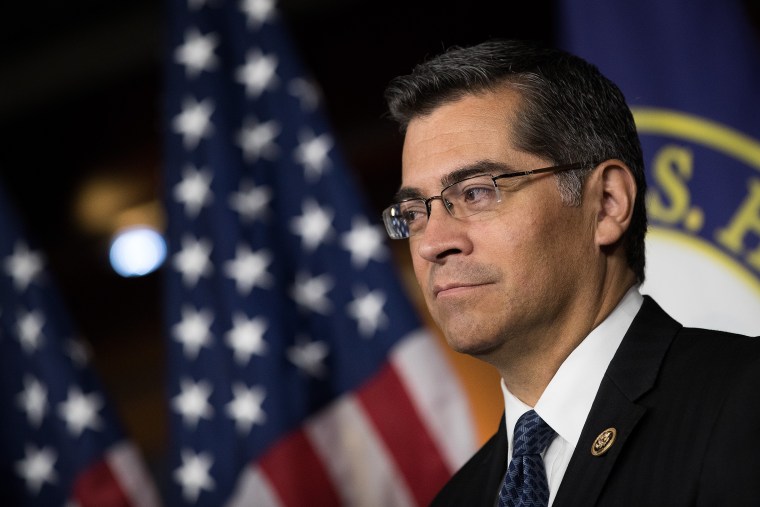 Rep. Becerra spoke before a plenary on the Latino vote. He spoke just after news of the Supreme Court's deadlock on an immigration case meant that the deportation protection millions of immigrants were hoping for would not be coming anytime soon.
"He came in and talked a little bit about that. The mood was more somber because everyone was upset about that," Cruz-Gonzalez said.
But Becerra did draw some cheers when he mentioned the Democrats' 24-hour sit-in on the House floor this week to protest GOP leaders failing to schedule votes on two gun bills.
Becerra told reporters after his speech that Democrats staged the sit-in because "we've gotten to the point where it was becoming difficult and it was becoming painful to do moments of silence."
"It was disingenuous doing a moment of silence and knowing that that was going to be it. The frustration boiled over," Becerra said.
Perez was the luncheon speaker, and as the Labor Secretary has become known for doing like he did at last year's NALEO conference in Las Vegas, he fired up attendees with an energetic speech.
"Comprehensive immigration reform is a 'when' question in this country," said Perez to the crowd. "It is not an 'if 'question in this country, I have no doubt about it," Perez said as his voice grew louder. "It's not going to be sí se puede, el año que viene (yes, it can be done, next year), it's going to be, lo logramos (We did it)."
Speaking of Perez, Cruz-Gonzalez said "he knows where all of us come from. He talked about how he was a trash picker when he was an undergrad at Brown, which is amazing. His progressive values are amazing … plus he's funny."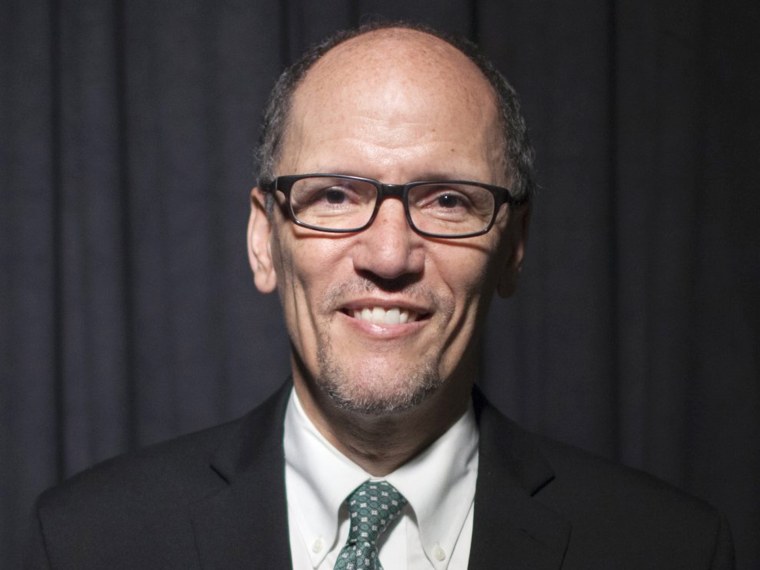 Castro walked into the Omni Shoreham Hotel — where the conference is taking place — all alone, true to his usual understated demeanor. But the Housing Secretary was the star of the night's dinner. Mexico's Ambassador to the U.S. Carlos Sada lauded Castro before presenting him with his country's Ohtli award.
The award is given by Mexico to Mexicans, Mexican-Americans or Latinos who "open paths for our community on a daily basis" and "represents a very important symbol of these troubled times that exist for Mexico and its diaspora," said Sada.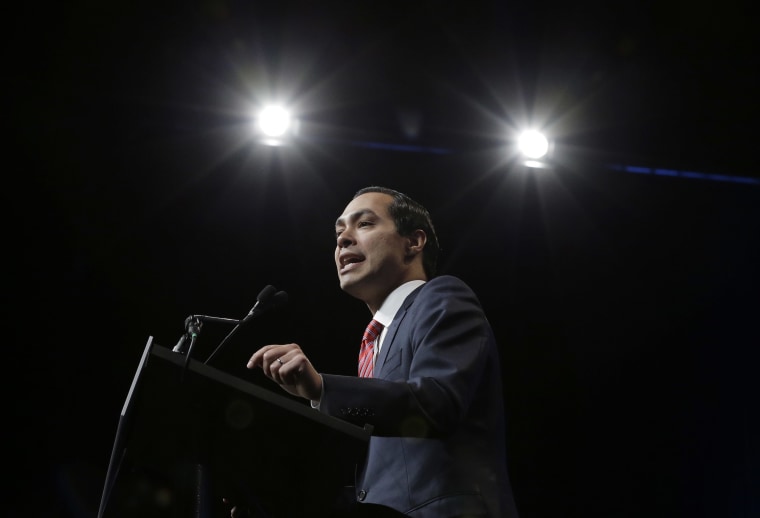 Ohtli is a word in nahuatl, the Utzo-Atzecan language of Mexico, and it means "pathway" so it is meant to honor Latino leaders who have traveled a leadership pathway, but also to recognize "leaders who have continued working that road in order to make it clear for members of the community, just as Julián has done," Sada said.
While Sada praised Castro, he and Becerra were siting side by side in a front dinner table. Perez was not at the dinner.
"It is a pleasure to be here tonight as a proud American who is also proud of my Mexican heritage," Castro said, punctuating the word "Mexican" and drawing cheers. Castro is from San Antonio. His maternal grandmother migrated from Mexico to the U.S. as a very young girl.
After his speech, some in the audience shouted "V-P! V-P!"
The Latino Three demure when they are asked whether they are being vetted by Clinton's campaign. It's against protocol to give anything away.
The Associated Press recently reported that Clinton's camp had shortened her short list. Of the Latino Three, only Castro remained.
With the Latino Three — Castro, Becerra and Perez — at the Hispanic officeholders' gathering, "this turned out to be the vetting conference for vice presidential candidates," said NALEO's Arturo Vargas.
The others the AP said were being asked for documents and scheduled for interviews are Massachusetts Sen. Elizabeth Warren, who has become the party's top attack dog against presumptive Republican nominee Donald Trump and Virginia Sen. Tim Kaine, who hails from a key battleground state.
In a followup story, the Washington Post confirmed that Clinton had narrowed her list and the above mentioned were in the top three, but quoted a senior Democrat saying she's expected to consider other candidates.
But on the list or not, after Thursday's dinner, requests for selfies and photos with Castro and Becerra were many and both obliged with just about every request. Castro seemed to have quite a few more than Becerra but both were crowded by the dinner's attendees.
The presence of the Latino Three was not originally intended to be a pageant of the vice presidential potentials, said Arturo Vargas, NALEO's executive director.
The conference was planned for Washington long ago and all three are based here making fitting their schedules easier than if it were held in another city, he said.
Although talk of Castro potentially being on the Democratic ticket has gone on for years, buzz on Perez has emerged in the last year and Becerra this year.
With the Latino Three all stopping in, Vargas said, "this turned out to be the vetting conference for vice presidential candidates."