LOS ANGELES — With nearly half a dozen projects this pilot season that are centered on immigrant stories, writers' rooms are bringing personal stories to politics at a time when immigration reform continues to polarize Washington.
There are two reboots on the table (sci-fi drama "Roswell," whose new lead character is the daughter of undocumented immigrants, received a pilot order at The CW on Tuesday) along with a handful of adaptations, including "In the Country We Love," based on actress Diane Guerrero's memoir of the same name. The drama, which is currently being developed at Fox, will draw from Guerrero's own experiences working in a law office.
Guerrero told NBC News in 2016 that she hoped sharing her story could help humanize the struggles immigrant families face with deportation as a looming threat.
"The more that we are informed about this issue and the more that we care enough to fix the problem, I think the better," Guerrero said. "I'm not just talking about people who are undocumented or people who have immigrant parents. It's for all of us to get involved."
Guerrero's parents and brother were deported when she was 14, and Guerrero, who was born in New Jersey and raised in Boston, remained in the U.S. and was raised by Colombian families in the neighborhood.
"I don't think that my life is any less valuable than anyone else's. I think my story is of importance and my family's life is of importance," she said. "If there's one thing I want people to take away from this, it's that there are families behind this issue and there are a lot of citizen children, like me, who were left behind and their lives are important too."
A media guide compiled last year by Define American, a nonprofit whose work aims to inform conversations about immigration in the U.S., noted many Americans rely on television and film to shape their understanding of the world. But the majority of immigrant characters and stories told on television between 2014 and 2016 involved criminal activity, according to research from The Opportunity Agenda — particularly those involving Latino, black, or Middle Eastern immigrants.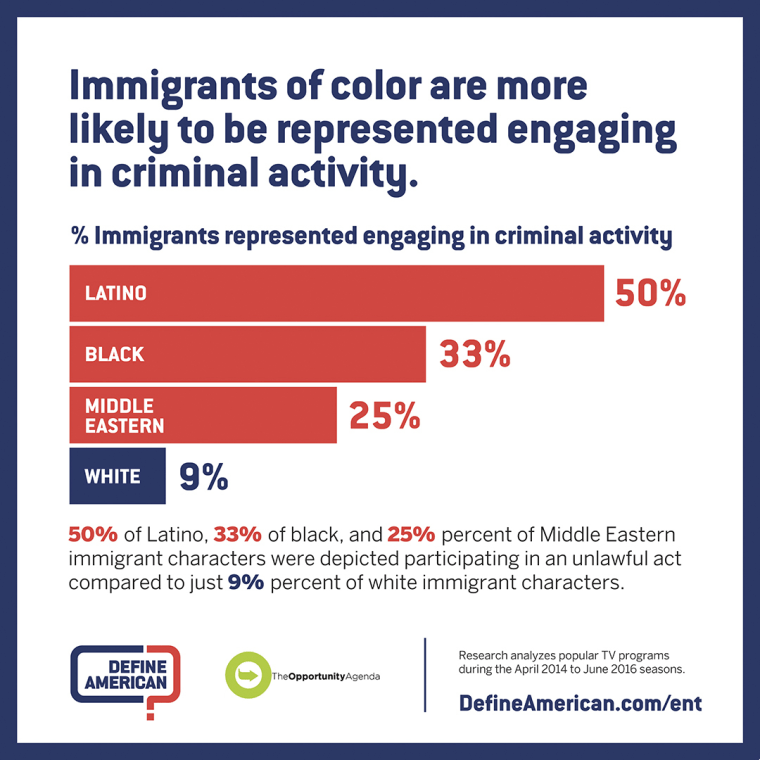 When it comes to telling stories about undocumented immigrants, specifically, Define American added that the majority of storylines depicted center around Mexicans, although the fastest growing undocumented population is Asian immigrants.
EVOLVING STORIES
Stories of undocumented immigrants and the challenges of navigating the country's immigration system have long been fodder for comedic moments or the occasional "Very Special Episode." In 1977, the ABC sitcom "What's Happening!!" gave audiences an episode where one of the main characters almost marries a woman in order to stop her and her mother from being deported — a story used frequently when introducing undocumented immigrants into shows: the short-lived '80s sitcom "I Married Dora" built their entire series around the premise, and "Will & Grace" did it with fan favorite character Rosario in 1999.
But in recent years, television has taken on a more serious approach to not only incorporating undocumented characters, but writing seasons and recurring characters around those stories — a trend mostly seen from shows with diverse casts and production teams. In the America Ferrera-led "Ugly Betty," which aired from 2006-2010 on ABC, Betty's father Ignacio is revealed to be undocumented, leaving his future unclear at the end of the first season before obtaining citizenship in season 2. (Ferrera, who has been an outspoken advocate for immigrants as well as Latino representation in Hollywood, also brought an undocumented character to ABC's "The Good Wife" for a brief arc in 2011.)
Netflix's "One Day at a Time," a 2017 reboot that tells the story of a Cuban-American family, tackles the subject through an emotional episode where audiences learn that the parents of recurring character Carmen have been deported.
And on The CW's "Jane the Virgin," one of the few shows currently on that features a predominantly Latino cast, Jane's grandmother Alba carries the fear that her undocumented status will be discovered, which eventually leads to her journey toward becoming a citizen beginning in the show's second season — a journey met with uncertainty and anxiety.
"Even two years ago when Alba was first visiting an immigration attorney, he said to her, 'This is where we are now, but immigration laws can change overnight and they're constantly changing,'" showrunner Jennie Snyder Urman said. "We're trying to also address the fact that that is a really unsettling and unsafe place to live, and so that's part of the storytelling."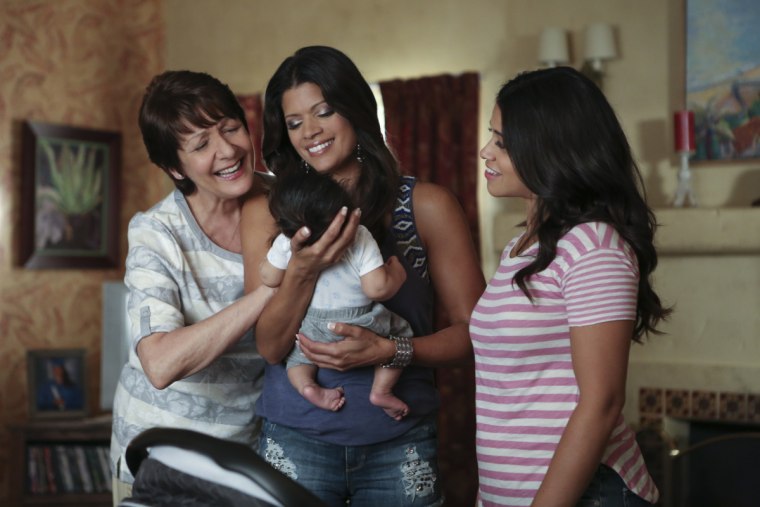 Through consulting immigration attorneys and drawing from personal experiences shared amongst the writer's room, Urman emphasized the importance of including a conversation about immigration reform through fully-formed characters that audiences have gotten to know over the course of a show beyond their immigration status.
Those steps of speaking with experts and building stories around beloved characters are just some of the suggestions included in Define American's media guide too, which also aims to encourage shows to move away from "fear-based storytelling."
"The more that we make the political personal and show people and characters and invoke empathy, then I feel like we can move the needle and try to change things," Urman said. "That was the hope: that you would fall in love with the characters and you would get attached to Alba, and then you would understand the difficulties she was facing and the hard choices when was facing and what she was up against in her journey to get documentation."
She added, "I think it's easy to write off an idea. It's not easy to write off a person."
A UNIQUE CHALLENGE
As the fates of the estimated 11 million undocumented immigrants and their families remain uncertain under the Trump administration, Freeform's "The Fosters" — a series that has been praised for its representations of LGBT themes, as well as foster families — has brought a conversation about deportation and, specifically, DACA into its final season as a central story through Ximena Sinfuego, a character introduced last summer as a college student and roller-derby team captain who reveals her undocumented status a few episodes into her introduction to the show.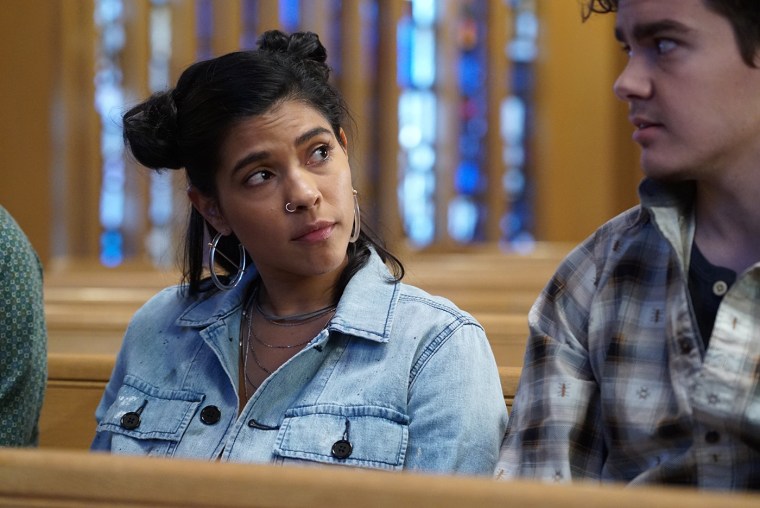 Inspired by 22-year-old Daniela Vargas' arrest in March 2017 after Vargas spoke at a news conference, Ximena speaks out at a campus protest about being undocumented after her DACA expires. As ICE agents arrive to arrest her, she seeks sanctuary in a church, which is partially livestreamed on Facebook and eventually reaches the news after her friends shed light on her situation at an anti-immigration speaker's rally.
That use of social media is what executive producer Joanna Johnson said is key to changing public perception on how immigration is discussed beyond Washington.
"It's largely because people are putting a human face to this by posting videos online of ICE ripping families apart" that a majority of Americans are in support of a pathway to citizenship, Johnson said.
To ensure its storytelling was accurate, Johnson said the team behind the show consulted a number of experts, including immigration attorney Alma Rosa Nieto, the Immigration Center for Women and Children in San Diego, the National Immigration Law Center, and the immigration clinic at the University of Southern California.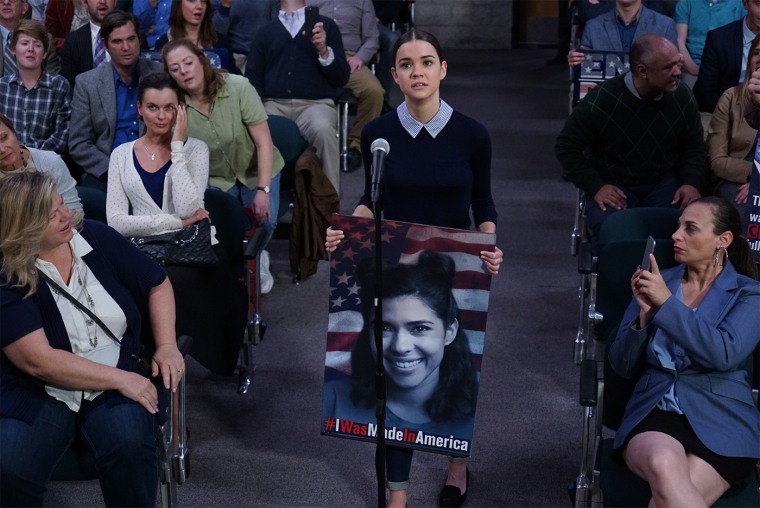 But even with all of the facts and real stories out there to inform Ximena's character, the unpredictable nature of news and politics presents a unique challenge, Johnson noted. It's a challenge that Freeform will also face as it attempts to reboot the classic Fox teen drama, "Party of Five," which received a pilot commitment from the network in January.
Creators Chris Keyser and Amy Lippman, who are overseeing the reboot, said they had explored the possibility of doing a new version of the late-90s hit for years, but re-telling the same story didn't feel right for the time. "We were attune to the idea that there might be some version of this that allowed us to tell that basic story of kids on their own," Keyser said of the original "Party of Five," which saw the Salinger siblings pulling together after their parents are killed by a drunk driver. "And unfortunately because of the way this country is changing, there has been a lot of conversation about what happens particularly to immigrants who are being rounded up by ICE and sent out of this country."
The uncertainty we live with in writing the show is nothing compared to the uncertainty these people live with in this country. So I hope the show feels like it's a little up in the air and a little raw because everyone is on edge about what tomorrow is going to look like.
Chris Keyser
Along with Michal Zebede, a first-generation American writer with Costa Rican and Panamanian roots who Lippman said brings authenticity to the characters they write, the new "Party of Five" will tell the story of the Buendias children, who struggle to navigate daily life after their parents are deported to Mexico.
"We're finding that what we have is something that is really much more powerful and universal than our original story," Lippman said. "We found just in the planning that we've done for the pilot, you have the potential to tell stories about parents that are absent and present simultaneously, that they want to be active in their kids' lives, but they're at a distance, and the kids want to capitulate to the parents' demands but they're on their own at the same time. ...When you see these families being torn apart, these people who are deported are still trying to be families, in a way, with a border wall between them."
While the show won't be "explicitly" political, Keyser adds, immigration policy and DACA will be key to the storytelling (for example, at the moment in the show planning, the oldest of the Buendias children was not born in the U.S.), which means if the full series is greenlighted at Freeform, the show may not know how some plots could play out.
"The uncertainty we live with in writing the show is nothing compared to the uncertainty these people live with in this country," Keyser said. "So I hope the show feels like it's a little up in the air and a little raw because everyone is on edge about what tomorrow is going to look like."
STILL MORE STORIES TO TELL
As networks that primarily target a younger audience, both Freeform and The CW are touching on issues that millennials are thinking about and discussing today. According to a GenForward survey released this week, more than 80 percent of millennials across all racial and ethnic groups support a pathway to citizenship for law-abiding immigrants, regardless of DACA status. The survey also found overwhelming support for DACA among millennials, including millennials who say they voted for Trump (76 percent say they are in favor of creating a path to citizenship for law-abiding immigrants; 66 percent support a path to citizenship for DACA-eligible immigrants).
I think it's easy to write off an idea. It's not easy to write off a person.
Jennie Snyder Urman
That level of support may be key in new shows being developed across the networks, from the "Party of Five" and "Roswell" reboots to the Gina Rodriguez-produced projects at The CW and CBS. But even with a rise in the number of shows tackling immigration issues, the numbers don't reflect a key demographic: As Define American noted in its media guide, the fastest growing undocumented population in the U.S. is Asian immigrants. They currently make up 13 percent of the undocumented population, according to Pew Research Center.
However, it's rare to see Asian immigrants included in stories about undocumented immigrants. There was the character of Dong in "Unbreakable Kimmy Schmidt," who is deported to Vietnam in season 2 of the Netflix series; and in 2014, the web series "Annie Undocumented" attempted to show the diversity of experiences among undocumented immigrants in the U.S.
The series, which won Best Web Series at 2014's New York Television Festival, starred Chinese-American actress Nikki SooHoo as Annie, a teenager who discovers she's undocumented when she tries to get her driver's license. The character of Annie was based on writer Elaine Low's experience as an undocumented teenager, and Annie's situation is also similar to that of Define American founder, journalist and activist Jose Antonio Vargas. Vargas, who is Filipino, discovered his immigration status when he tried to get his driver's license in 1997 and discovered his documents were not legitimate.
The goal of the eight-episode "Annie" series, producer Brian Yang said, was to start a conversation that wasn't prevalent at the time.
"It's a common stereotype that it just affects the Latino community," Yang told MSNBC in 2014. "It's not just a singular problem to one community."
But on network TV, Define American said it only recalled one instance of an undocumented Asian character: Mateo on NBC's "Superstore," who in season 2 discovers the truth behind his immigration status. That episode, which aired in 2016, showed "the first Asian undocumented network TV character in a sitcom," the nonprofit wrote in a blog post.
Nico Santos, the actor who plays Mateo, told Vulture in a recent interview that the opportunity to bring this aspect of the undocumented experience to life was a personal experience because members of his family were undocumented for a long time.
"Everybody who's Filipino who lives in this country directly knows somebody who is undocumented," Santos said. "It's a big part of every Filipino family's story, I think. … Like every American in this country, they are just yearning for a better life, and [Mateo] really is the epitome of pursuing the American Dream."