As it stands, the mega-agency created after the nation's deadliest terrorist attack may be about to go without money because lawmakers can't come up a way to work out differences on how far the president should go to break the immigration logjam.
Meanwhile, efforts to keep record low illegal immigration in place, to deal with immigrants who have been illegally in the country so long the young children they brought with them are now young adults and to protect American jobs while ensuring foreign-born specialized workers still are able to come here, have become fodder for yet another presidential election cycle.
Results released Thursday from a survey conducted last week by the Public Religion Research Institute (PRRI) finds that Americans and Republicans, the controlling party in Congress, have starkly different priorities on immigration than what is playing out now on Capitol Hill.
According to the poll, 85 percent of Democrats, 73 percent of independents and 62 percent of Republicans say immigration reform legislation should be the higher priority for the GOP, above overturning Obama's immigration executive actions. Overall, close to three fourths of Americans say the same.
Less than a fifth of the population opposed the goals of Obama's immigration executive actions _ the very thing that is holding up funding of the Department of Homeland Security. DHS houses immigration and border enforcement agencies, cybersecurity divisions, the U.S. Coast Guard, Federal Emergency Management Agency (FEMA) and the agency that staffs airport security (TSA), among other things. It has the largest share of Latino employees of all government agencies.
"Only one in five Americans say overturning Obama's immigration policies should be a priority for the Republican Congress," said Robert P. Jones, PRRI's CEO. "It's clear that the public is more interested in crafting practical solutions to these thorny isues than they are in partisan showdowns."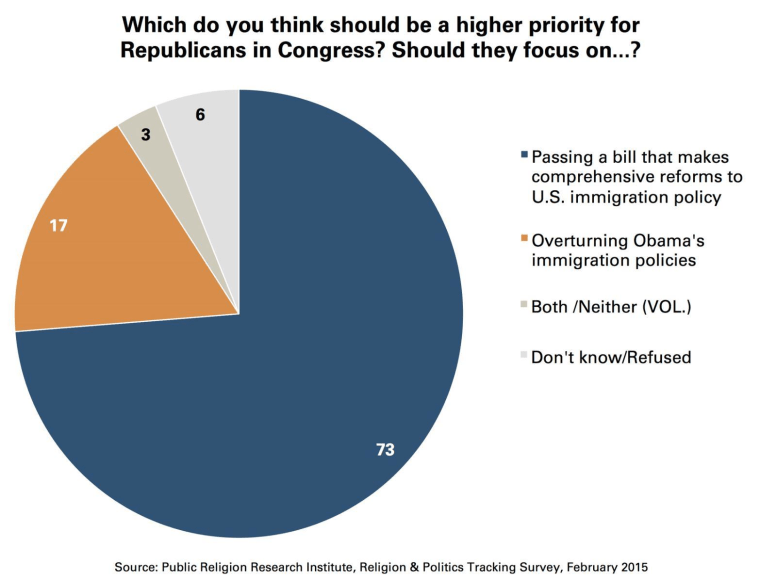 Last November, after the House GOP failed to move forward immigration reform legislation, the president used his presidential authority to essentially prevent people here illegally and who clear background checks from being deported. They also are allowed to work.
Immigrants who arrived before turning 16 can start applying for the deportation deferrals and work permits next Wednesday. In mid-May, immigrants here illegally who are parents of U.S. citizen and legal resident children should be able to start applying for similar benefits.
Americans are divided on Obama's use of executive action, but his use of those powers is heavily supported by Latino and black Americans. In each group, 8-in-10 said Obama should have taken executive action. Three-fourths of Republicans say he shouldn't and an equal share of Democrats say he should have.
The researchers found a good portion of the opposition has more to do with dislike for Obama than for use of executive action.
Support for the executive action policies falls when they are identified as President Obama's policy, which the researchers call the "Obama Effect." A similar drop in support is seen with the Dream Act, a proposal to allow young immigrants in school or in the military gain legal stauts. Support for the proposal plummets among Republicans from 60 percent to 37 percent after Obama's name is mentioned.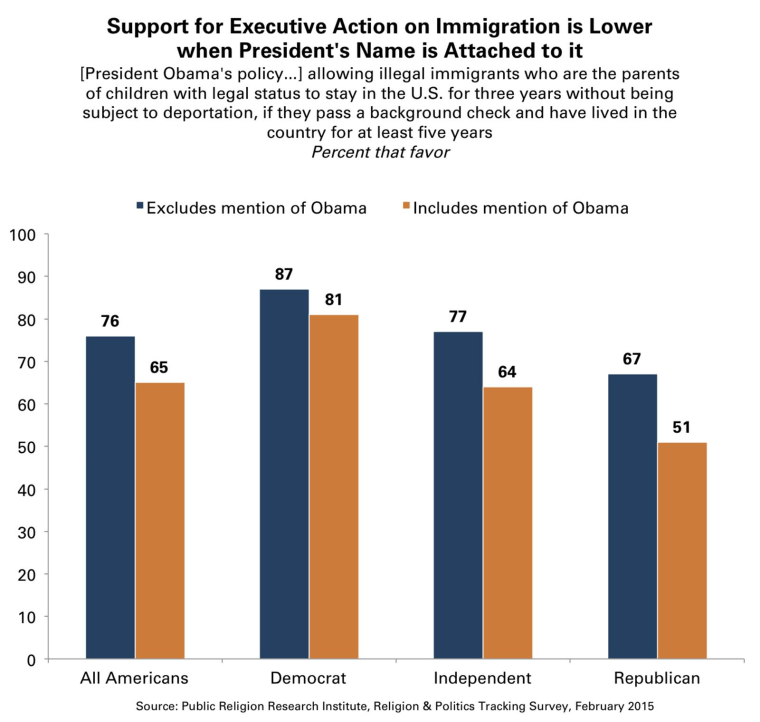 PRRI conducted bilingual surveys of 1,015 adults between Feb. 4 and Feb. 8 by land line and cell phone. The margin of error is plus or minus 3.6 percentage points. The survey was funded by the Ford Foundation and the James Irvine Foundation.